Content AI

Tech that understands
the nuances of language
Eradicate errors and add consistency
to all your user-facing content.
Upload or
write content

Analyze with
content check

Score
content

Apply
suggestions
CONTENT CHECK
Measure from
every angle
Writer rigorously measures written content
for an output that's consistently great.
check_circle


Spelling & grammar

Make sure content is free of copyediting issues.

check_circle


Brand voice

Imbue content with personality that's true to your brand and right for your audience.

check_circle


Style & usage

Standardize reading level, restrict long-windedness, and regulate use of emoji. 😉

check_circle


Bias filter

Test content for damaging biases.

check_circle


Terms

Define and enforce organizational standards for commonly used — or banned — words and phrases.

check_circle


Plagiarism

Instantly compare content against millions of online resources to make sure the work is original.
STYLEGUIDES
Establish your voice
Create Styleguides to standardize a writing style across all your content — or to manage distinct styles for different audiences.
Writing guidelines made real
With 50+ settings covering brand, voice, style, and punctuation, Writer brings dusty brand guidelines to life.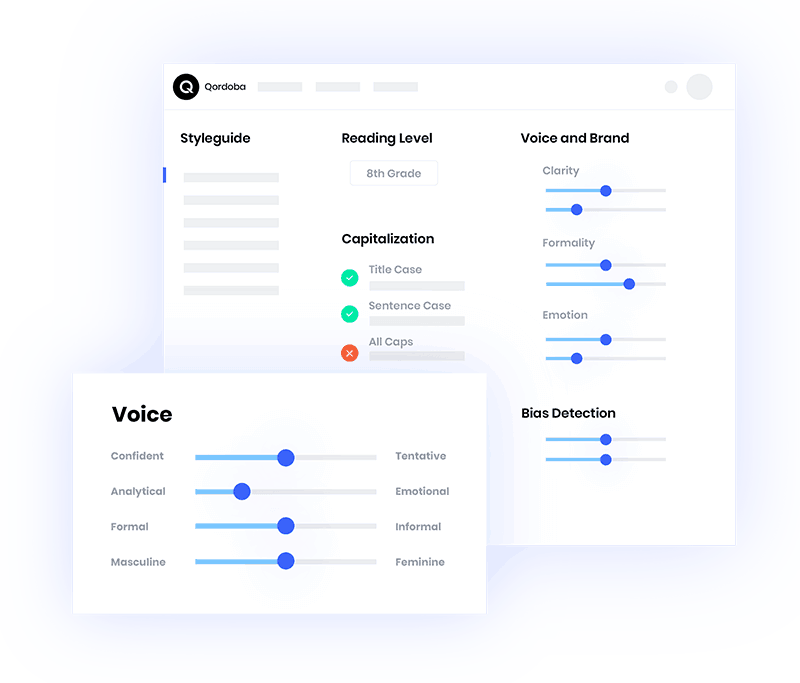 Your AI copywriter
Get in-line content suggestions inspired by your
best content and Writer's deep learning models.
Thanks for signing up. 

Happy browsing : )
Brand-aware

Writer's NLG provides personalized content recommendations based on your pre-defined brand voice.

Natural writing (NLG)

Content recommendations are informed by years of deep learning research on trillions of real-world examples.

Always learning

Writer's content suggestions get better and better the more you use the product.
Q-SCORE
Set the bar
Set a standard for content quality with a single number
calculated from Writer's 50+ content scoring variables.
Because every word matters
One number

Set your standard, score each piece of content, and see how edits improve the score.

True content reporting

Report on content scores across all your channels and audiences, and visualize content quality trends.
Integrate
anywhere