The content marketer's guide to AI and content maturity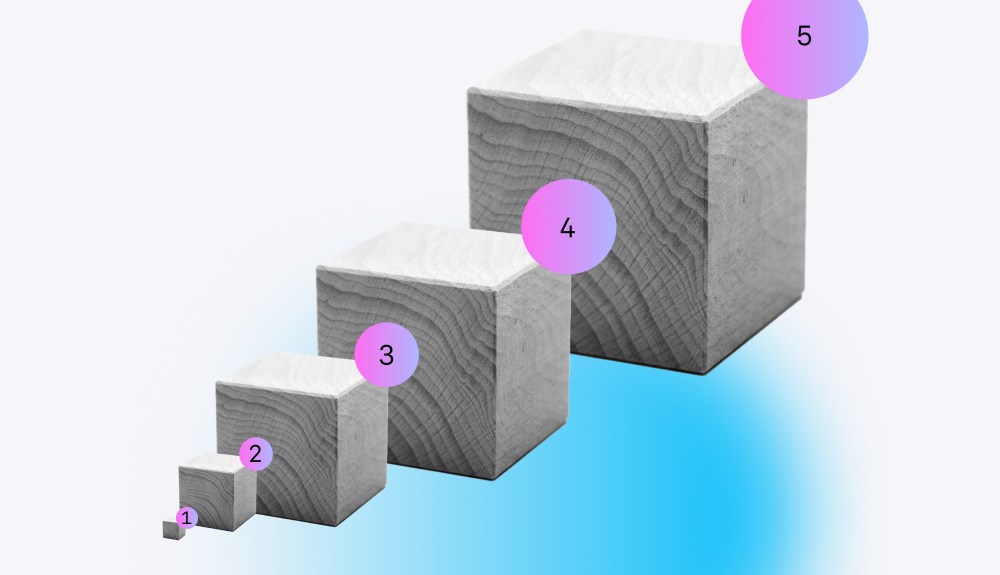 The AI hype is literally everywhere. Between texts from industry friends sending ChatGPT screenshots ("I guess this means we're looking for new jobs!") to pings on Slack from your boss, ("Should we check this out?") the pressure to choose a side has never been more intense. Are we a team that does the AI-generated content thing, or are we purists?
The reality is that the most experimental sophisticated content teams are beyond this debate already, and are beyond the hype. The best content marketing teams are already using AI to increase content velocity, widen distribution, and simplify orchestration. The next wave of adoption is coming to sophisticated teams everywhere, and we've developed a framework that can help teams learn from the early adopters.
Tl;dr: AI tools can help teams at any level of content maturity, but the more mature and organized your operations are, the more likely that the reality will live up to the hype.
Introducing content maturity
The excellent content strategy consultants over at Content Science define content maturity as a way to "articulate the degree to which your organization can make content strategies and plans happen." In other words, it's a method of identifying how effective you are as a content team.
Your content maturity level can help you figure out when and how to start your AI experiments. Knowing your level means you have identified weaknesses in your content ops, which can give you a roadmap for improvement, whether you decide to pursue AI or not.
Colleen Jones, founder and president of Content Science, has developed a framework with five levels of content ops that determine content maturity. Level one — "Chaotic" — describes teams that have no content systems in place. At level five — "Thriving" — teams have systematic, sustainable, and effective content operations. Her framework: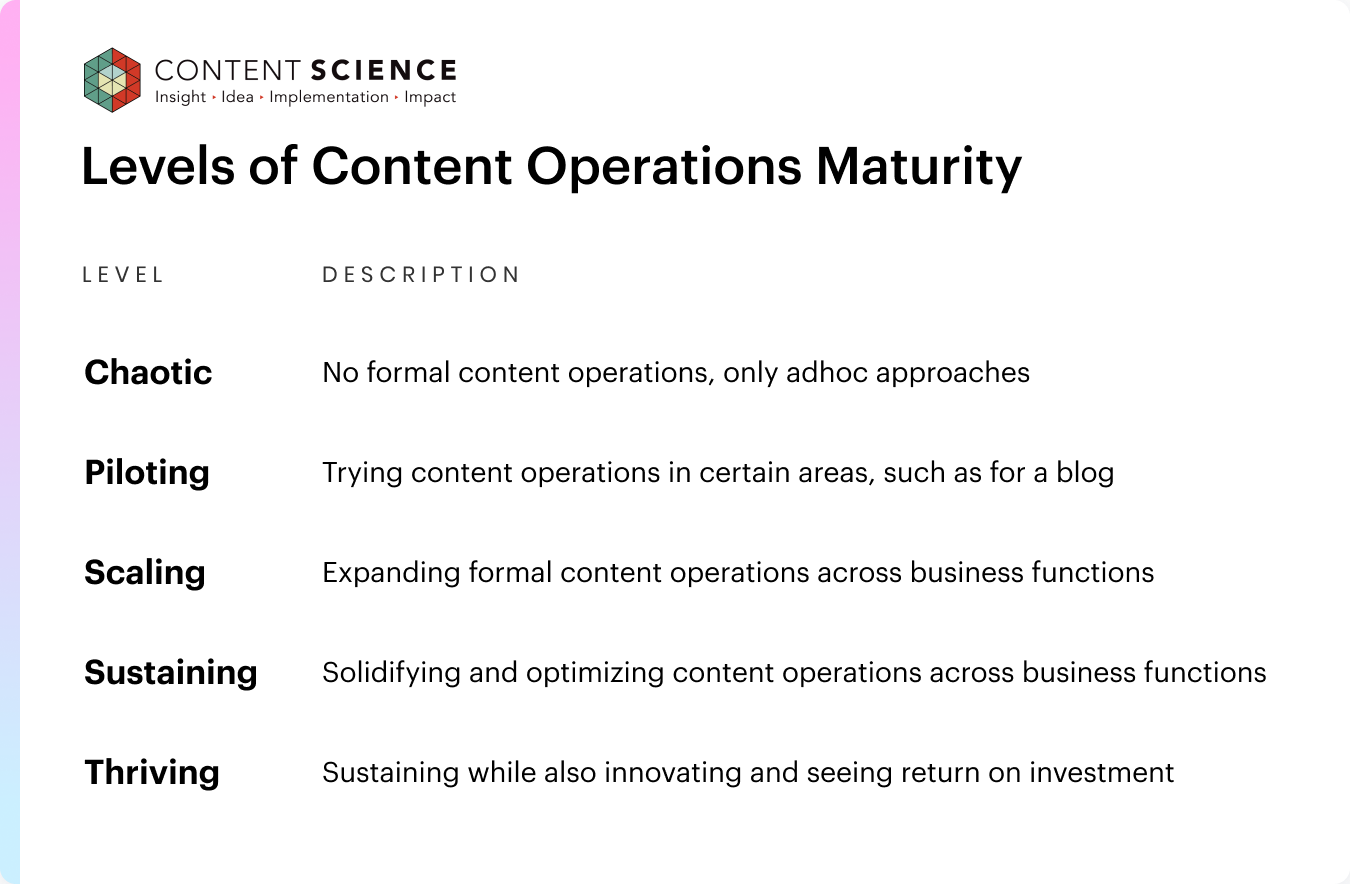 Jones says knowing what level you're at is important because it's "the fuel for powering a virtuous cycle within your team." If you can identify where you're at, you'll see what you need to improve. By improving and refining your operations, your content will have more of an impact, and your team will gain credibility and support with your organization.
(To figure out your content maturity level, complete Content Science's content assessment survey.)
Here's Jones' description of a level five content team. The comparison will help you to get a feeling for how close or far you are from optimal content maturity:
The key features of mature content teams:
Vision
Mature teams have a written vision. They know what they want to achieve in the long term.
Data
They look at the impact and performance of the content on a regular basis (weekly or monthly). They analyze a variety of metrics and data types: for example, channel-specific data and voice of customer data. They use data insights to inform their decisions.
Roles
Mature teams have diverse and specialized team members. While a less mature team might just have writers and editors, a level five team also has content strategists, content designers, and content analysts.
Training
Mature content organizations provide training in content-specific skills like writing, editing, and content engineering.
Technology
They use advanced and diverse technology. They deploy a content tech stack rather than relying on a single tool or platform.
Use AI differently based on your level of content maturity
Together with Jones, we've updated the Content Science framework based on our deep experience with early adopters of Writer's AI writing and editing platform.
"It's tough to make the most of advanced AI technology if you don't have a good vision, strategy, and approach in place," Jones says.
Based on Content Science's five levels of content maturity, we've developed our own AI content maturity model, which summarizes how content teams at different levels of maturity can best use AI tools.
AI allows you to speed up and scale up your content production. But at low levels of maturity, it can be hard to use AI because you may not be in a position to properly assess the quality and refine the outputs of AI tools.

If your content ops are immature and you're producing low-quality content, using AI to increase volume is risky: all it will do is help you produce a lot more of the same low-quality, unstrategic content. Instead, first focus on organizing your content marketing efforts and implementing systems to improve the maturity of your operations, and then use AI to speed up ideation and experimentation.
"I see AI writing tools as powerful — if used in the right hands," says Grace Lau, director of content marketing at Writer customer Dialpad. "A writer who doesn't understand your product and company positioning well will not truly be successful with an AI tool. They'll be able to churn out content, sure, but the quality won't be great because they won't know where and how to edit the piece once they've got that first draft."

Once your team has experience implementing an effective, high-quality content strategy, they'll have developed a sense of what makes content good or bad. At that point, you're ready to start bringing in AI tools to speed up and enhance content production.
How marketing teams can use AI
at various levels of content maturity
There are a number of key learnings we've developed while working closely with marketing teams at the forefront of AI adoption. We've organized the highlights of our learnings by level of maturity:

Level 2


Involve experienced human writers
At every level of content maturity, but especially starting at Level 2, you'll need excellent people. You need experienced, good writers to do stuff that AI can't.
Humans are there to provide high-quality prompts, judge the output of AI-generated writing, and curate content as part of an overall strategy.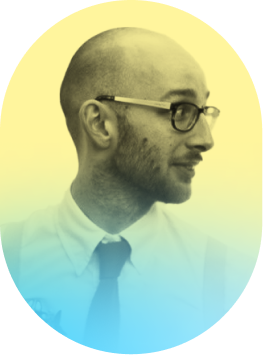 Ryan Law, VP of Content at the content marketing agency Animalz, explains that he's able to get decent articles out of AI tools because he's spent more than 10 years writing himself.
Without that experience and understanding of the content marketing industry, "there's a good likelihood that you are gonna make bad stuff, and you won't know about it," he says. Before using AI, it's important to develop a sense of taste and some opinions about what makes content good or bad.

AI tools can't see the big picture. That's why you need skilled human content creators to fit AI-generated writing into a broader business strategy by deciding what content to publish, and when.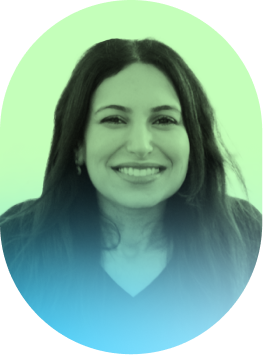 It's also important to develop your own brand voice, messaging, market points of view, and style guide. "Content is not a 'set it and forget it,' thing, whether you have AI or not," says May Habib, CEO and co-founder of Writer. "Strategy has to be very thoughtfully done for you to be able to scale the revenue impact of your content programs."
What does it mean for a writer to be AI-savvy?
The inputs that you give an AI tool massively affect the quality of the output. "One of the things I've realized is that the way you prompt the model to get good stuff out of it is itself a skill," Law says.

Get your team to experiment with language generation tools, so they get more comfortable with writing effective prompts.

Give language generation tools original data, quotes from experts, and unique opinions to work with. That's what's called information gain, and it's what you'll need to set your content apart, whether to rank for search engines or your audience.

Another reason to invest in information gain is, well, to not have AI make things up!

Habib explains that, for example, if you're getting an AI tool to create a press release, and you don't provide the quotes, the AI will simply make them up. Writer's press release template prompts you to add relevant facts, quotes, and pieces of data.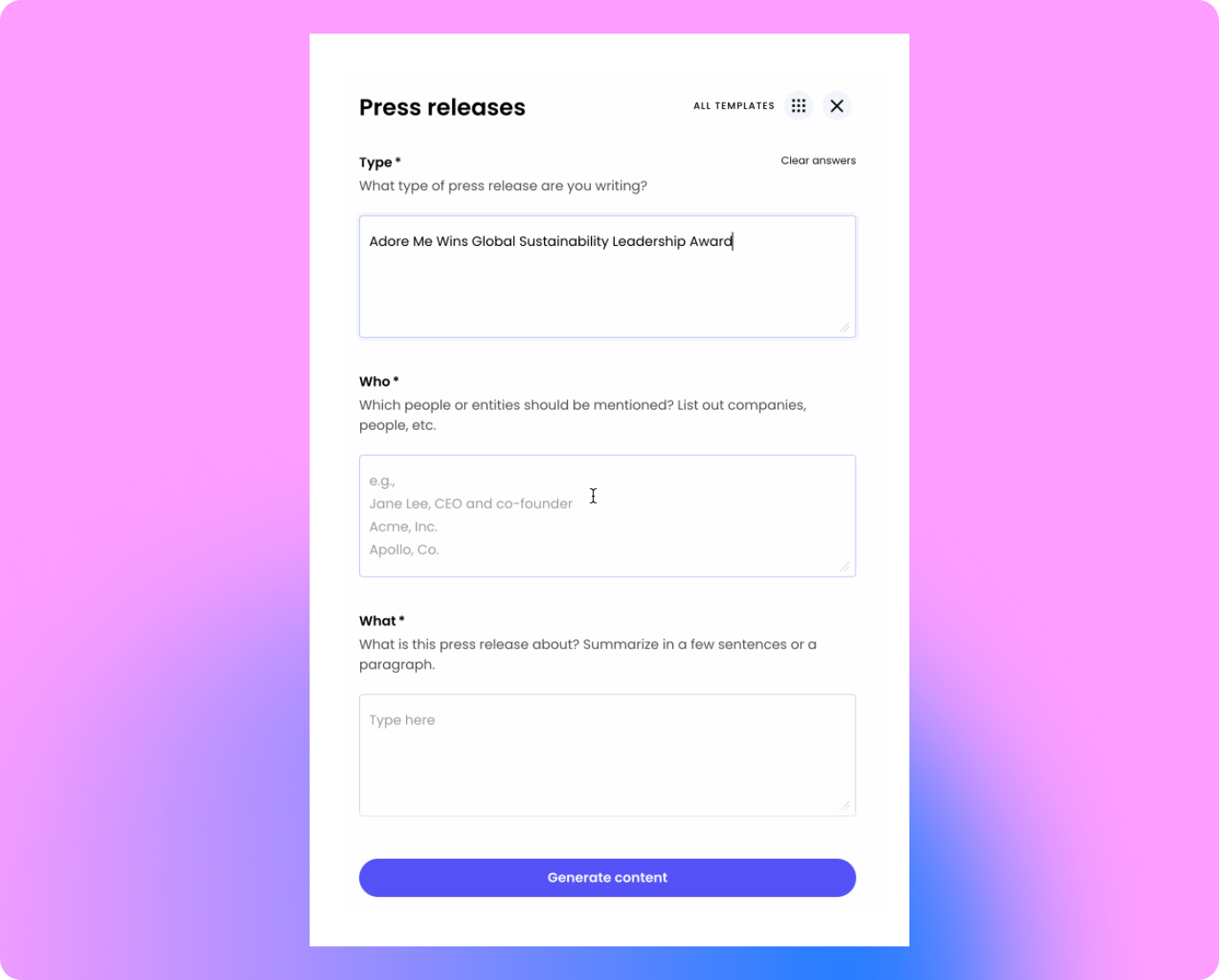 You'll also need to fact-check the final product and verify that it meets your publishing standards, just as you do with human-generated content.

Unlike other AI writing tools, Writer's business-grade AI writing platform makes sure to hew closely to the information you provided in the inputs, decreasing the chances that there will be factual errors in the output.


Level 3+
Use AI tools to accelerate and automate your content workflows
If you're just starting to bring AI tools into your content process, use them in a small and controlled capacity. Your team will have a chance to experiment, learn, and get more confident about using AI without compromising the rest of your content ops.


SEARCH ENGINE OPTIMIZATION
Clearscope is an AI tool that helps writers optimize content for search engines. The task of trawling top-ranking posts for key terms can be tedious. With Clearscope, you're able to quickly see how your content compares to your competitors and which keywords you need to include for search engine optimization.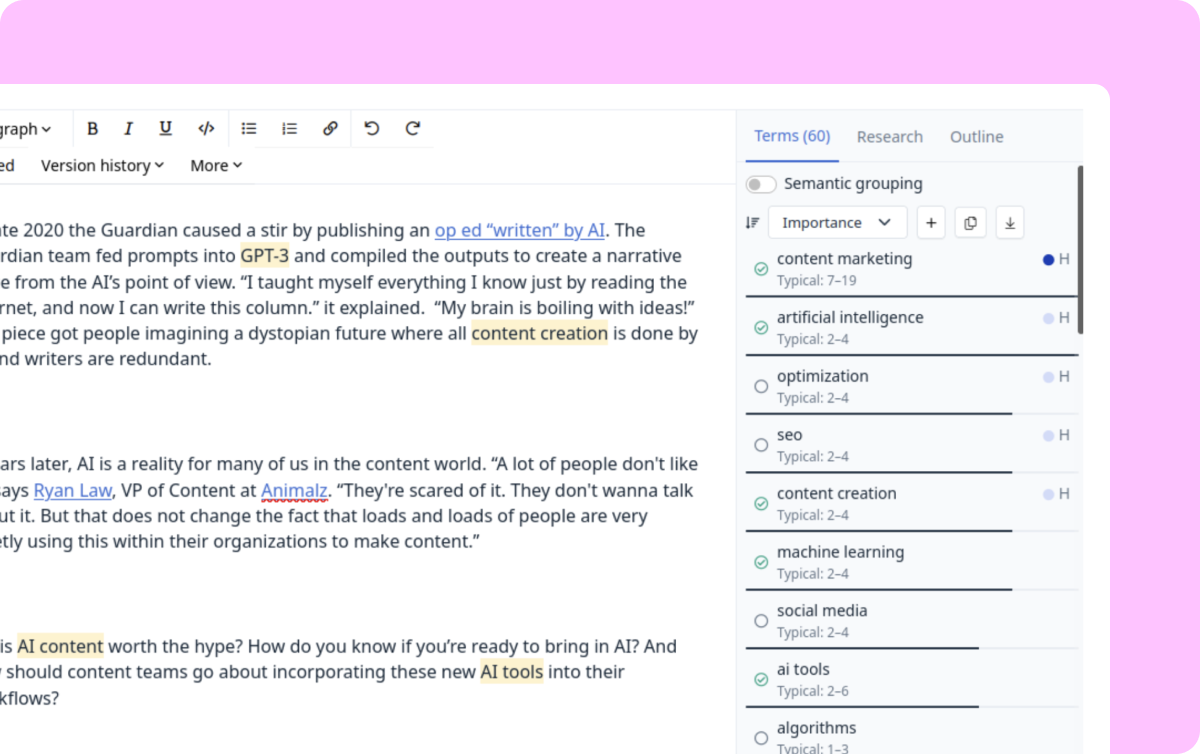 EDITING
It's natural that humans write articles with typos and mistakes. Writer uses the power of AI for style guide automation. Use Writer to check your text for taxonomy, brand errors, clarity, spelling, and grammar.
DISTRIBUTION
With so many different content channels, repurposing long-form content is another laborious task AI can help with. Writer's highlights feature automatically generates metadata, bulleted summaries, and copy for social media posts based on your blog content. Summaries are useful because they make your content more skimmable, and provide clarity about the main points of the text.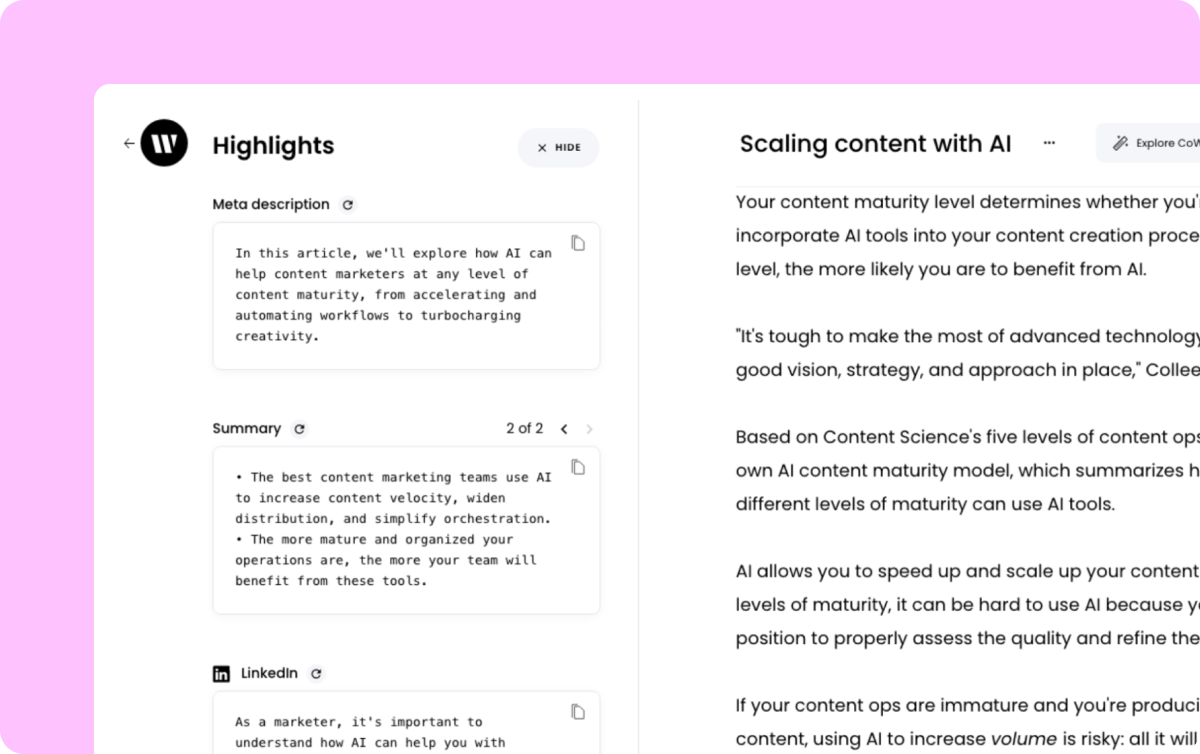 To show you how it works, we prompted Writer to generate shortform content to support distribution based on this post you're reading right now. Here's what it came up with.
Meta description
In this article, we'll explore how AI can help content marketers at any level of content maturity, from accelerating and automating workflows to turbocharging creativity.
Summary
The best content marketing teams use AI to increase content velocity, widen distribution, and simplify orchestration.
The more mature and organized your operations are, the more your team will benefit from these tools.
LinkedIn
As a marketer, it's important to understand how AI can help you with content creation. Check out our latest blog post to learn about content maturity levels and how AI can help you at each level — link in the first comment.
TWITTER
If you want to get ahead with #contentmarketing, you need to understand AI and how it can help you. Check out our guide to get started.
Turbocharge your creativity
AI can generate a lot of words in a short time and come up with unexpected combinations of ideas, which makes it ideal for brainstorming. Once you've gathered a bunch of ideas, you'll be energized and ready to dive into the writing work.

In brainstorming, quantity is more important than quality. Use AI tools to help you come up with ideas for content, titles, and keywords. Whether or not you use the AI-generated words isn't important. It's easier to refine and edit a selection of ideas than it is to come up with something new while you're staring at a blank page.
"Ultimately, I think the biggest value of having a good AI writing tool is that it shortens the content creation process for writers," says Lau of Dialpad. "Many writers struggle with 'blank page' syndrome — that feeling of being overwhelmed or intimidated when asked to write something from scratch. Getting started usually takes the longest. This is where AI can speed up that process significantly."
And because humans are restricted by our beliefs and emotions, we get stuck in thought patterns. AI is different. It'll prompt you to explore avenues you might not have otherwise considered. Think of it as an updated version of the 'cut-up method' that allowed William S. Burroughs and David Bowie to be wildly original in their writing.

For example, Writer can generate headline ideas based on a blog post description.
Here are some of the headlines Writer came up with for this blog post:
How AI content marketing tools can help your team
3 AI content marketing tools every content marketer needs
5 ways AI content marketing tools can help your team
A roadmap for AI in content ops: 5 levels of content maturity explored
You can even take a more direct approach to ideation and just ask your AI to help you come up with concepts. The template Ask Writer's AI anything allows you to put in freeform requests like "Create 5 fresh ideas or story angles as to why taxonomy is important to marketers," or "Describe 3 reasons why brand consistency is important for businesses," and provide some additional context to help guide the outputs in the right direction.
Use analytics to improve content marketing strategy
AI can process data quickly and pull insights. It gives you the info you need to make smart strategy decisions without you having to spend days with your head stuck in a spreadsheet.

MarketMuse is an AI tool for content and keyword planning. The content intelligence software creates an inventory of your content and detects content gaps. Find out where you should create new content or optimize existing posts so you can make sure you're covering a topic completely.

Use the MarketMuse keyword research tool to decide which keywords to target. When you know which keywords you're after, MarketMuse uses AI to generate a knowledge graph. The graph shows what concepts and topics you need to cover to meet search intent and rank for a keyword.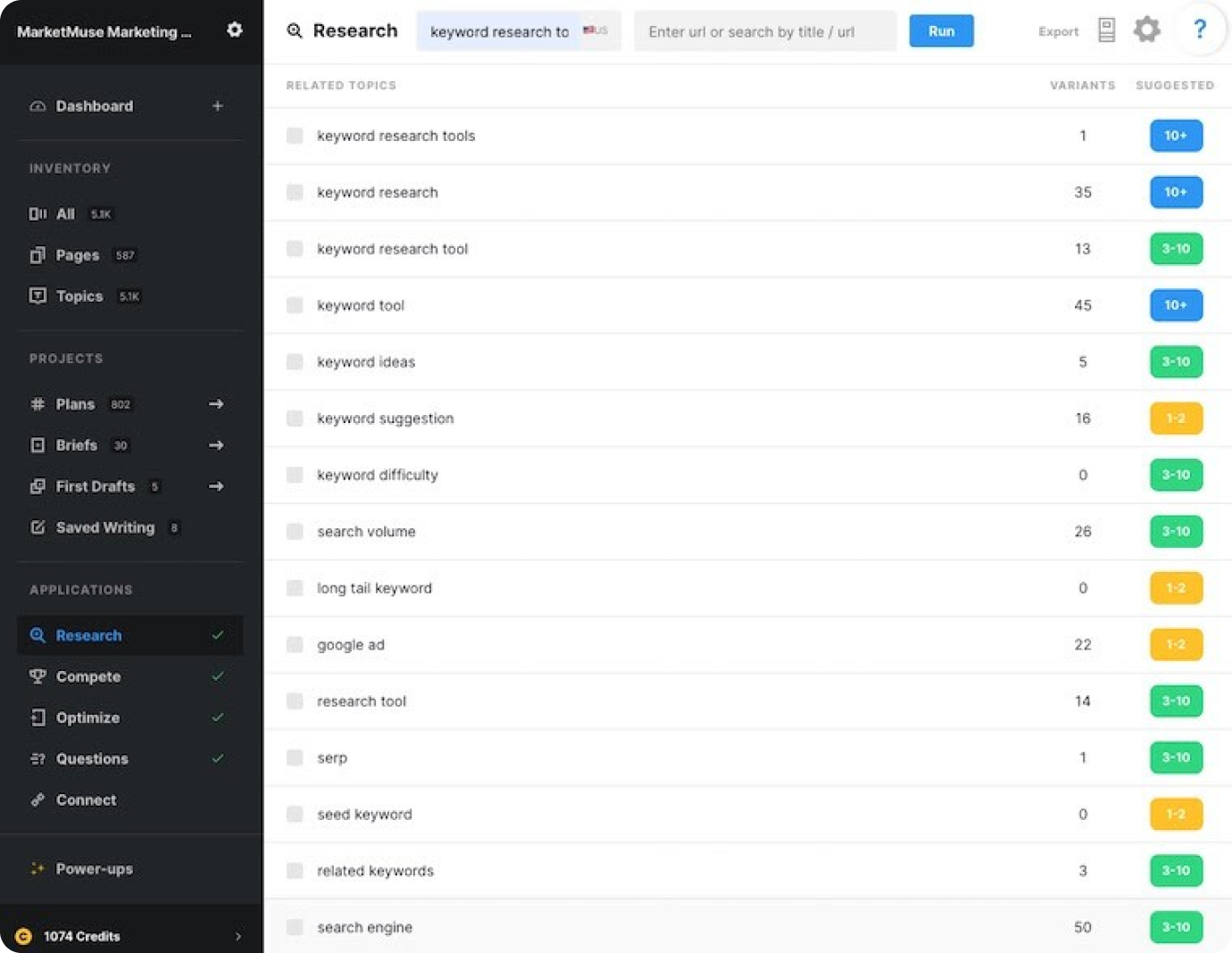 As well as analyzing content on your site, MarketMuse measures content across multiple domains. It helps you see how well your competitors are covering topics, so you can identify where there's a competitive opportunity worth leveraging.

Briefs are important for making sure that content fits with strategy. They're essential in situations where different people are responsible for creating content strategy and writing content. But good briefs are difficult to write.

MarketMuse compiles its analysis to generate detailed briefs that include target audiences, search intent, linking opportunities, keywords, and the headings writers should use.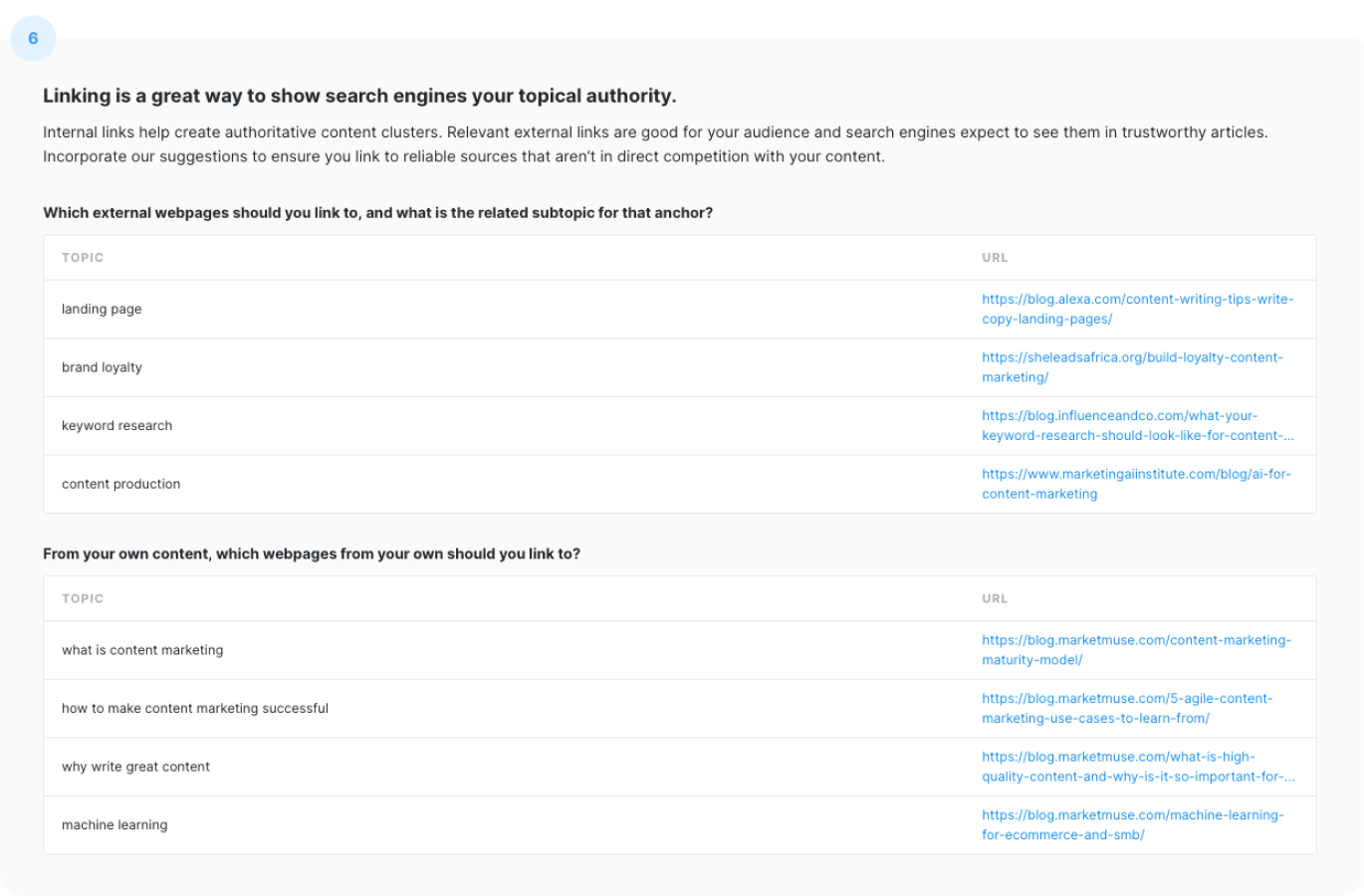 LEVEL 4+
Own the AI: build your own templates and train your own models
The content creators who find the most success with AI are the people who have a clear understanding of their brand strengths, and a vision for how every piece of content relates to broader strategic goals. AI isn't magic, and what you'll get out of it is determined by what you put into it.

For your AI to generate content that sounds on-brand, you'll need to identify and fine-tune the model on your best on-brand content. To get AI that generates content in the specific, repeatable formats your organization needs, you'll need to understand what formats are most important to your content engine, and create custom templates accordingly.

Refining your AI workflow is an iterative process, with no definite endpoint. You'll need to check in regularly to make sure that what you're doing is working. Let your strategy guide how you use AI — don't let AI guide your strategy.
Run at the things that scare you
It's natural that content teams who've built their livelihoods around writing feel hesitant about using AI. But this technology will most benefit content creators who start early (as in, right now).
"I think it's good to run at the things that scare you," Law says. "If you can learn a new skill or develop a new way of operating that other people aren't doing, that's a competitive advantage for you in whatever AI-augmented future exists."
Ranjan Roy, VP of Strategy at the disruptive intimate women's apparel company Adore Me, agrees that AI writing tools will be a competitive advantage. "We think AI writing is going to become part of every company — especially every retailer," he says. Adore Me has been using Writer to write product descriptions and generate press releases, and they continue to experiment with AI writing to find more ways to improve their workflows.
The best way to understand AI is to experiment with AI yourself (you can try the Writer Team plan for free). Learn how AI can fit into — and transform — your team's way of working. The near future is not binary; it's not a battle of AI vs humans. The most innovative teams are leaning into empowering their people with AI, and it's working — despite the hype.


Understanding AI terminology

Here's a glossary of terms for AI tools.
Artificial Intelligence (AI)
A general term for anything that allows computers to carry out human-like behaviors.
Machine Learning (ML)
A sub-type of AI where machines don't need to be explicitly programmed. They use algorithms to identify and learn patterns in data, apply that learning, and improve themselves to make better and better decisions.
Deep learning (DL)
Where computers learn in a way that mimics the human brain. In deep learning, machines build layers of knowledge that are increasingly complex.
Algorithm
A detailed set of instructions a computer follows to carry out a task or solve a problem.
Generative AI
Artificial intelligence that uses existing text, code, images, video, etc, to synthesize new content.
Training
The process of feeding data to a model so that it can identify patterns, and recognize those patterns in future analyses.
Model
A program you train to recognize patterns in a data set.
Large Language Model (LLM)
A model trained on a massive quantity of text data for the purpose of performing natural language tasks, like answering questions, generating text, summarizing documents, and more. For example, GPT-3 is a LLM that is trained on about 45TB of text data.
Natural Language Processing (NLP)
A method of teaching computers to understand the way humans use language. It's NLP that allows Google to make sense of what you type into the search bar.
Natural Language Understanding (NLU)
A brand of NLP where computers figure out what human-generated text means.
Natural Language Generation (NLG)
A branch of NLP where computers generate human-like text.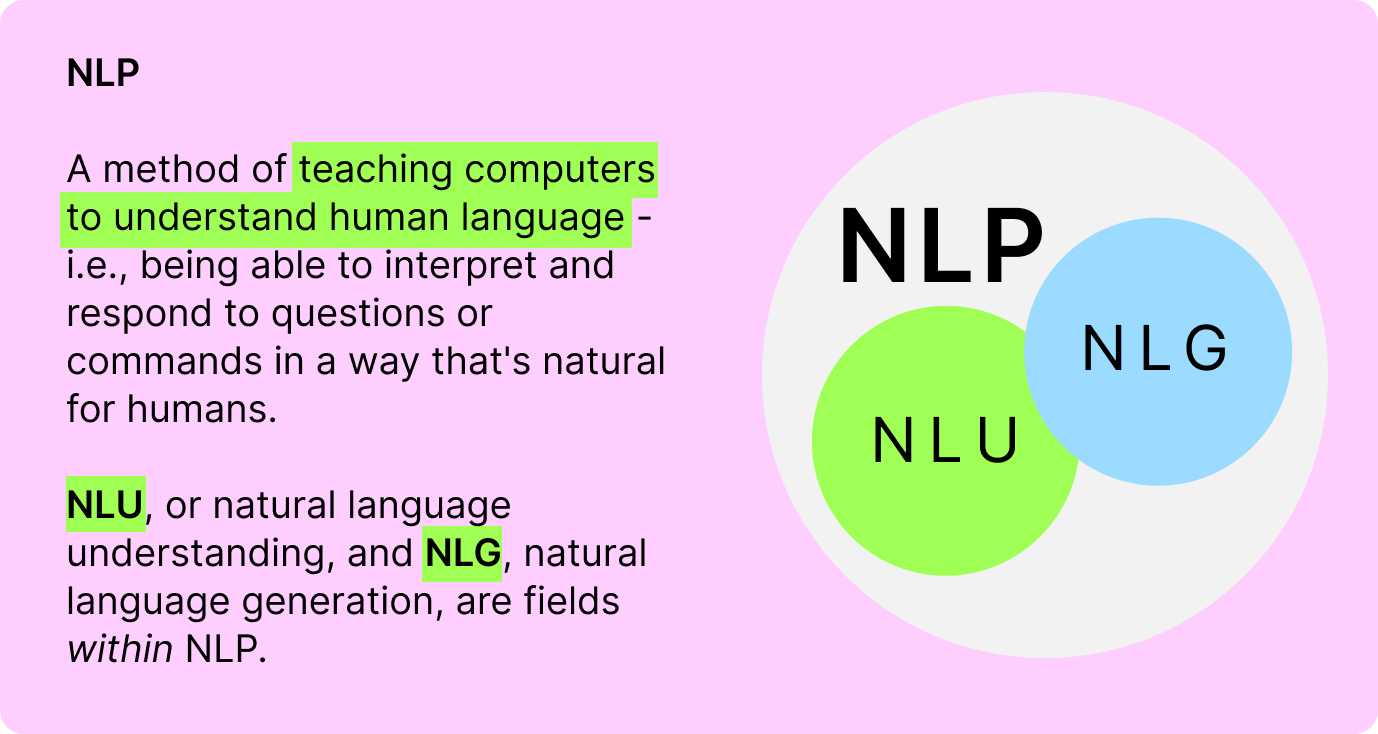 More resources