PRO
Advanced suggestions
for individuals.
---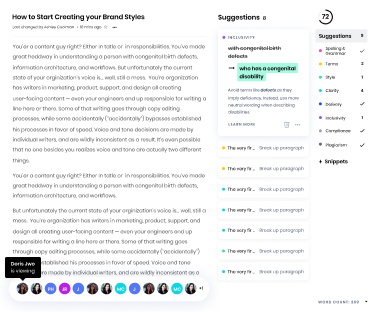 Share documents, review writing suggestions, and compare scores with members of your team.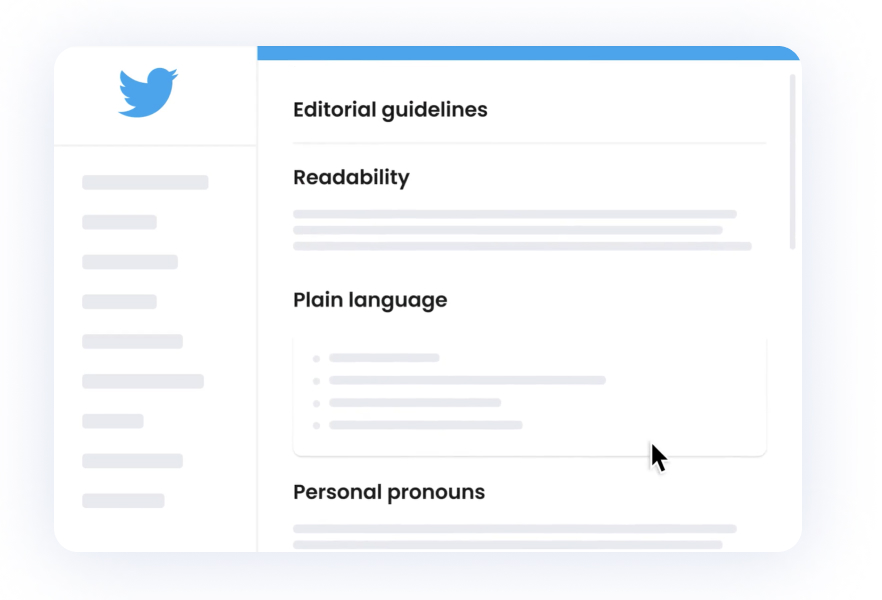 Build a writing resource for your company, partners, and agencies. Help them write for your brand even if they don't use Writer.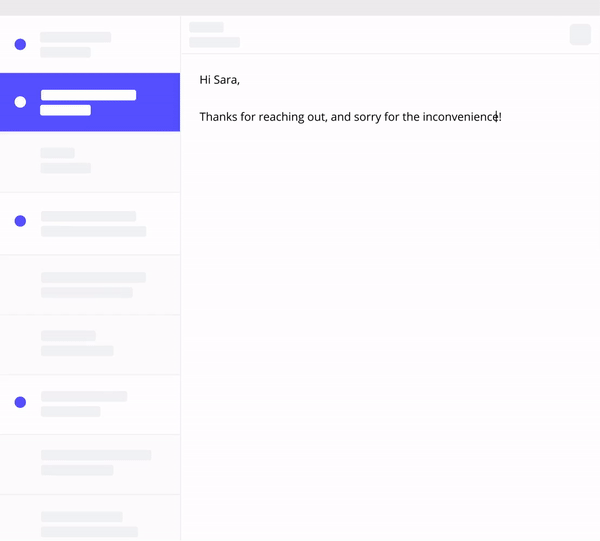 From single phrases to page-long templates, make it easy for your team to reuse Snippets and content components.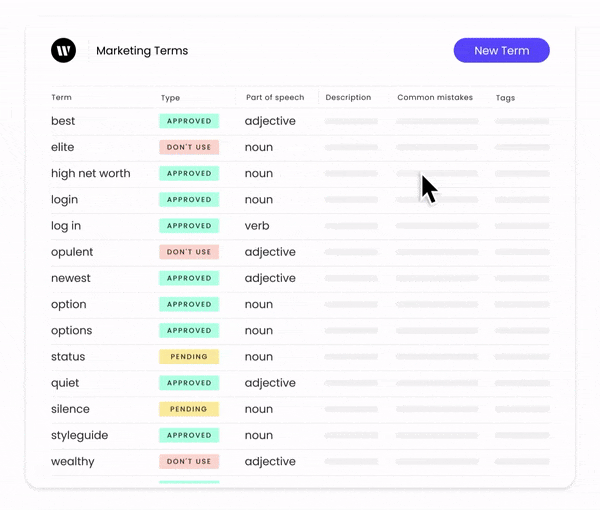 Create a single source of truth for your brand terms that is easy to edit, enforce, and share.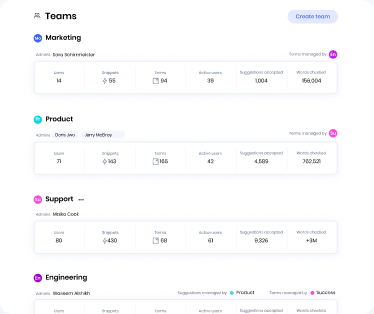 You can set up multiple teams in Writer, with separate writing guidance by functional area.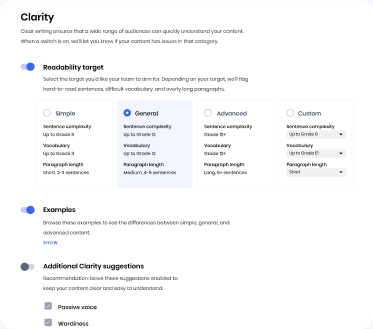 Can't find a writing rule you want? Create your own with an advanced writing rule builder.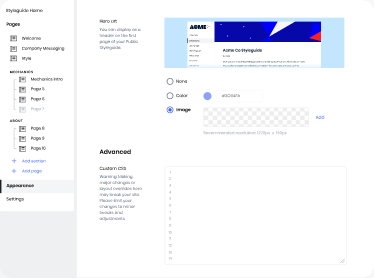 Host your Styleguide within your intranet or on your own domain, and add CSS to any page.
Flag hard-to-read sentences, passive voice, wordiness, and more.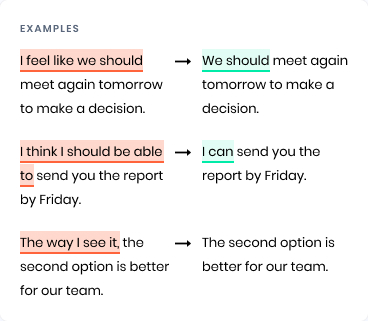 Be impactful and confident in your workplace communication.

Write with inclusive, modern language.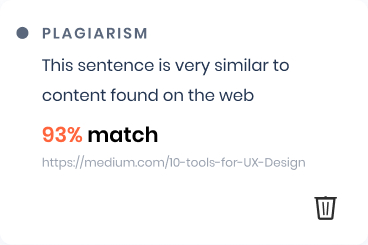 Inadvertent plagiarism happens. Make sure all your writing is original.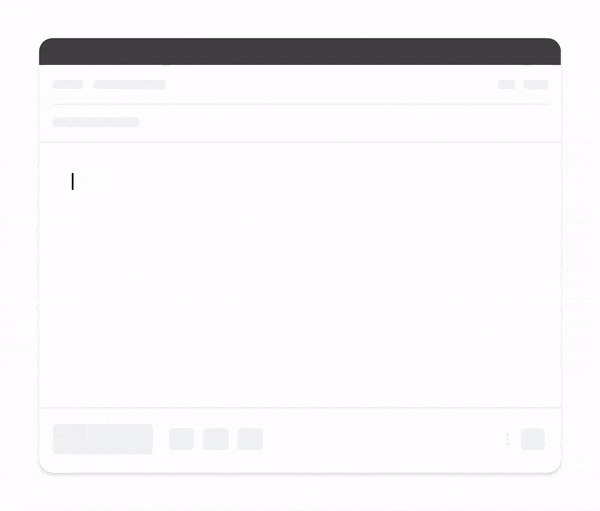 Automated corrections of typos, for error-free messages typed 3x as fast.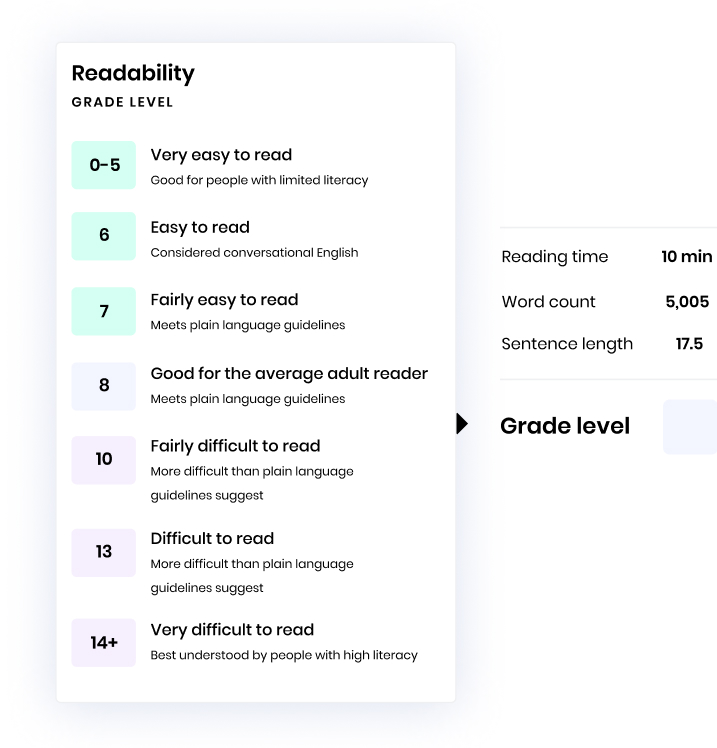 Nail grade level consistency with instant stats on your writing.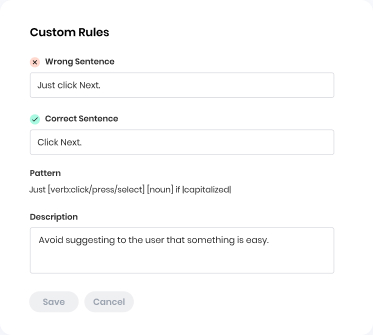 Can't find a writing rule you want? Create your own with an advanced writing rule builder.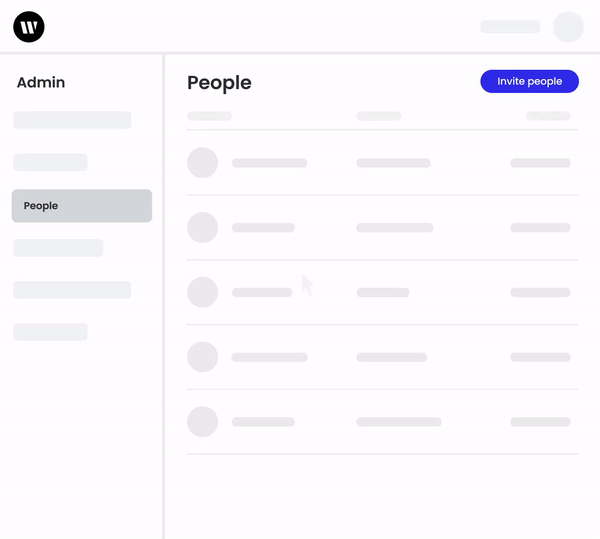 Manage roles in Writer with separate permissions for owners, team admins, and team members.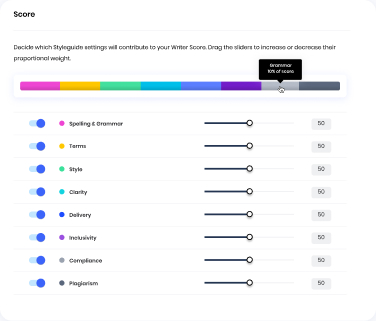 Customize score settings so you're judging everyone's writing by the same rubric.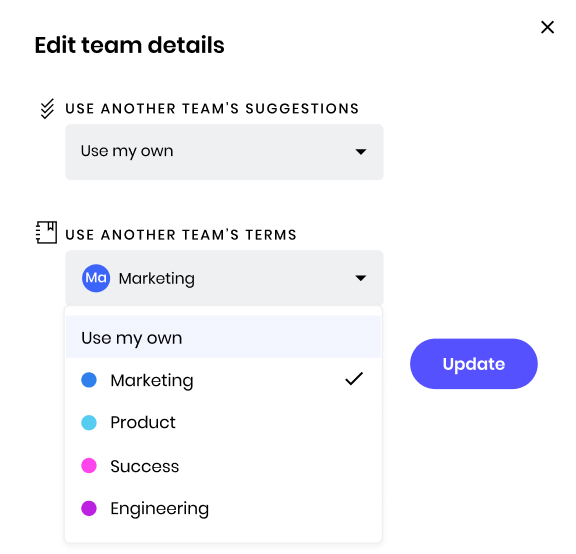 Keep the company's language aligned by linking parts of your Styleguide across teams.
Toggle between various company styleguides with the Team switcher in Writer's extensions.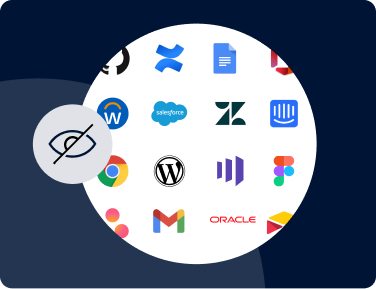 Writer is privacy-first. Your data is analyzed transiently, so what you write in your browser doesn't get stored or used by Writer.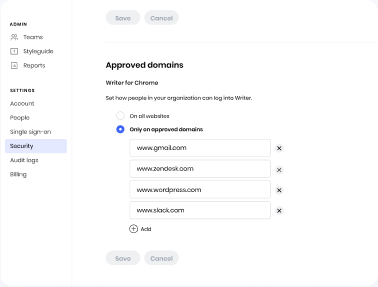 Deploy Writer behind a VPN or only on specific websites or applications.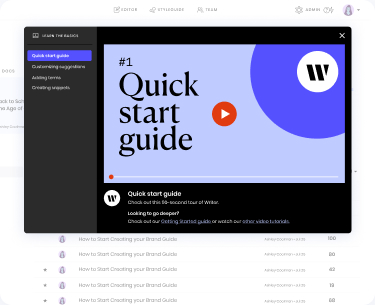 Onboard users with videos tailored to your use case and company. Train users with role- based curricula.
All Writer plans
How many people are on your team?
Free
Basic suggestions, anywhere you write.
Autocorrect
Grammar
Spelling
Punctuation
Data security & privacy
Pro
Advanced suggestions for individuals.
Clarity
Delivery
Inclusivity
Snippets
Writing style configuration
Plagiarism
Team
Language and content consistency for teams.
Team roles and permissions
Quality report
Google and Okta single sign-on
Enterprise
Great writing across your whole company.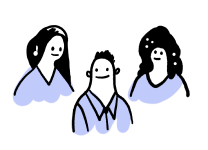 License utilization report
SAML-based single sign-on
Enterprise-wide admin panel
API
Dedicated customer success rep
Enterprise
Writer for your entire company
For organizations that need additional security and control.
With Enterprise, get additional:
Teams
Separate workspaces for each team
Styleguides
Customized for different use cases
Support
Phone, video, and email support 24/7
Styleguide implementation services
Fast rollouts with hands-on setup
Grammar, spelling, and punctuation

Chrome
Google Docs
Word
Outlook
Figma
Custom integrations via RESTful API
Sync terms, Snippets, and rules
Data, security, and privacy
256-bit AES and SSL/TLS encryption
Multi-factor authentication
Roles-based access control
BAA signed for HIPAA compliance
DPA signed for GDPR compliance
Enterprise-wide admin panel
Implementation and support
Dedicated customer success rep
FAQs
Frequently asked questions
Do you have discounts for non-profits or educational institutions?
Writer offers a 20% discount on the Pro, Team, and Enterprise plans to non-profits and educational institutions. Email hello@writer.com using your non-profit or .edu email address to get your discount code.
What is the benefit of Pro over Free?
With Free, you get more basic writing suggestions. The Pro plan will up the professionalism and polish of your writing with Clarity, Delivery, and Inclusivity suggestions. You'll also be able to use Snippets, a feature that saves you from typing the same thing over and over, and Plagiarism, which checks to make sure your content is original.
What happens if I go over usage limits?
We'll notify you if you go over your plan's usage limits. The limits are hourly, daily, and monthly. So, if you go over an hourly limit, you'll be able to start using Writer again at beginning of the next hour. The same rule applies for the daily and monthly limits.
Can I pay for a Pro or Team plan via check or wire transfer?
You can pay for Writer via check or wire transfer. Email support@writer.com for mailing address or bank transfer details.
How do I get a quote for Writer?
You can get a quote for Writer. Email hello@writer.com with the number of seats you'd like to buy and your name, address, and anything else you'd like to be on the quote.

Do I pay for users who access my Styleguide?
Viewers of your Styleguide don't have to be Writer users. You don't pay extra for them, even if you're hosting your Styleguide on your own domain or have it behind an SSO login or firewall.
Join +100K professionals