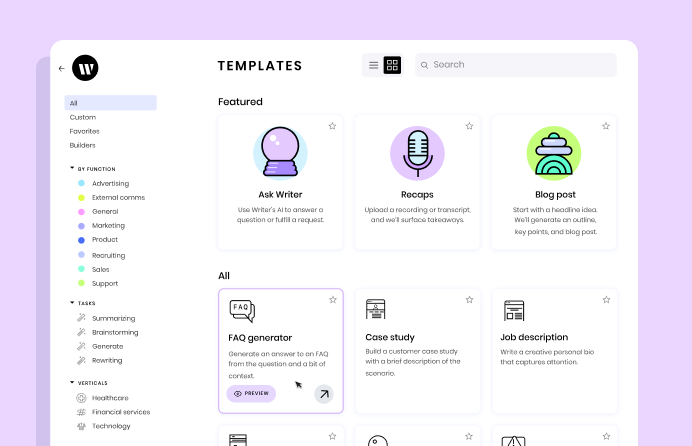 Prebuilt template
Access a templates library of common use cases.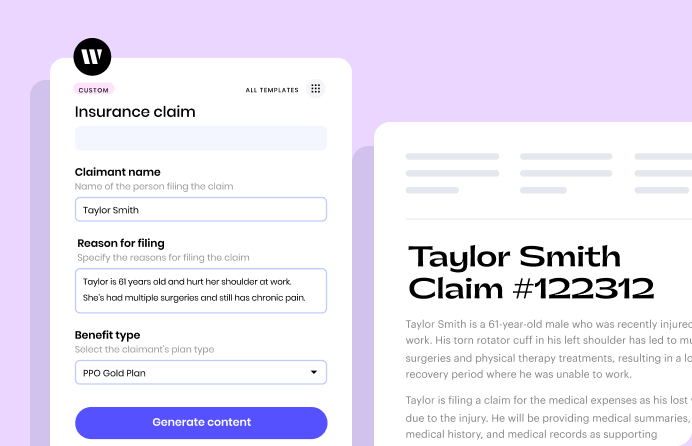 Custom templates
Use composable UI elements to build templates that generate consistent outputs.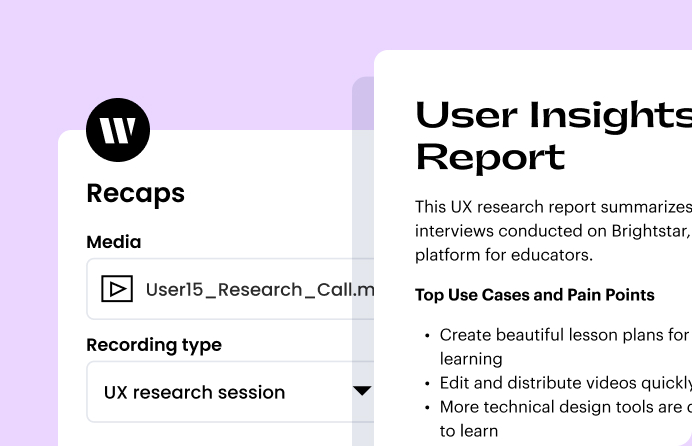 Recaps
Summarize video and audio recordings in minutes.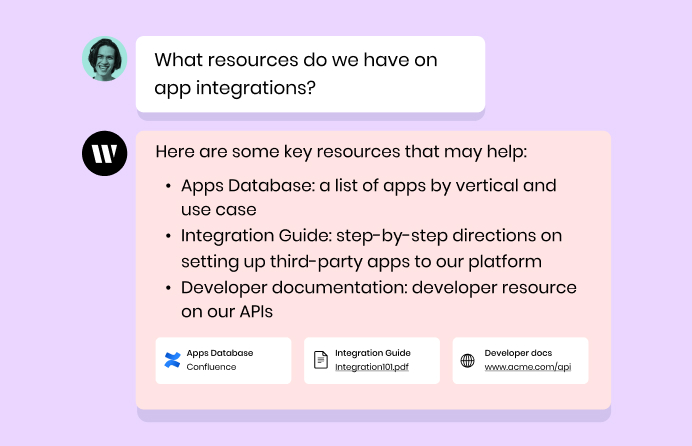 Ask Writer
Use our open-ended prompt to make any request.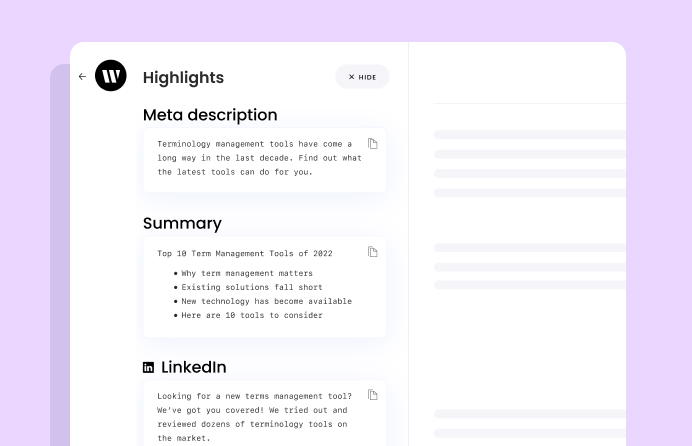 Highlights
Instantly generate copy for promotion on social media.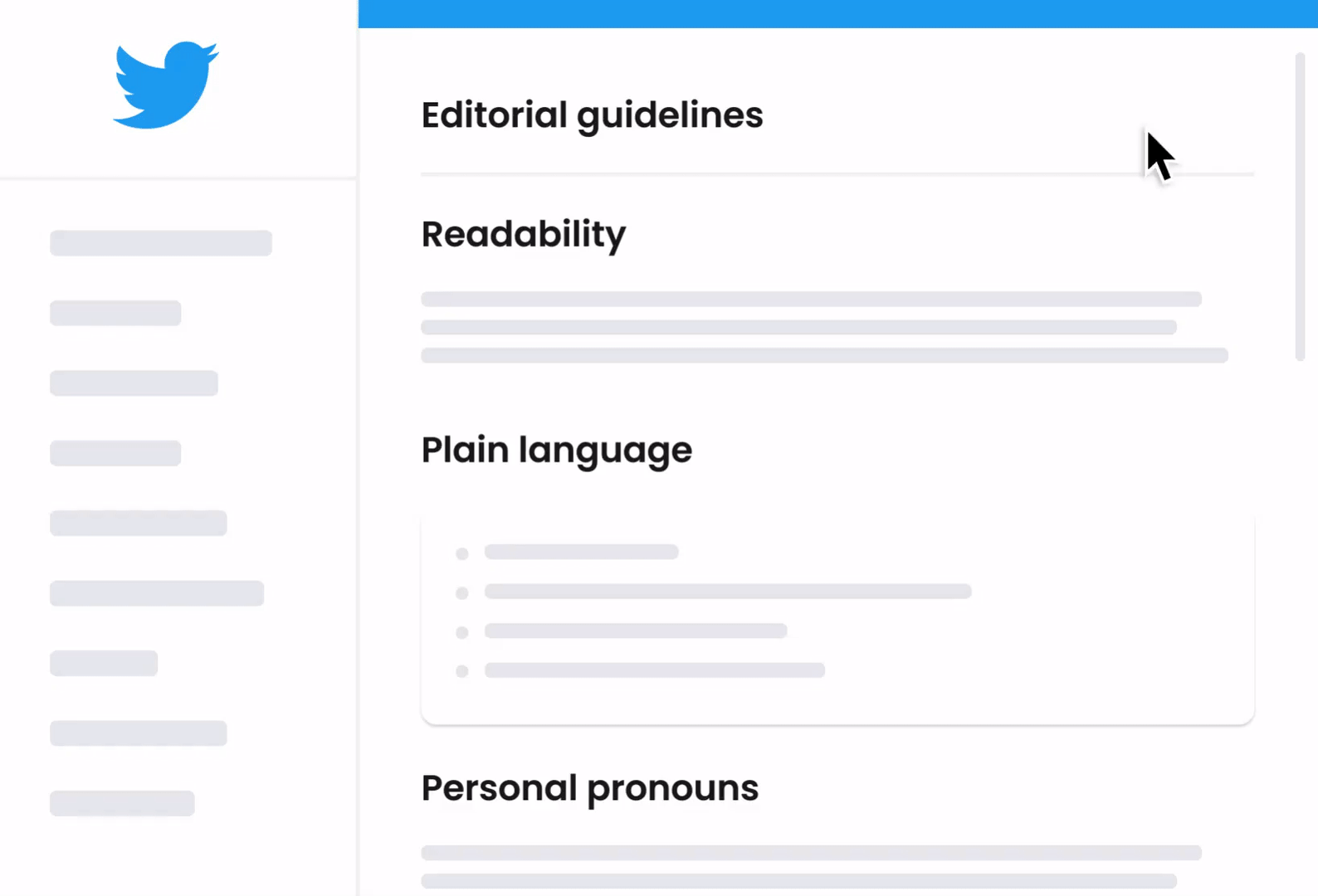 Style guide
Set your writing rules and publish a style guide accessible to everyone.
Terms
Create a single source of truth for your terms.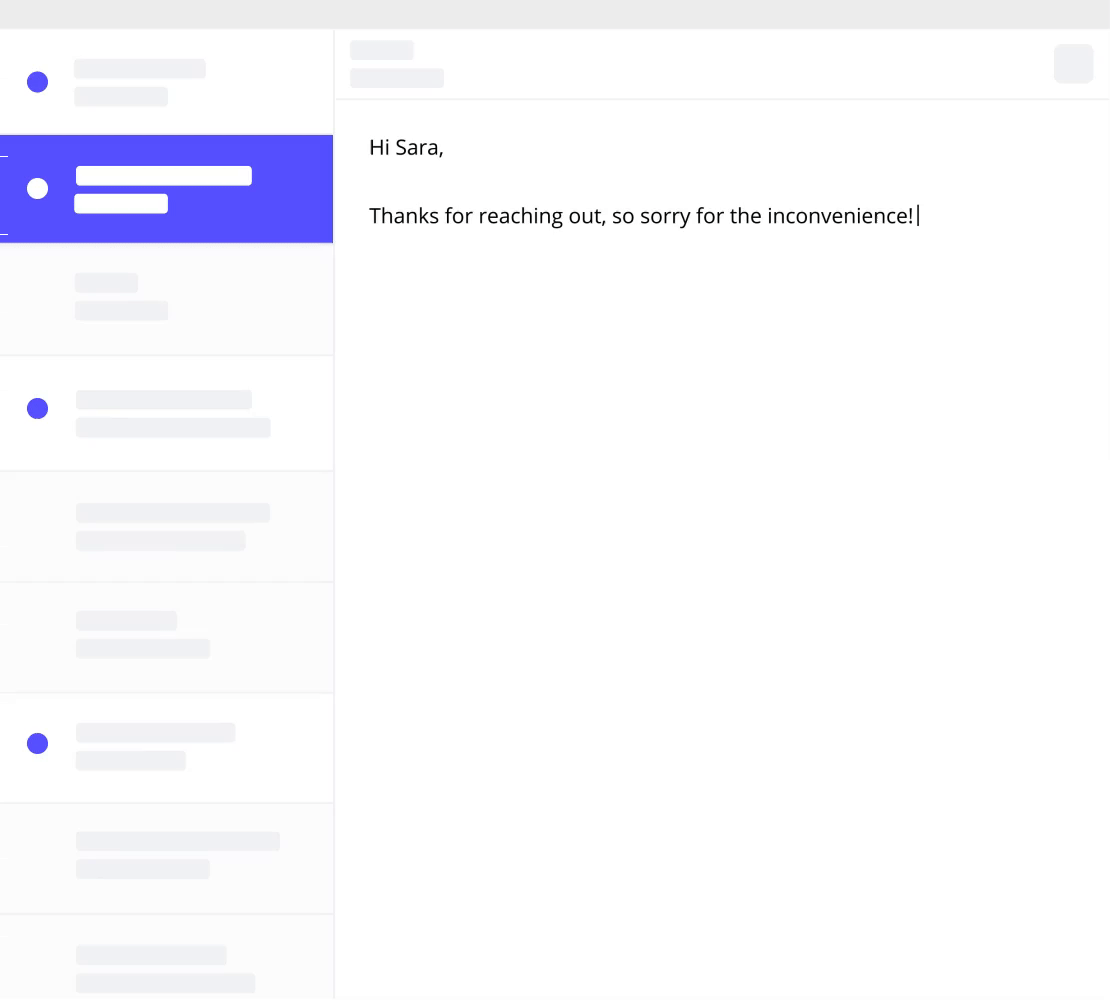 Snippets
Create a single source of truth for your terms.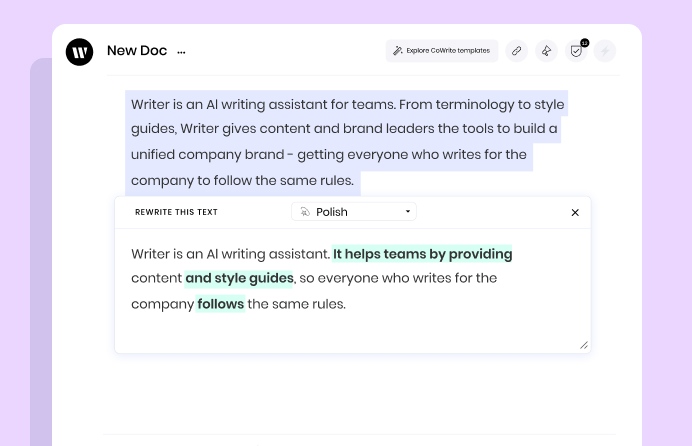 Rewrite
Instantly rephrase your writing.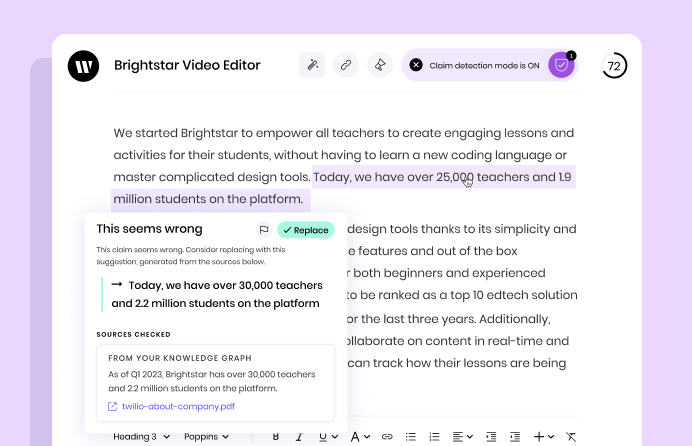 Claim detection
Automatically flag statements that need to be fact-checked.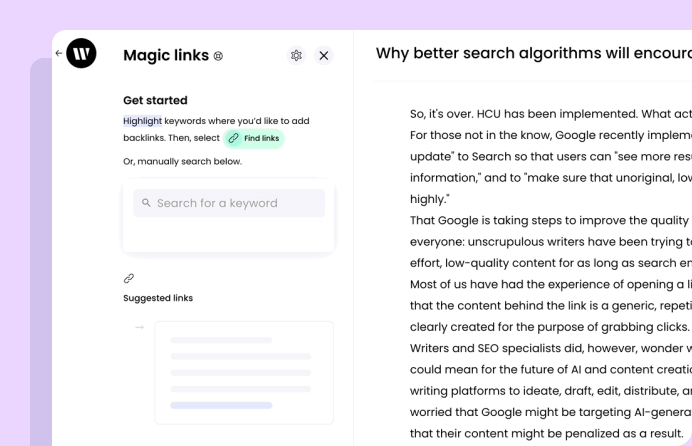 Magic links
Automatically identify backlinks to optimize for SEO.
Custom writing rules
Add bespoke writing rules beyond the default settings.
Custom rewrite fine-tuned on your examples
Train rewrite to sound more like your brand.
App extensions for in-line suggestions
Get automatic feedback in the places you work the most, including Chrome, Microsoft Word, Outlook, Figma, Contentful, and more.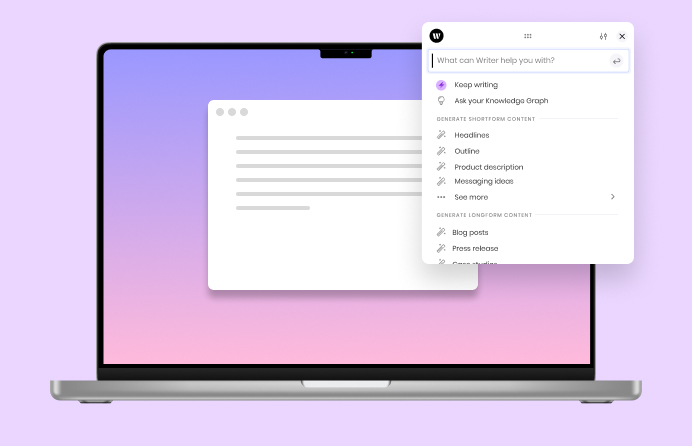 Desktop app
Use Writer to generate content anywhere with the Mac app.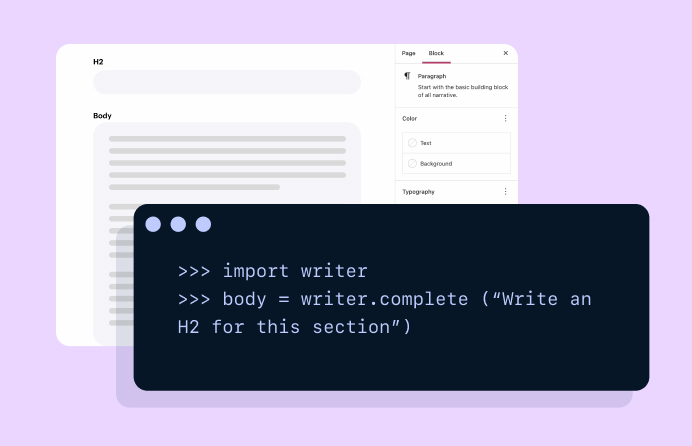 API access
Build custom applications and workflows with our API.
Knowledge Graph
Connect to your business sources to conduct research and generate accurate output.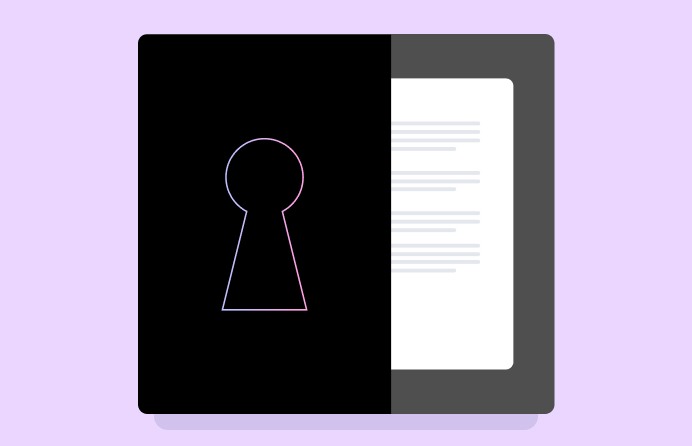 Data privacy
Your data is analyzed transiently and is never stored or shared. Our LLMs don't use your data in model training.
Team
Basic plan for individuals just getting started with generative AI
per user/month
up to 5 users
Includes:
Output and insight generation
35+ prebuilt templates
Recaps to process recordings
Ask Writer, our open-ended prompt interface
Governance
Style guide, terms, and snippets to enforce your rules
App extensions for Chrome, Microsoft Word, and more for in-line suggestions everywhere you work
Basic admin tools
Roles and permissions for one team
Google and Okta SSO
Email support
ENTERPRISE
Robust plan for companies looking to embed generative AI into any business process
Custom pricing
Everything in Team, plus:
Deep customization
Custom templates tailored to your use cases
API access to build custom workflows
Data integration
Knowledge Graph to connect to your business data sources for accurate outputs and insights
Multiple teams
Setup multiple teams with their own style guide, templates, and more
Advanced security and support
Custom contracts
Custom infosec review
Flexible deployment options
Dedicated account management team
Onboarding, implementation, and ongoing program management
World-class companies trust Writer
Compare all the features
Output and insight generation
More words / user / month
5 recordings / org / month
More recordings / org / month
Admin controls and reporting
Enterprise-wide admin panel
Multi-factor-authentication
256-bit AES and SSL/TLS encryption
BAA signed for HIPPA compliance
Multi-tenant,
Writer-managed
Flexible options,
including single-tenant
Dedicated customer success manager
Technical solutions architect
Frequently asked questions
Do you have discounts for non-profits or educational institutions?
Writer offers a 20% discount on the Team and Enterprise plans to non-profits and educational institutions. Email hello@writer.com using your non-profit or .edu email address to get your discount code.
What happens if I go over usage limits?
We'll notify you if you go over your plan's usage limits. The limits are hourly, daily, and monthly. So, if you go over an hourly limit, you'll be able to start using Writer again at beginning of the next hour. The same rule applies for the daily and monthly limits.
How do I get a quote for Writer?
You can get a quote for Writer. Email hello@writer.com with the number of seats you'd like to buy and your name, address, and anything else you'd like to be on the quote.

Do I pay for users who access my style guide?
Viewers of your style guide don't have to be Writer users. You don't pay extra for them, even if you're hosting your style guide on your own domain or have it behind an SSO login or firewall.