Recommended content strategy resources & tools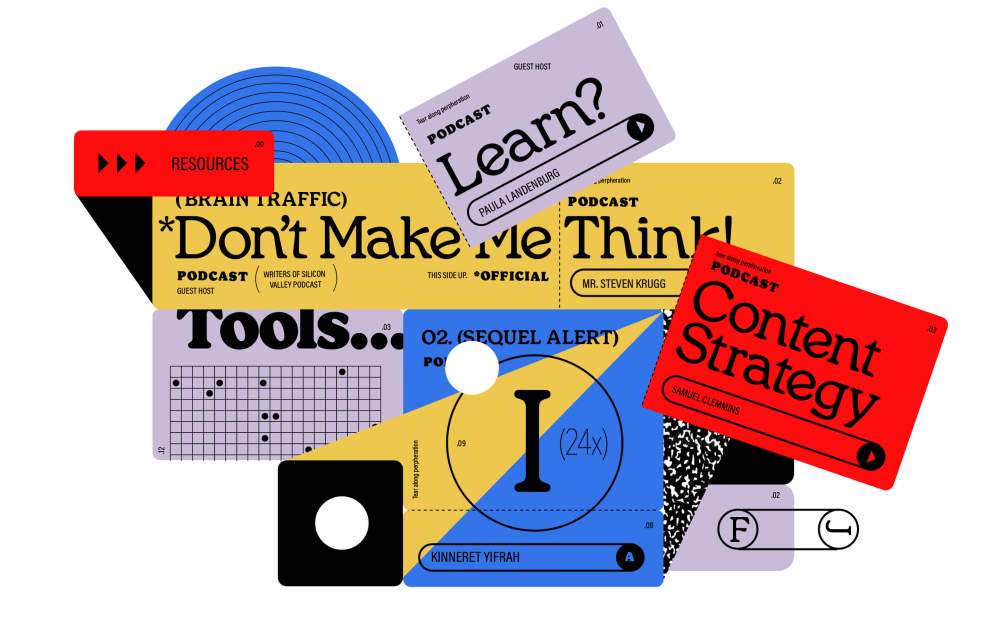 In April 2019, we surveyed 400+ content strategists and asked them to share their favorite resources for learning and working. They delivered over 300 different recommendations! If you're looking for a new book, podcast, blog, community, conference, or tool, there's likely something here for you to pick up.
If your favorite content strategy resources and tools are missing from the list, tweet @Get_Writer to let me know.
---
Table of Contents
---

Websites & blogs
Email newsletters
Books
Podcasts
Online & offline communities
Facebook group: Content Strategists
Facebook group: Microcopy & UX Writing Group
Facebook group: for female content strategists
Facebook group: Any for UX, SEO, etc.
Listserv: Content Manager Listserve (it's a government resource)
Meetup: Content Melbourne
Meetup: Content Strategy Seattle
Meetup: San Francisco Content Strategy
Meetup: San Francisco UX Writers
Meetup: UX Content Design NYC
Meetup: UXPAMN gatherings
Network: Campus group meetups
Network: Community around the Master's program at University of Graz
Network: DTA content design
Network: Federal Communicators Network
Network:

Society for Technical Communication

Slack group:

Content + UX

Slack group: Ethical Content
Twitter: #contentstrategy conversations
Twitter: Individual experts and chats like #CMWorld
Conferences & courses
All conferences that have hands-on sessions
Usability Day at UMN
Webinars by dotCMS
Individual experts
This is certainly not a complete list of all the amazing content leaders out there, but it is the list of those who were specifically mentioned in our survey. Perusing the websites, blog writers, book authors, communities, and groups above is a great way to find more people to follow.
General resource ideas
Airtable templates, especially for content audits
Audible — see book suggestions
B2B marketing research portals — see website suggestions
Blogs — see blog suggestions

Posts by design departments at leading companies (less for learning how to do something new and more for validating that I'm doing the right thing)

Books — see book suggestions
Case studies
Conferences/events + presentations/materials — see event suggestions
Consultations
Courses
Facebook groups — see community suggestions
Google
Key external speakers — see favorite experts
LinkedIn articles & groups — see community suggestions
Meetups — see community suggestions
Newsletters & emails — see newsletter suggestions
Podcasts — see podcast suggestions
Reports
Seminars
Slack groups — see community suggestions
Social media — see community suggestions
Style guide websites
Training, online and offline
Twitter — see community suggestions
UX books — see book suggestions
Web articles — see blog suggestions
Webinars — see host suggestions
Websites — see blog suggestions
YouTube videos
Internal organization knowledge:

Conferences at my company
Colleagues IRL ("in real life")
Developers
Internal strategic relations team
My content strategy team
Onboarding and training at my company
One or two good strong hires
Other content strategists at my company
Our content competence
Our own internal analytics and testing
Staff research and sharing

Personal:

Crowdsourcing my tech network
Feedly (my feed of content strategy blogs) — see

website suggestions

Informal networking
Observing those in my industry — see favorite experts
On the job experience, past experience
Other comms professionals — see

favorite experts

Peers and personal connections
Strategists in my wider agency network
Trial and error
"Doing the work!"
"The creativity in my mind"
"Honestly, I don't even have the time for proper research."
"There is woefully little available for my sub-discipline of CS (support/customer experience)."

---

Respondents submitted nearly 200 different tools they use in their content strategy roles. We organized those into loose groups based on the purpose or functionality of the tool.

Analytics tools
Analysis: Facebook Insights
Analysis: Google Analytics
Analysis: Google Data Studio
Analysis: Iconosquare
Analysis: Twitter analytics
Content, asset, & website management tools
DAM: Adobe Bridge
DAM: Aprimo
DAM: Cumulus
DAM: SAP Digital Library
DAM: Widen
CMMS: Hippo
CMS, Intranet: Confluence
CMS, Knowledgebase: Adobe RoboHelp
CMS, Knowledgebase: Salesforce
CMS, Knowledgebase: Zendesk
CMS: Adobe Experience Manager
CMS: Cascade
CMS: CKEditor
CMS: Contentful
CMS: Contentstack
CMS: CraftCMS
CMS: Directus
CMS: DNN
CMS: Documentum
CMS: dotCMS
CMS: Drupal
CMS: Ektron
CMS: Episerver
CMS: IBM Lotus
CMS: Kentico
CMS: Madcap Flare
CMS: SiteCore
CMS: Tridion
CMS: TYPO3
CMS: Veeva Vault
CMS: Wagtail
CMS: Webflow
CMS: WordPress
Content inventory: Content Analysis Tool (CAT)
Content Ops: GatherContent
Content Ops: Kapost
Content Ops: Oracle Service Cloud
Content Ops: Oracle Web Center Sites
Content Ops: Oracle WebCenter Content
Website governance: Jump Chart
Website governance: Siteimprove
Website governance: Slickplan
Content creation & design tools
Create, Video: Camtasia
Create, Video: Wistia
Create, Write: GDrive Suite (Docs, Sheets, Slides, Folders)
Create, Write: Internal style guide
Create, Write: Microsoft Office Suite (Word, Excel, PowerPoint, Onenote)
Design: Abstract
Design: Adobe Creative Cloud (Acrobat, Illustrator, InDesign, Photoshop, Premiere, Spark)
Design: Canva
Design: Figma
Design: InVision
Design: Sketch
Diagramming, User Journeys: UXpressia
Diagramming: Flowmapp
Diagramming: LucidChart
Diagramming: Real Time Board
Diagramming: Skitch
Diagramming: Visio
Diagramming: Xmind
Form builder: Formstack
Ideation: Miro
Ideation: Mural
Wireframing: Axure
Wireframing: Balsamiq
Content intelligence tools
Content analysis: Acrolinx
Content analysis: Grammarly
Content analysis: Hemingway
Content analysis: SmartLogic
Crawler: ParseHub
Crawler: Screaming Frog
Crawler: URL Profiler
Development tools
Code editor: Sublime Text
Code editor: TextWrangler
Code editor: Ultra Edit
Development, learn: ww3 schools
Development, web: Adobe Dreamweaver
Development, XML Editor: Oxygen
Development, XML Editor: XMetaL
Development, XML Publishing: XPP
Development: Apache SVN
Development: Assembla
Development: gulp
Development: Git
Development: GitHub
Development: GitLab
Webpage builder: Google Sites
Webpage builder: Web Express
Education-focused tools
Education software: Chalk
Education software: Docuvera
Education software: Inkling
Localization tools
Localization: PhraseApp
Localization: SDL
Localization: Smartling
Marketing-focused tools
Brand management: Frontify
Brand management: Google Business
Marketing, Email: Constant Contact
Marketing, Email: MailChimp
Marketing, Public Relations: TrendKite
Marketing, Sales Enablement: Highspot
Marketing, SEO: BrightEdge
Marketing, SEO: Moz
Marketing, SEO: SEMRush
Marketing, Social Media: Hootsuite
Marketing, Social Media: Sendible
Marketing, Social Media: Sprout Social
Marketing, Social Media: Tweetdeck
Marketing: Atomized
Marketing: Buzzsumo
Marketing: Contently
Marketing: Eloqua
Marketing: Hubspot
Marketing: Marketo
Marketing: Meltwater
Marketing: Mention
Marketing: NewsCred
Marketing: Percolate
Marketing: UberFlip
SEO: Google Keyword Planner
SEO: SEMRush
Research tools
Research, UX: Optimal Workshop
Research: AnswerThePublic
Research: Google Trends
Research: OptimalWorkshop
Teamwork, collaboration, & communication tools
Collaboration: Quip
Collaboration: Zeplin
Communication: Bluejeans
Communication: Microsoft Outlook
Communication: Microsoft Teams
Communication: Slack
Anonymous Whistleblowing System: Vispato
Document generation: Webmerge
Document management: Box
Document management: Dropbox Paper
Document management: Microsoft OneDrive
Document management: Sharepoint
Proofing: GoProof
Proposals: SmartDocs
Scheduling: Google Calendar
Work management: Airtable
Work management: Asana
Work management: Basecamp
Work management: CoSchedule
Work management: Desksite
Work management: InMotionNow
Work management: Intervals
Work management: JIRA
Work management: KeyedIn
Work management: Microsoft Planner
Work management: Monday
Work management: Notion
Work management: Robohead
Work management: Smartsheet
Work management: TaskRay
Work management: TeamGantt
Work management: TeamworkPM
Work management: TeuxDeux
Work management: Trello
Work management: Workflow Max
Work management: Workfront
Work management: Workgroups DaVinci
Work management: Workzone
Work management: Wrike
Miscellaneous tools
Misc: Advantage
Misc: Contour
Misc: eNews Pro
Misc: GovDelivery
Misc: TRIM
---
I hope this helped you find your next great resource. Remember, you can tweet @Get_Writer with any additional suggestions for the list.
Illustration by Andrew Beck
More resources