Customer support is content marketing — lessons from Pinterest's Help Center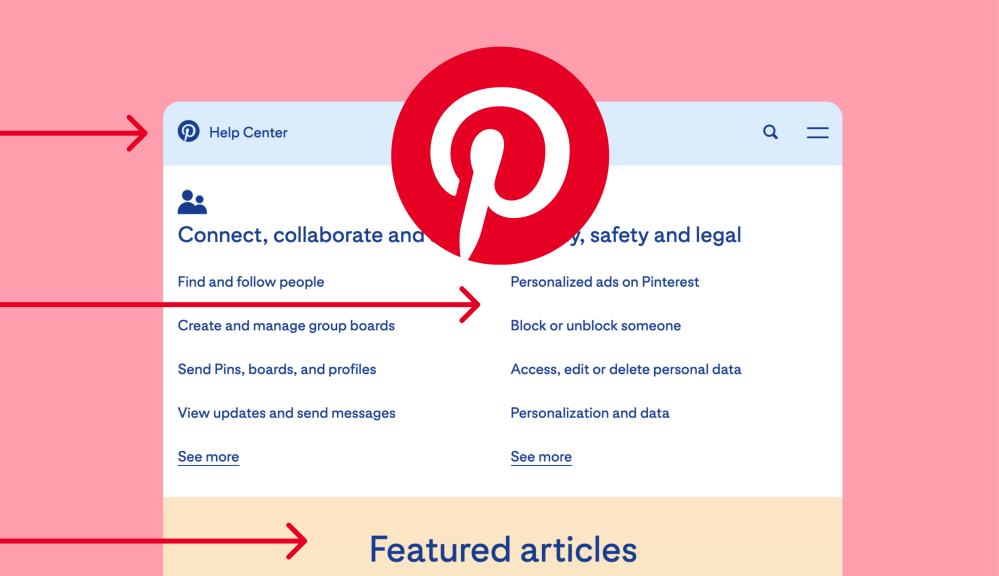 Your product can have all the signups in the world, but what really matters is who stays.
Out of the many ways to use content marketing to improve retention, customer support is often overlooked. Support teams are content teams, and they not only write a ton of important content, they're at the forefront of customer interactions. Because they're constantly talking to customers, support teams likely know customers much better than marketing teams do. And yet it's rare for marketing and support teams to collaborate.
This is not the case at Pinterest — their Help Center is an outstanding example of the magic that happens when teams talk to each other, align on goals, understand the importance of experience, and operate as truly customer-centric. If your help content could use some help, take inspiration from all the ways Pinterest knocks it out of the park.
Design is everything
We judge websites within the first 1/50th to 1/20th of a second. The more visually complex a site is, the more it makes us want to hit the back button. Pinterest's Help Center has a clean, simple layout that's easy to scan and navigate. It's not overwhelming — it's intuitive.
DESIGN FOR SCANNABILITY
The best help centers empower people to answer their own questions with ease. A few common scanning patterns dictate how you design the layout of your help center. For example, people fixate on the first words of a line towards the top of the page. The search feature, along with other key navigational buttons, should always be at the top of your page above the fold.
Our eyes tend to follow a pattern that reflects the language we speak. Those who read left-to-right languages, for example, read text on the left first. Pinterest purposefully places the "Get started" section on the left. This logical order of the sections will resonate with English readers as they scan the page starting on the left.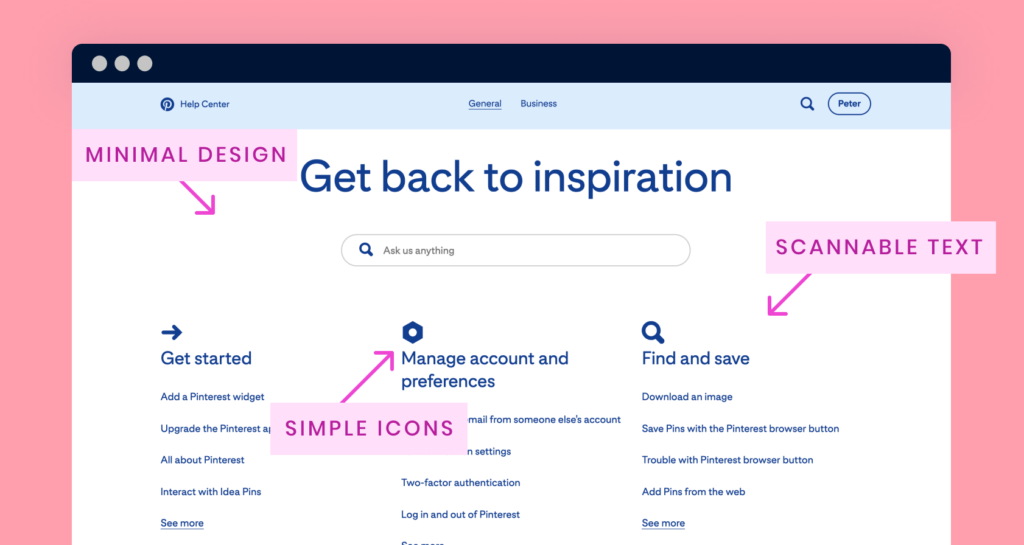 KEEP IT CONSISTENT AND LEGIBLE
Use icons that effortlessly communicate information. If your icons are too complex, that lowers the readability level of your help center and diminishes the experience. Pinterest's Help Center icons and fonts are simple, consistent, and on-brand. When a user goes from Pinterest (the product) to the Help Center, it's a seamless transition.
Pinterest hired design company Grilli Type to create a custom typeface called Pinterest Sans. According to Grilli Type, "Pinterest's internal design team wanted a distinctive sans serif that embodied the brand's approachable and forward-thinking personality." Pro tip: for better readability, choose a sans serif over a serif.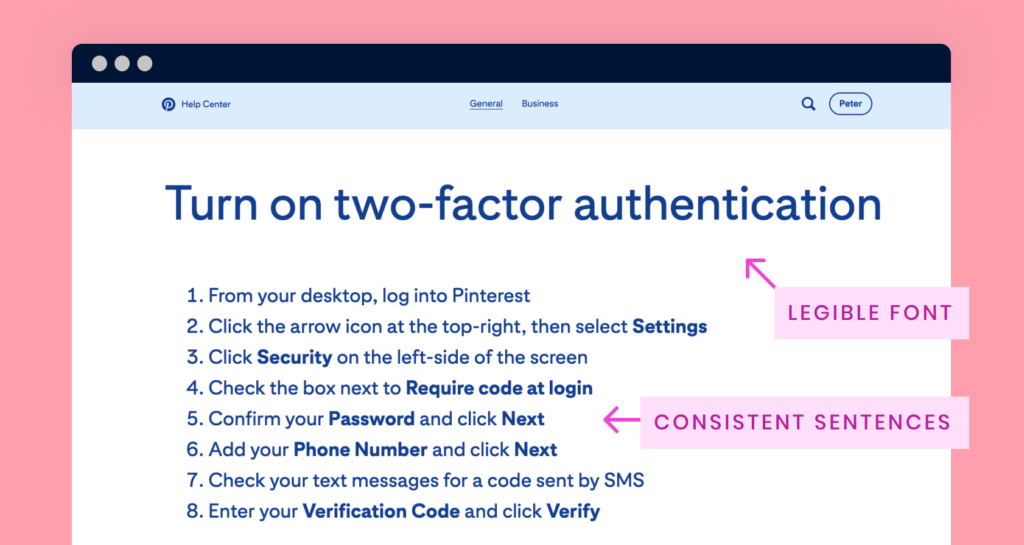 Sentence length affects readability, too. Pinterest tends to write sentences that aren't too long or too short, about 45 to 75 characters. Paying attention to sentence length mitigates mental strain and eye fatigue.
Make navigation a breeze
Without organization, content gets chaotic. Considering that many people might visit a knowledge base because they're already frustrated or confused, it's even more important to nail the navigation so people can find what they need as quickly as possible.
Pinterest organizes the categories and section breaks on their Help Center in a way that's easy to navigate and makes sense to the reader. Information about the most common questions is listed first and organized in groupings according to user motivation. As you move across and down the page, topics tackle questions aimed at more advanced users.
Since Pinterest caters to both general users and businesses, they also provide categorized links at the top to differentiate between the two.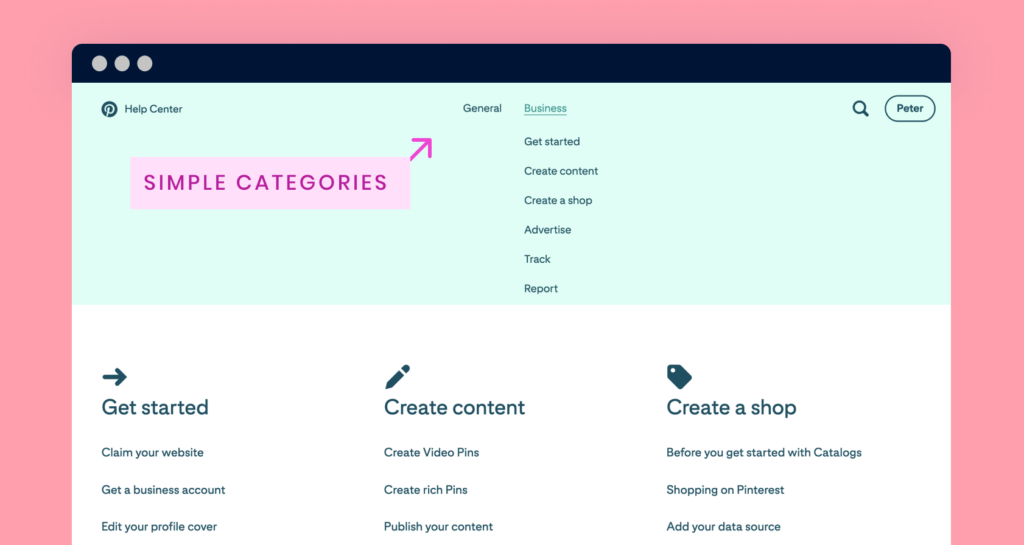 A "Featured articles" section is a great way to grab browsers' attention and educate them. These standalone articles make for a good starting point for visitors who aren't sure which topics to explore.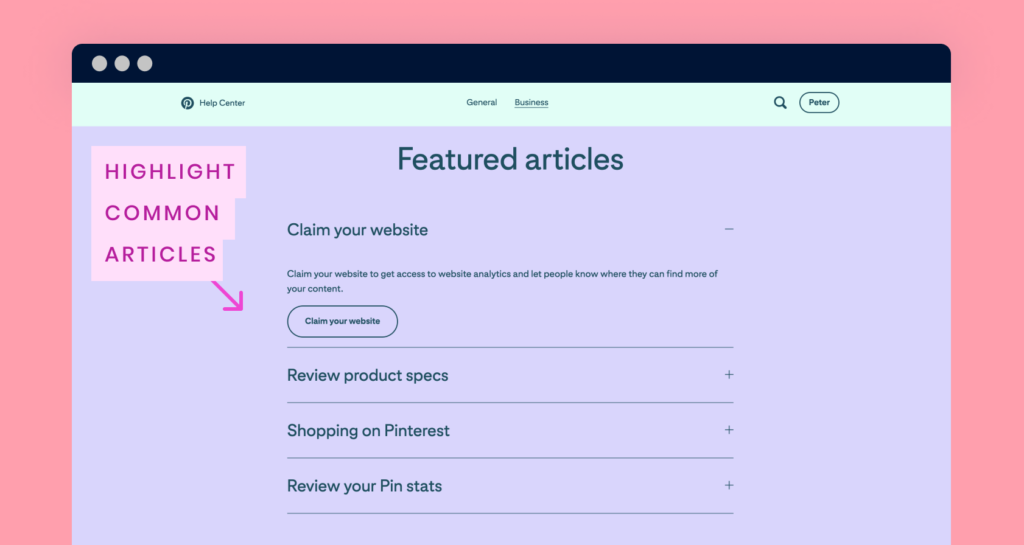 Adding a sidebar with related inquiries on individual article pages often helps with engagement. These articles should address questions the reader didn't even know they had.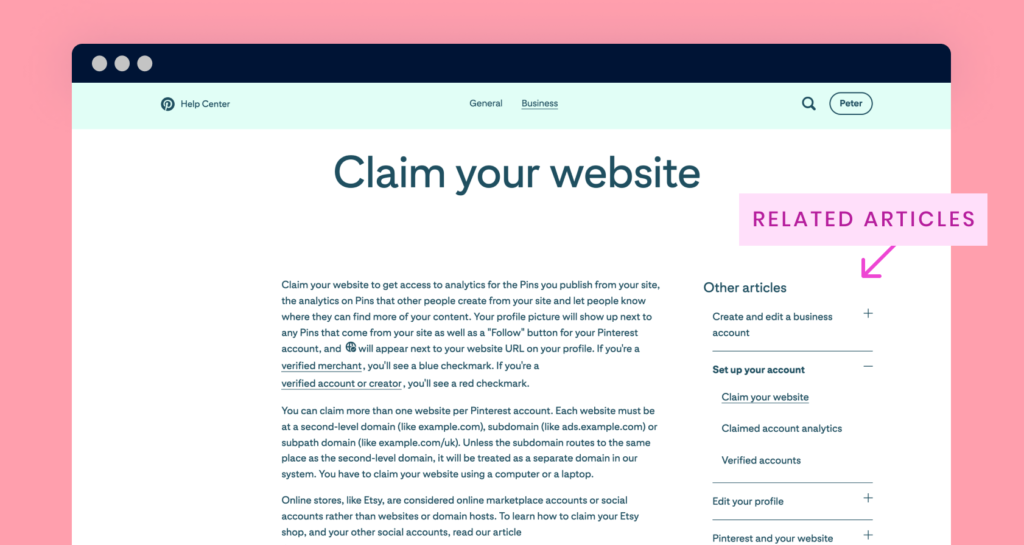 Make it accessible
Pinterest designed their Help Center with accessibility in mind. Some of the accessibility features Pinterest incorporates include adequate color contrast, zoom without loss of content functionality, and a keyboard-friendly design in which visitors can move from one element to the next using the keyboard.
Pinterest also gives users the option to view their Help Center in 30 different languages. As a company with users all over the globe, this type of inclusive design goes a long way toward keeping customers happy and improving retention.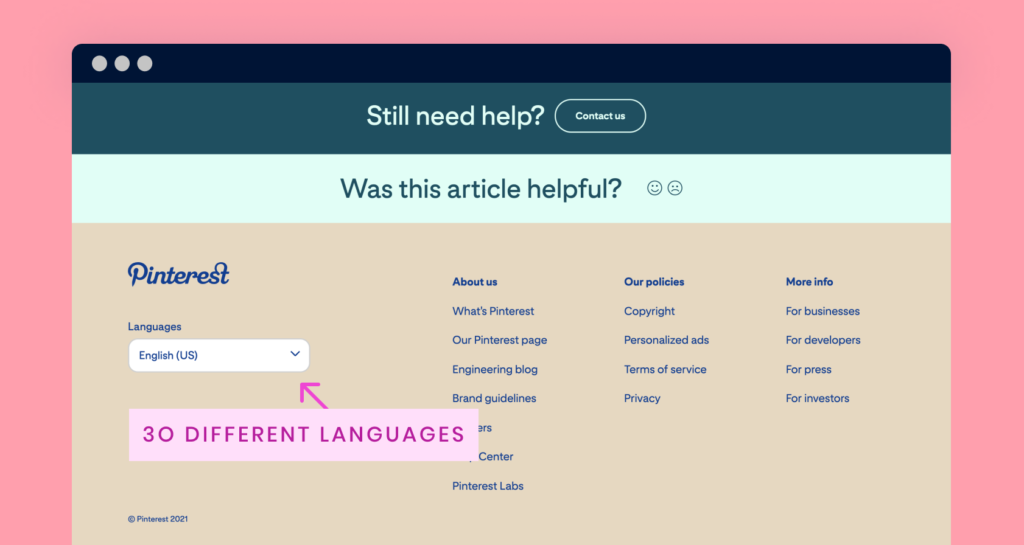 Write with clear intention
Writing concise copy improves readability and experience. Text that's easy to comprehend uses plain language and requires less effort from the user. Consider the reading level of your audience to guide you as you write. For example, in the US, the average reading level is seventh to eighth grade.
Sentence structure also plays a role in readability. Pinterest uses short titles with keywords their customers would understand and search for. They also get straight to the point by using precise and informal language. At the bottom of the page, they include a clear call to action (CTA) with a contact button for those who still need help finding the answer to their question.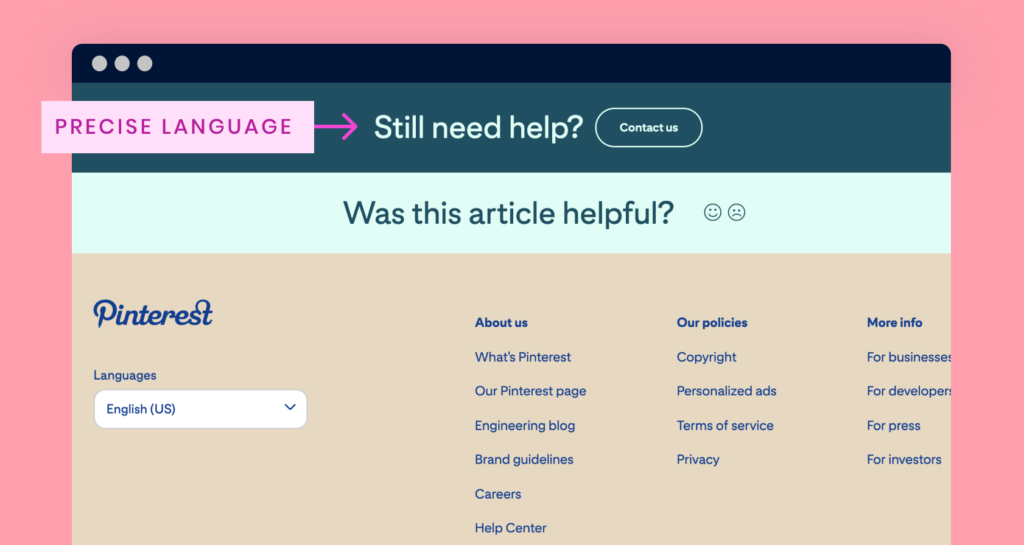 Pinterest uses second-person language. This writing style is relatable, as it speaks directly to the user and motivates them to take action.
In the Tips section, users can toggle through a series of quick tips and advice to improve their experience with Pinterest. Using second-person language puts the reader into the shoes of a more experienced Pinterest user.
Provide resources that add value
Your knowledge base can be a place to offer unexpected value and delight. Consider the questions customers ask that aren't technical in nature but, rather, more future thinking.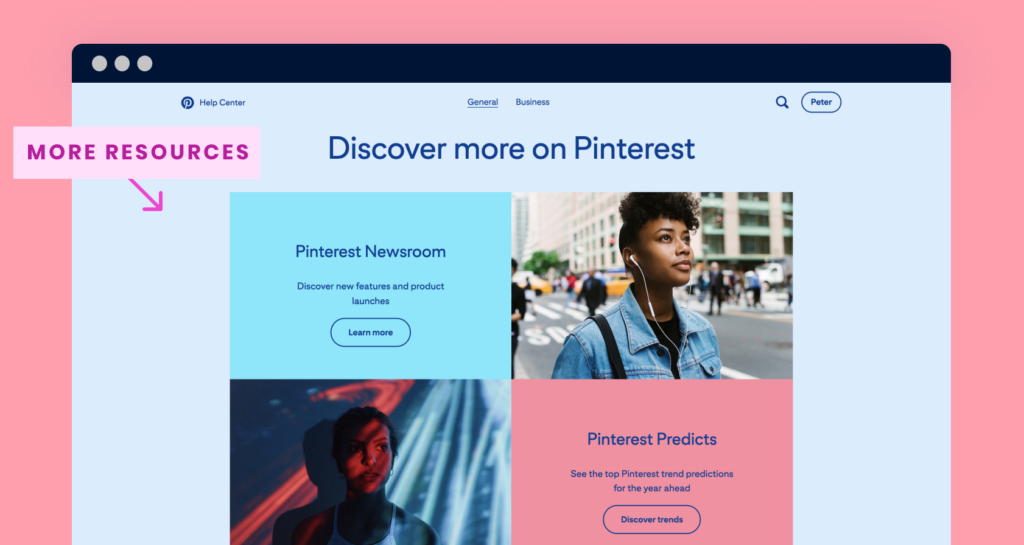 For general users, Pinterest has a section called Pinterest Predicts with business strategies, tips, and trends. They also have a Newsroom for general growth and development updates about Pinterest.
For business users, Pinterest created a community page to enable businesses to learn from each other, a one-stop shop for all things business, and a Pinterest Trends tool.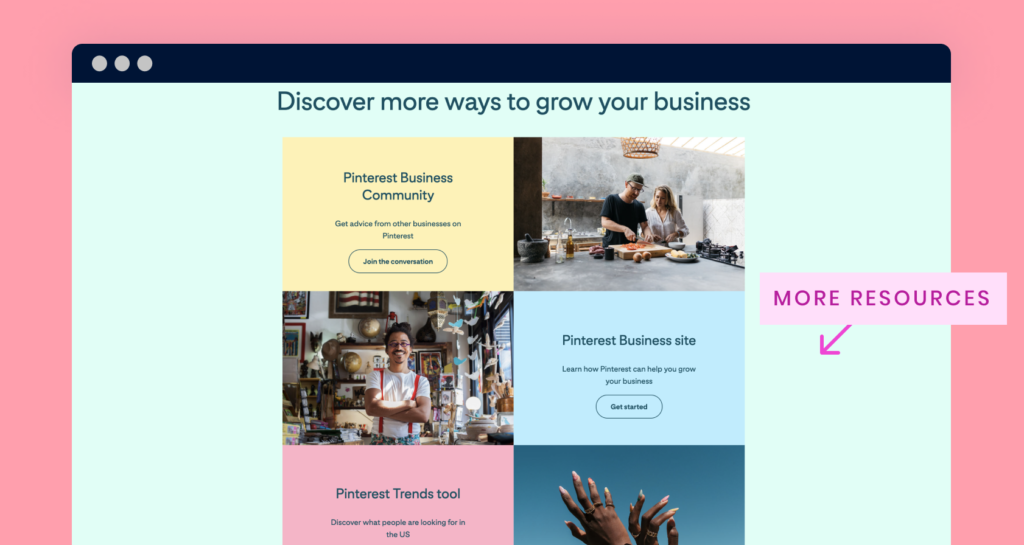 MAKE IT EASY TO TALK TO AN ACTUAL PERSON
Connecting people directly with your customer support team is integral to maintaining customer satisfaction and converting leads into users.
Pinterest's contact form submission page is a quick five-step process. Pinterest uses a step-by-step flow (with dropdowns) rather than just one long contact form. This helps Pinterest better direct visitors to resources automatically (since every step leads the user down a different support path) and also gives the reader more options.
First, the user provides a general topic area that their inquiry falls under.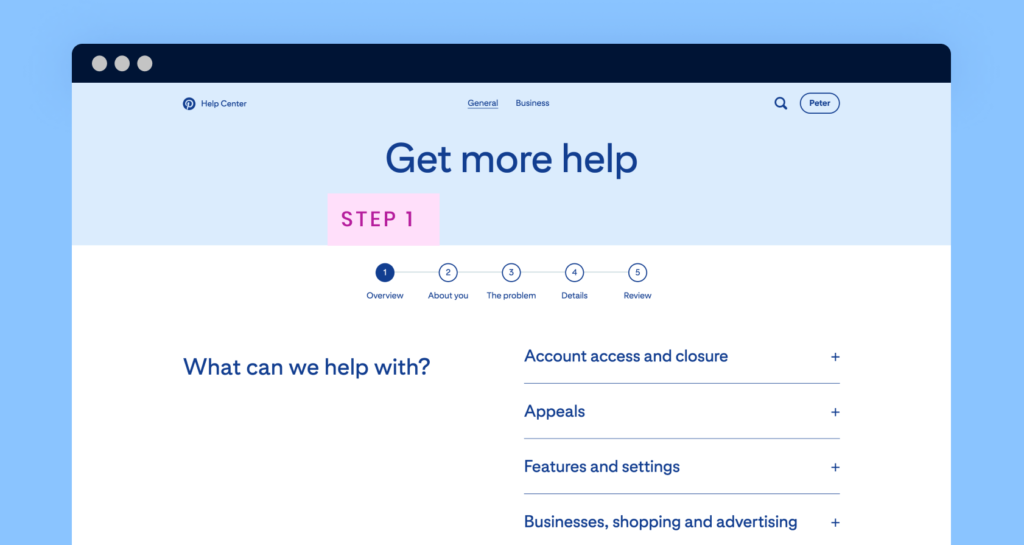 Next, the user provides their personal contact information for Pinterest to get in touch with them.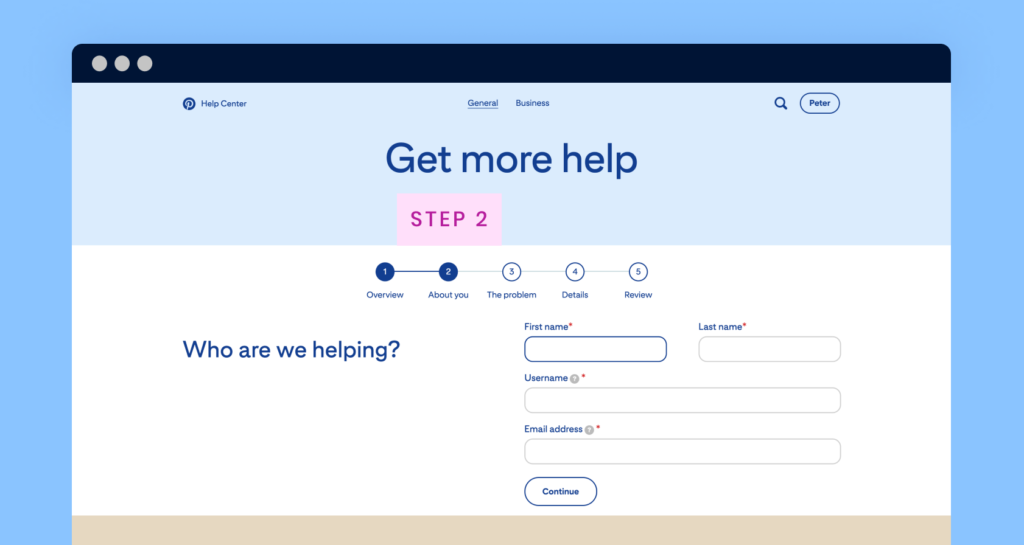 After that, the user gets an open-ended form to describe the problem they're experiencing.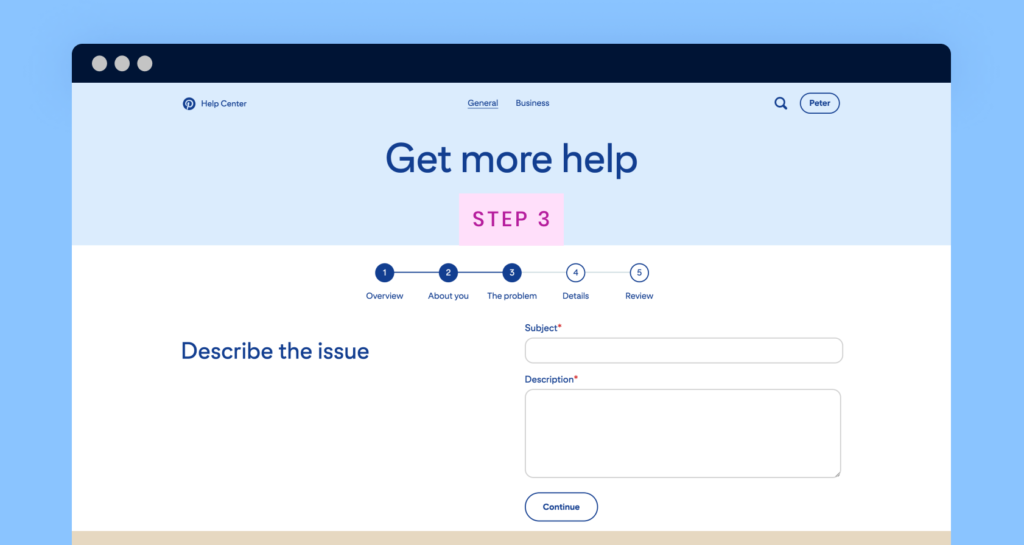 Following the problem, Pinterest gathers a bit more information about the device being used.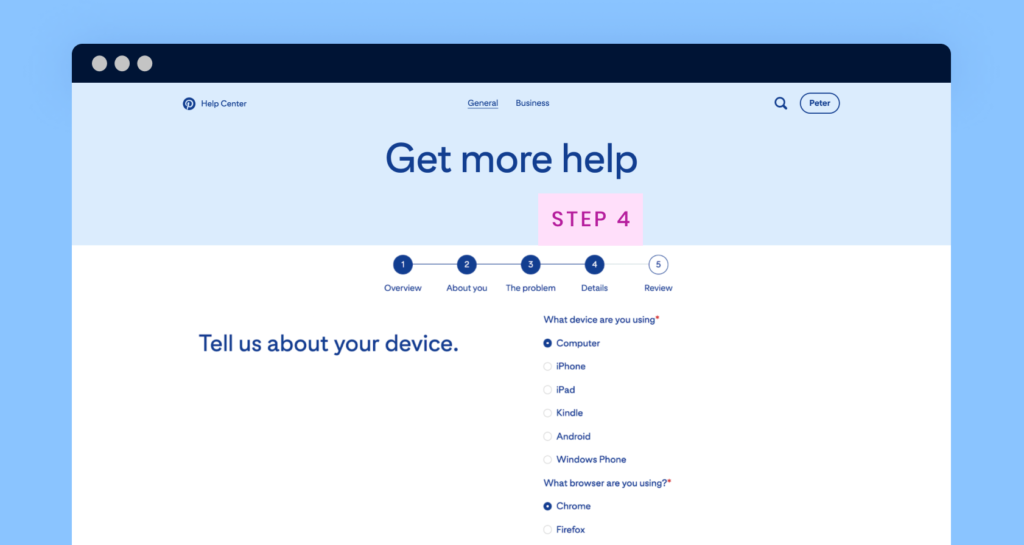 Lastly, the user is asked if they received any error messages that prompted their inquiry. And on the final step, they have the opportunity to review everything before submitting.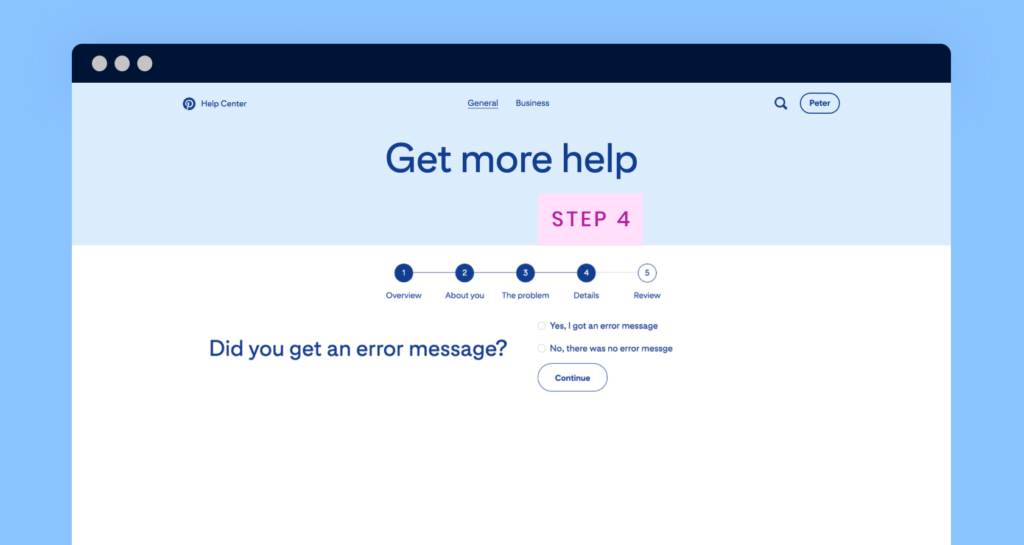 After someone submits a help request, Pinterest confirms receipt and says they'll be in touch via email. They even remind the user about checking their spam folder — a common issue that leads to missed emails and even more frustration.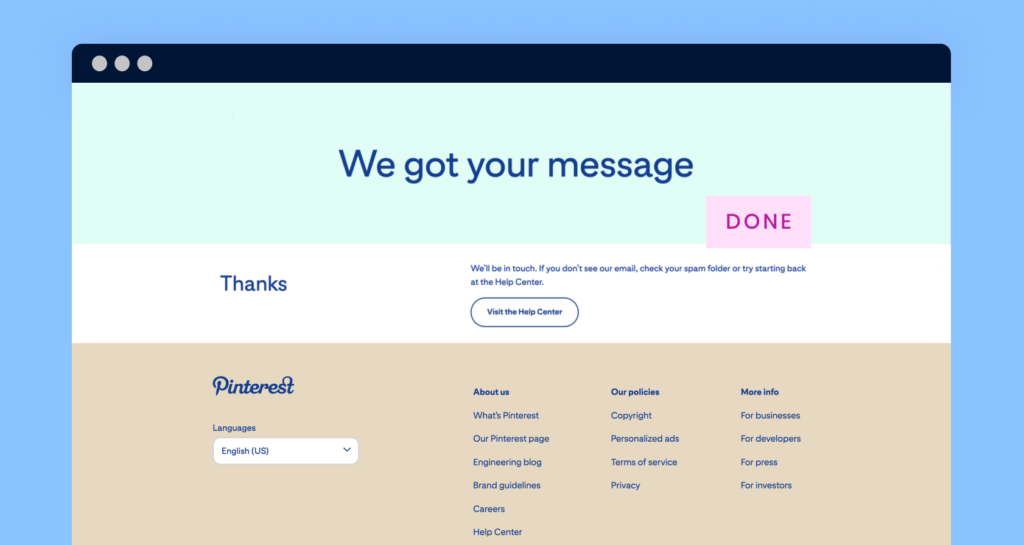 Every email response a customer support team member sends is an opportunity to make a memorable impression — good or bad. Oftentimes, this is a key moment in the customer journey. A brand's writing can steer the customer toward or away from the product. Using a a tool like Writer can help support team members use words that align with their brand and marketing goals.
Look for ways to improve your help center
Through user data, you can gain the insight necessary to improve your help center. Pinterest requests feedback at the bottom of each help article by asking if the article was helpful.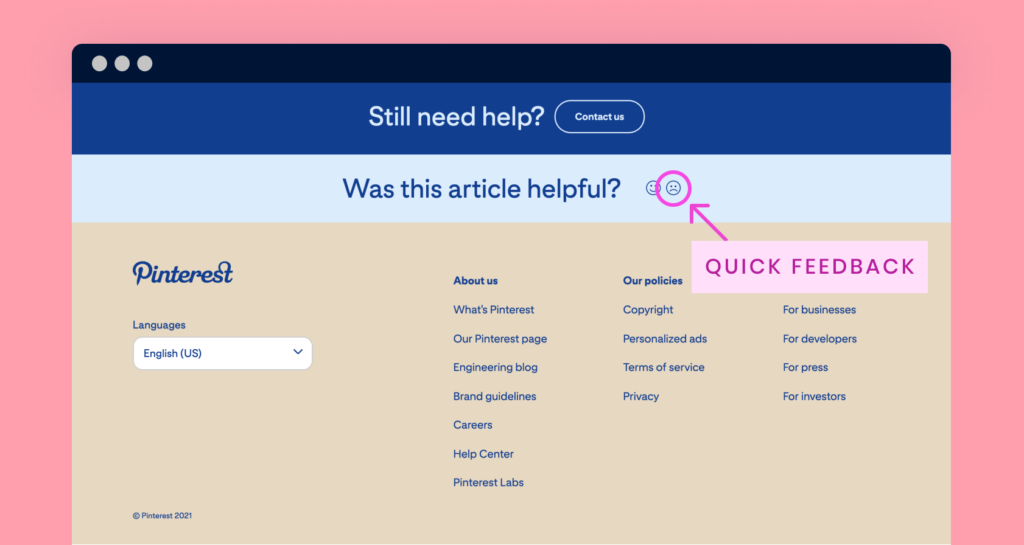 If someone selects the sad face, staff can follow up with a request for additional feedback.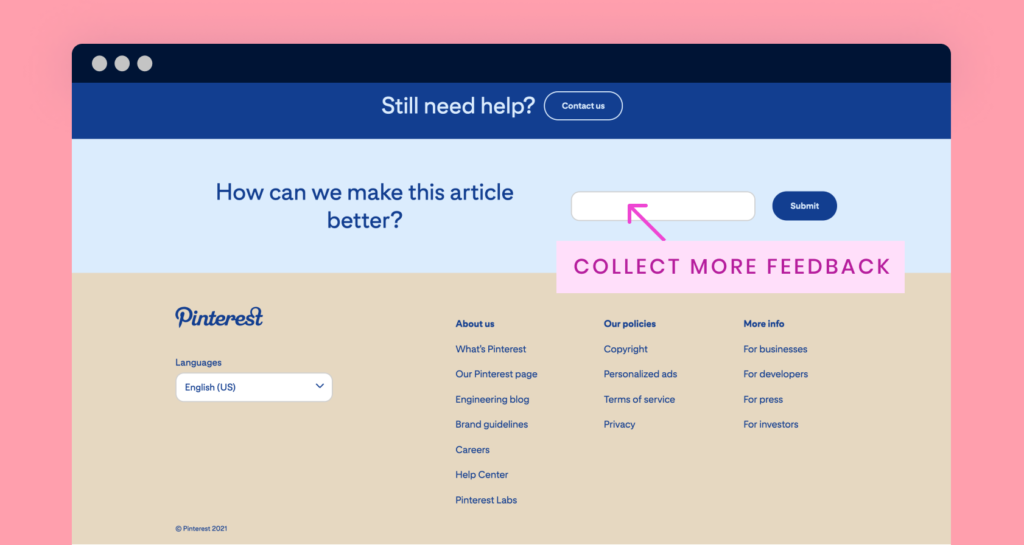 Not only does this show Pinterest cares about the quality of their support content, it also gives them ideas for how to improve it.
Collaborate like Pinterest
There's so much to learn from Pinterest, and brands should strive to build something as good as their Help Center. Though there are many different ways to achieve that, it all starts with cross-team collaboration.
More resources