How the Duolingo owl became a social media darling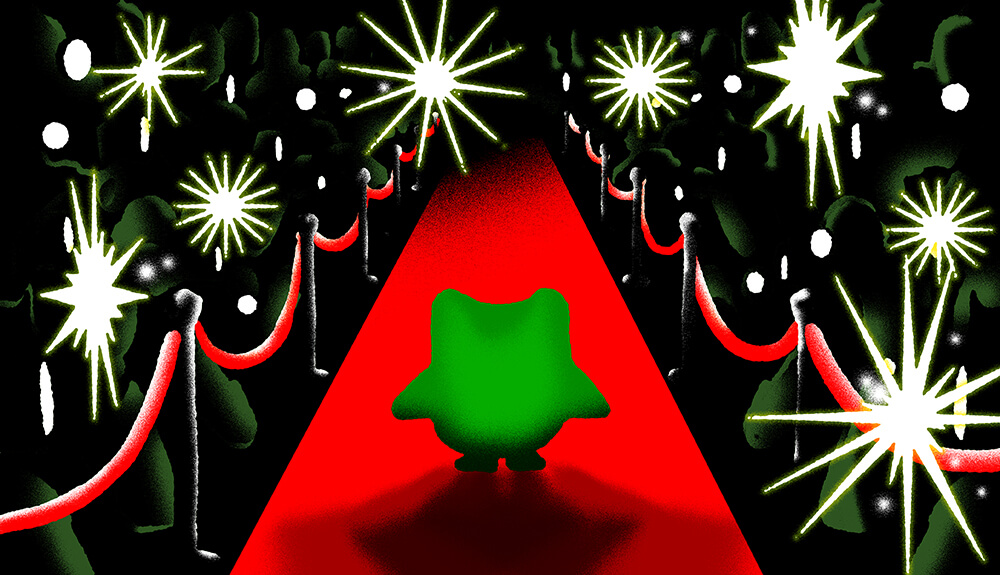 Publishing brand content on the social media stage can be intimidating. There are so many ways things can go wrong. At one end of the spectrum are missteps that create PR crises, putting your brand in the hot seat of public opinion (never a fun place to be). At the other end are the less sensational (but still damaging) crimes of publishing boring or awkward content that fails to engage your audience.
It's no wonder that many content creators get sweaty palms before they hit "post."
Part of the challenge of getting social content right is that there is no one-size-fits-all strategy to guarantee success. You can, however, learn a lot from what other folks get right.
One owl's journey to fame
Take the team over at Duolingo, the language-learning app that has more than 500 million users around the world. They've gotten a lot of things right about the way they've integrated their company's mascot — the Duolingo Owl, known to his friends simply as "Duo" — into their social media content.
When Luis von Ahn and Severin Hacker founded the company back in 2011, the owl was more of a graphic icon; but he's come a long way since then.

Today, the little mascot has a starring role in Duolingo's social presence, but his big break came back in 2017. If you've ever used Duolingo, you already know that the owl is a central part of the experience. He greets learners when they open the app, cheers them on when they achieve milestones and other goals, and — most notoriously — reminds learners to do their daily lessons via push notifications.
And that's where it all started.
The O.G. Duo meme
The thing is, Duo can be a little… persistent. In fact, the Duolingo style guide clearly states that "persistent" is one of Duo's attributes, along with being helpful, motivating, organized, supportive, and slightly awkward (among other things). The style guide goes on to point out that Duo is not negative, threatening, angry, aggressive, violent, or overly creepy. 
But, despite the style guide creator's best intentions, Duo took on a life of his own. (It might have had something to do with the loophole created by the term "overly creepy.")
In October 2017, memes started popping up all over the internet featuring Duo looking rather murderous (and sometimes armed), threatening people with dire consequences if they didn't do their language lessons. Here are a few of the tamer ones: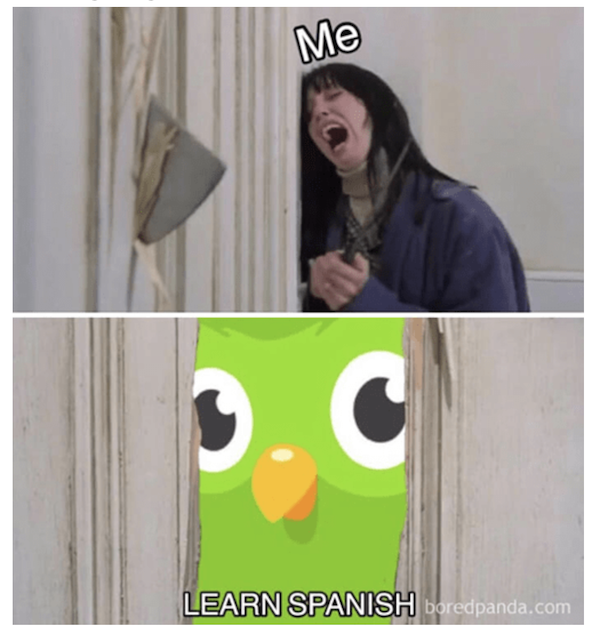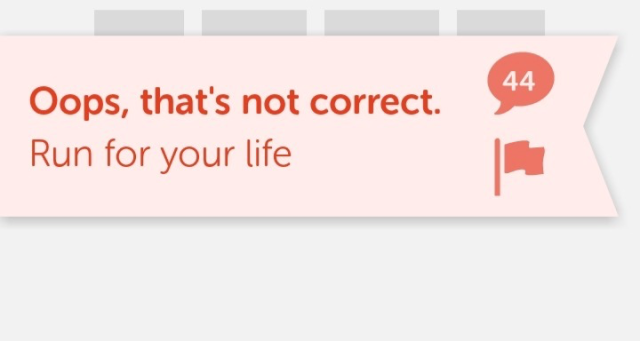 The internet bonded over feeling guilted and threatened by the little green owl, and for almost two years Duo memes continued to circulate.
The turning point: Duolingo gets in on the fun
In March 2019, having watched the organic growth of the Duo memes, the Duolingo team decided to embrace the back-handed love of the internet.
First, it published this tweet: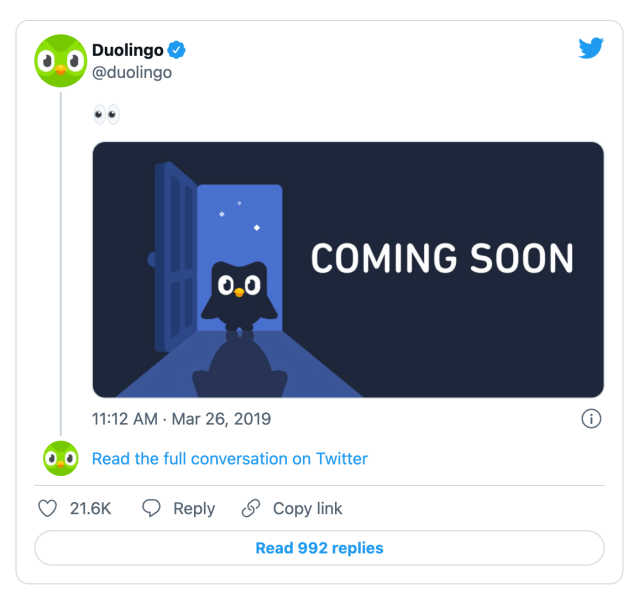 The tweet was a teaser to promote that Duolingo was soon going to release a dark mode feature, but—clearly—the design is a callback to every 80s horror movie ever made.
The internet responded: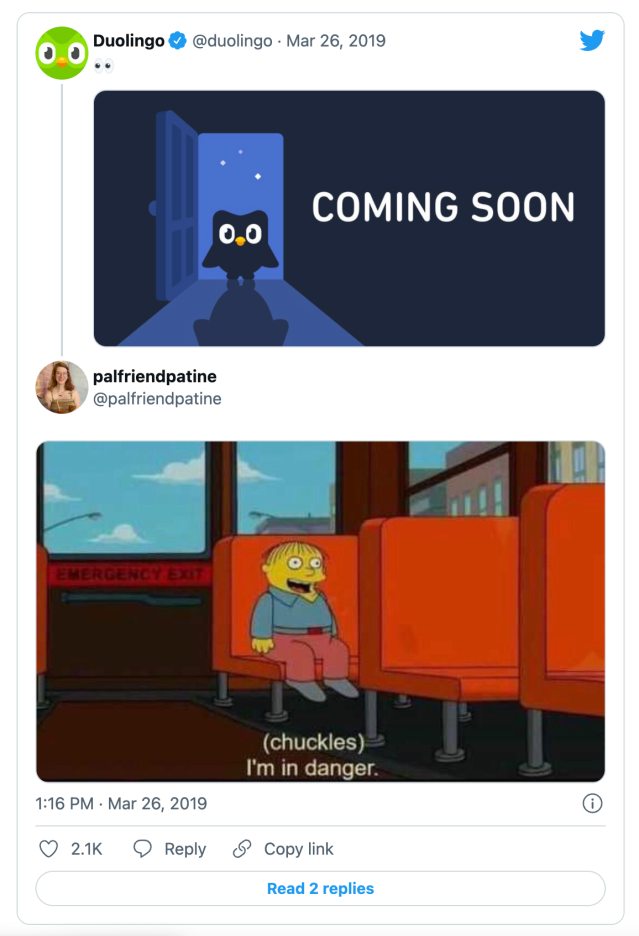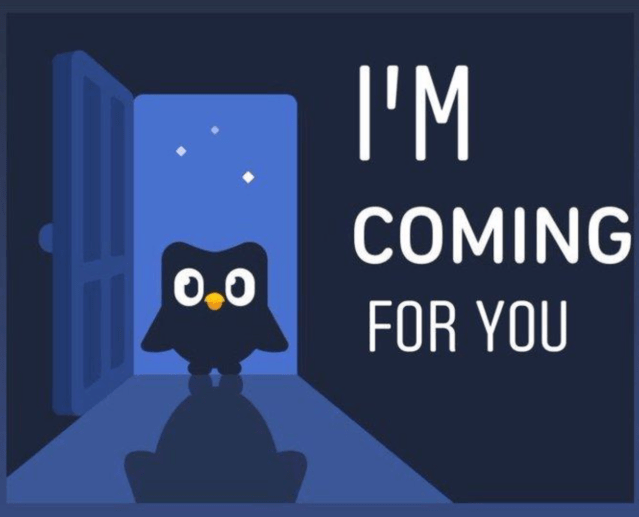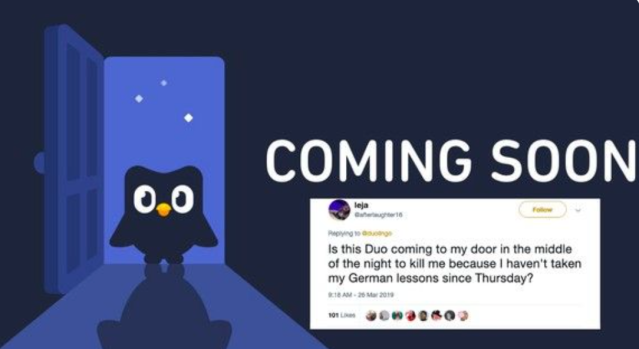 And then Duolingo came right back with this video supposedly promoting a new feature called Duo Push, which took Duo's notifications to a whole new level:
Duolingo's description of the new feature: "Duolingo is taking push notifications out of your phone and into the real world! With Duolingo Push, Duo the Owl will literally show up to remind you to practice so you never miss a day of language learning again."
Clearly, the entire Duolingo marketing team was fully embracing the "not overly creepy" loophole … and having a whole lot of fun with it.
Duo discovers TikTok
Two years after getting his first taste of the spotlight, Duo has leveled up his game by becoming a bona fide TikTok celebrity.
One of the earliest videos plays off the Duo-as-murderer meme with Duo breaking out and chasing members of Duolingo's PR team:
And things just got more interesting from there.
Here's one using a Squid Game theme and music from Florence + The Machine to show what happens when you use Google Translate instead of doing your Duolingo language lessons:
And one in which Duo gets the divine treatment from his adoring (or maybe subjugated?) office mates:
There's also a whole subcategory of Duo TikToks about Duo's rivalry with Duolingo's legal and PR teams:
And then there are the TikToks in which Duo jumps on pop culture trends and gets down to the latest TikTok sounds:
The bird even has a running gag about having a thing for Dua Lipa:
And, while it might look like all fun and games, these TikToks are social media gold. The account now has 3.2 million followers, and the individual videos routinely rack up views in the millions. Not only that, but anecdotal evidence shows that people are discovering and downloading the Duolingo app because of Duo's TikTok shenanigans.
So, what have we learned?
There's still no social media silver bullet, but the Duolingo team demonstrated some really great strategies that can be applied to any brand:
Take your cue from your audience: This advice applies to a lot of content, but especially to social media content. When the folks on the internet have something to say about your brand, listen. The Duolingo team paid attention to those early memes, and that was the start of something beautiful.
Get in on the conversation: Social media is meant to be social. It's not supposed to be a two-way conversation, not a broadcast channel. And that doesn't mean just in the comments. When Duolingo launched that "Coming Soon" tweet followed by the "Duo Push" video, they were responding to the larger conversation that was already happening about "murder owl," but in a fun and light-hearted way that aligned more closely with the style guide description of Duo.
Go ahead and have some fun: As Duolingo's social media manager, Zaria Parvez, told NBC News in an interview about Duo, "The meme of Duo has been known to be persistent and pushy … and we asked ourselves, 'How could we make it relatable to ordinary people, but also make it super funny?'" Duolingo wasn't afraid to be a little irreverent and even a little zany.
Keep listening: Once you've joined the conversation, you need to keep listening. It's never all about what you're saying, so remember to pay attention to how people respond to your posts—what hits, what doesn't, and what might inspire a side conversation.
Stay on top of what's hot: Duo is always up to date with what's happening, whether that means twerking to an Adele song or staging a mock scene from a hit Netflix series. Social is all about what's happening out in the world. It's critical to keep up.
There you have it. One owl's journey from logo graphic to social media star. And the good news is that even if you don't have a sassy, green owl as part of your branding, there are still a lot of ways you can apply Duolingo's smart social content strategy for your brand.
More resources