How to create editorial guidelines that will make guest contributors love you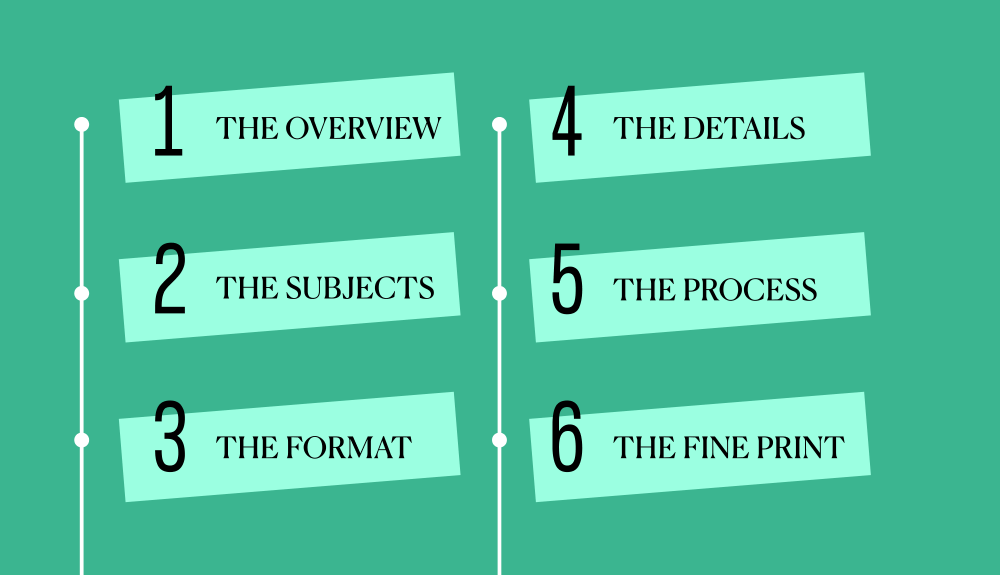 Imagine for a moment that you run a blog about all things dog fashion. (Cat people, bear with me.) 
You've thoughtfully published informative and entertaining posts on everything from grooming trends, to the coolest colorful collars on Etsy, to DIY birthday hats for pugs.
Wanting to provide more perspectives on canine style, you start a guest contributor program and invite others to share their expertise on your blog. "This is going to be awesome," you think.
But here's what happens next: you find yourself answering the same set of questions from writers (e.g., "How many words should my article be?") and getting pitch after pitch that isn't a fit. 
This is frustrating, but contributors aren't to blame — they have to guess what you're looking for because you don't have editorial guidelines. 
Also called submission guidelines, editorial guidelines tell writers the most important things to know before they even start brainstorming a topic. Think of this document as a way to set expectations, answer frequently asked questions, and help potential contributors decide whether to move forward. 
I speak from experience: just over a year ago at Influence & Co., we launched a guest contributor program for our content marketing blog, The Knowledge Bank. So far it's helped us amplify the voices of professionals, gain exposure through our contributors' audiences, and provide better coverage of our industry. Without editorial guidelines in place, the program wouldn't be a success. They're that important. 
If you're operating without guidelines, I promise that taking the time to create them will save you much more time in the long run. Though every blog and publication is different, there are six essentials I recommend including in your editorial guidelines — especially if you're just getting started. (Plus, I've created a checklist to work through this process.)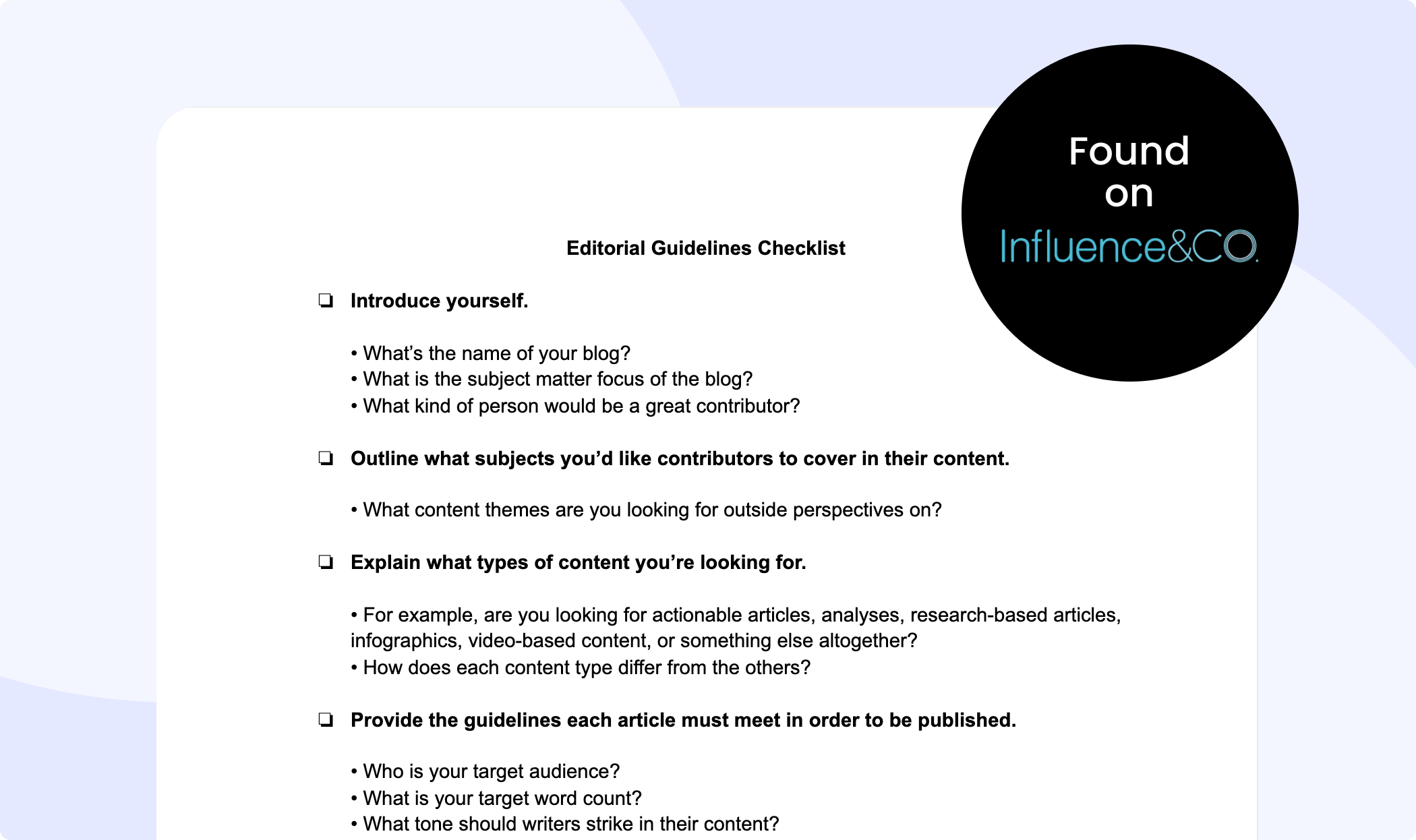 1. The overview
Guest contributor programs are a two-way street — they should benefit the blog and the contributor, not just the blog. The best editorial guidelines help potential contributors understand why getting published on the blog is worth their time, or that it's not a great fit. They need to know your blog's goal(s), intended audience, and the kind of expertise you're after. For example, if your blog is about real estate, do contributors need to be licensed real estate agents?  
In our guidelines, here's how we describe The Knowledge Bank blog and what we're generally seeking from guest contributors:
"The Knowledge Bank provides profitable insights for the modern marketer. We're all about creating content that helps content marketers do their jobs better and reach their goals.
If you have exceptional writing or design skills coupled with deep marketing expertise, we'd love to hear from you!
Take some time to review the information below — it'll let you in on everything you'll need to know about what kind of content we're looking for and what the submission process looks like."
2. The subjects
I'm willing to bet that your blog isn't about everything — it's about something specific, and your ideal guest contributors have expert knowledge of that thing or things closely related to it.
My company specializes in content marketing, so we have general content marketing subject matter covered. But from guest contributors, we love getting submissions about social media, email marketing, SEO, and inbound marketing.
As you decide what you'd like guest writers to cover, consider these questions: 
• What are you already publishing great content about? 
• Are there any gaps in your coverage that guest authors could fill? 
• Are there any ancillary topics your audience would be interested in that fall just outside of your team's expertise?

3. The format
Don't assume that just because a contributor sends a perfect pitch they'll deliver a draft in the format you're expecting. Some folks love writing in list format, while others might default to an opinion piece, slide deck, infographic, video, or something else. 
Use this section of your guidelines to outline the exact types of content you're open to, as well as any must-haves like custom illustrations or photos, data with links to credible sources, or actionable insights supported by examples. 
4. The details
Once a contributor is ready to write, they'll need to know a few details regarding word count, your style guide, and anything that isn't allowed. Here are a few things we include:
→ Specific audience (e.g., B2B marketers with a high-level understanding of marketing)
→ Desired tone (e.g., conversational, professional, witty, academic, formal, etc.)
→ Word count (e.g., 800–1,000 words)
→ Self-promotion expectations (e.g., "Don't overtly promote your business or its services. Ensure that your company's services aren't positioned as the only obvious solution to a problem or pain point.")
→ Linking restrictions (e.g., "You may include up to two links to your own website.")
On top of that, a contributor needs to be aware of any terms that may be off-limits — or encouraged. Terminology management helps you achieve consistent, clear copy with the proper terminology, no matter who is doing the writing.
You have a better grasp of your target audience and target language than any contributor does. Include any relevant information here about terms. It's going to make both of your lives easier.
5. The process
Don't leave out the details of what to expect throughout the process — this information is as important as all the rest, though it's often left out. 
Consider including:
• How to submit a draft. Should it be sent through a form, or should it be an email attachment? What types of files are acceptable? 
• Timeline. After submitting a draft, will it take six days or six months to find out if it's getting published? 
• Revisions. If a piece needs edits, are contributors responsible or will your team handle that?
6. The fine print
Use this section for anything else contributors need to know. For example, will your team automatically edit or update the content as new developments pop up? Will your team add links to other related content on your website? Can authors republish their post on another blog?
Without guidelines in place, guest blogging — and managing guest contributors — can quickly get messy. Though setting rules might feel too formal, think of editorial guidelines as a communication tool that results in not only high-quality, consistent content, but a better experience for contributors and editors.
If you'd like a checklist to reference as you work through this process, download ours here.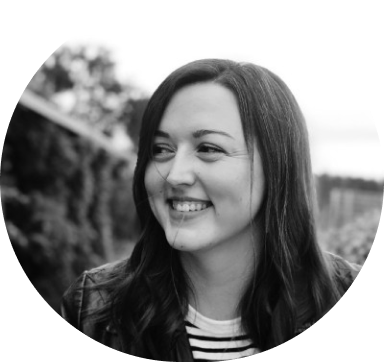 Lauren Tellman
Director of content
Influence & Co.
Influence & Co. is a full-service content marketing agency that helps companies use content to work toward their business goals. With a background in journalism and content marketing, Lauren loves finding ways to connect with audiences through engaging content.