3 of the most important ways to lead customer support now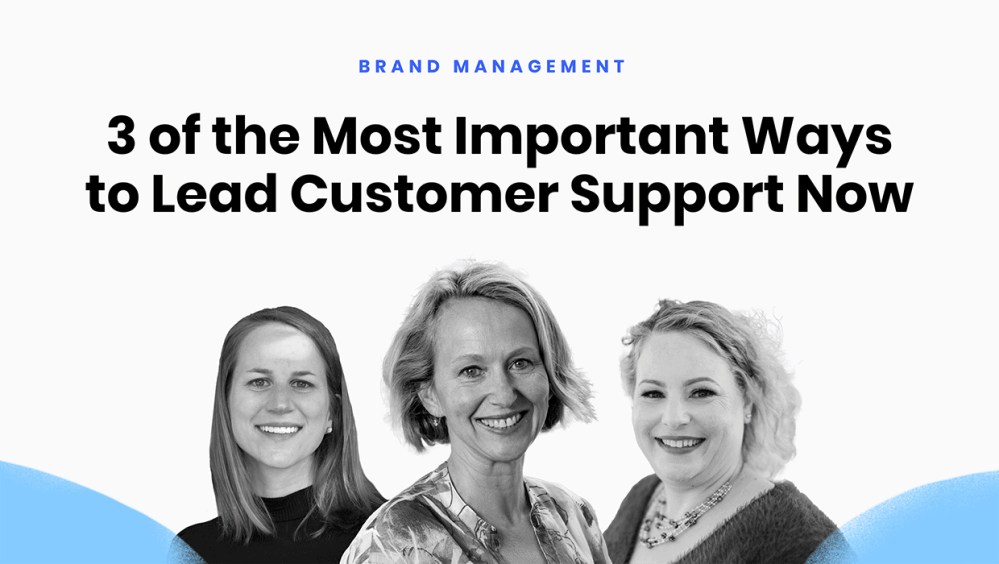 After interviewing customer support leaders of Amazon, DrChrono, and Modern Fertility, we learned how each company is managing their own set of challenges during the pandemic. All three approach customer service and support similarly: with empathy, strong listening skills, and proactivity. Here's a summary of their top advice.
1. Listen and learn
Listen — really listen — to your customers and meet them where they are as they go through the ups and downs of their "new normal." Learn about customers' primary concerns in life and as they relate to your business.
Listening was always a priority for Modern Fertility, but even moreso with the onset of the pandemic. "The most important function of our team has always been to support customers through uncertainty," explains Jen Lehr, head of Modern Fertility's customer experience team. Right now their customers have talked about the additional stress they're dealing with in regards to the safety issues that comes with COVID-19.
"Our marketing and clinical teams wrote a lot of helpful content about COVID-19 and fertility, and we also hosted a webinar with a reproductive psychiatrist and our OB-GYN adviser for customers and our broader community on navigating family planning decisions during this time," Lehr says.
Read more about Modern Fertility's approach in Taking a 'Quality Over Quick' Approach to Customer Support in the Pandemic
2. Prioritize your customers' most important needs
Have your customers' needs changed during the pandemic?
If so, identify the new most important priorities and align them with your product or service offering.
DrChrono, a leading medical software and billing service platform, pivoted at the start of the pandemic in March 2020. When DrChrono's customers — thousands of doctors, medical specialists, and healthcare providers — could no longer safely operate from their offices, their engineering team immediately started building a telehealth platform.
Wendy Pochop, DrChrono's director of customer experience, suggests meeting your customers where they are today. "Right now, our customers are fighting for their very survival, so we're working hard to help them resume appointments and see their customers virtually," she says. She suggests getting up to speed on understanding what your customers' "right now" goals are and providing them with all of the information and education they need to meet those goals.
Read more in Pivoting In the Pandemic: How a Medical Software Leader Wins With Telehealthcare.
3. Communicate with proactive empathy
Put yourself in your customer's shoes. What would you think if you received your company's standard messaging right now? Is your approach to communication and writing appropriate for the times? Edit accordingly and remember that your investment in empathy will have long-lasting impact on your customers. Your customers will remember how you're serving them right now for years to come.
Carol Sanchez, the principal UX writer and voice design lead for Amazon Customer Service, takes a proactive and empathetic approach to writing copy that millions of Amazon customers see in emails, chats, and across the retail site every day.
Valdez believes money is likely an especially sensitive topic right now, during the COVID-19 pandemic. "Many people don't have a lot of wiggle room in terms of their finances. The checks and balances of a user's experience are important. You can't assume that, 'Oh, this transaction is just about a couple of bucks.' You can't be cavalier in terms of finance," she said during a Zoom interview from her home in Seattle in May 2020.
Learn more in our free ebook, How Does Amazon Approach Customer Support Now?