Mailchimp style guide: the anatomy of a perfect content style guide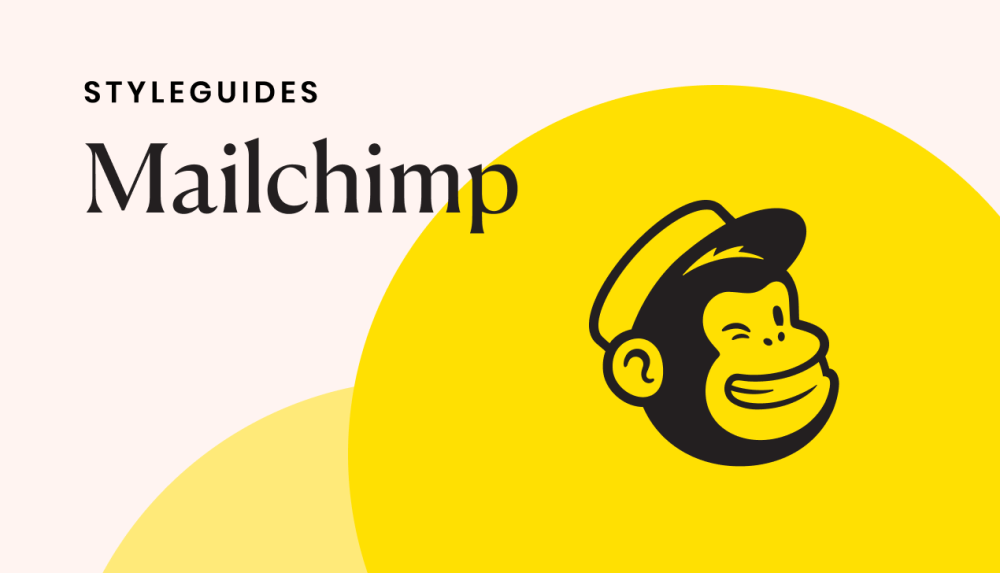 Working without a style guide can feel like walking across a tightrope without a net: Unless you have a years-long track record of getting things right, it's easy to get things wrong. But a style guide isn't just a safety net — it's a vital writing tool. It clarifies questions of formatting, brand style, and grammar and it helps keep content consistent. And the best style guides answer questions that you might not know to ask until you're hours into an assignment.
Mailchimp's style guide is often held up as the ideal, and for good reason: It's clean, comprehensive, and easy to navigate. Here's a closer look at the guide, and a template you can use to help create your own:
The Mailchimp content style guide breakdown
Here are the key reasons why the style guide for mailchimp.com is so hyped:
Providing intuitive navigation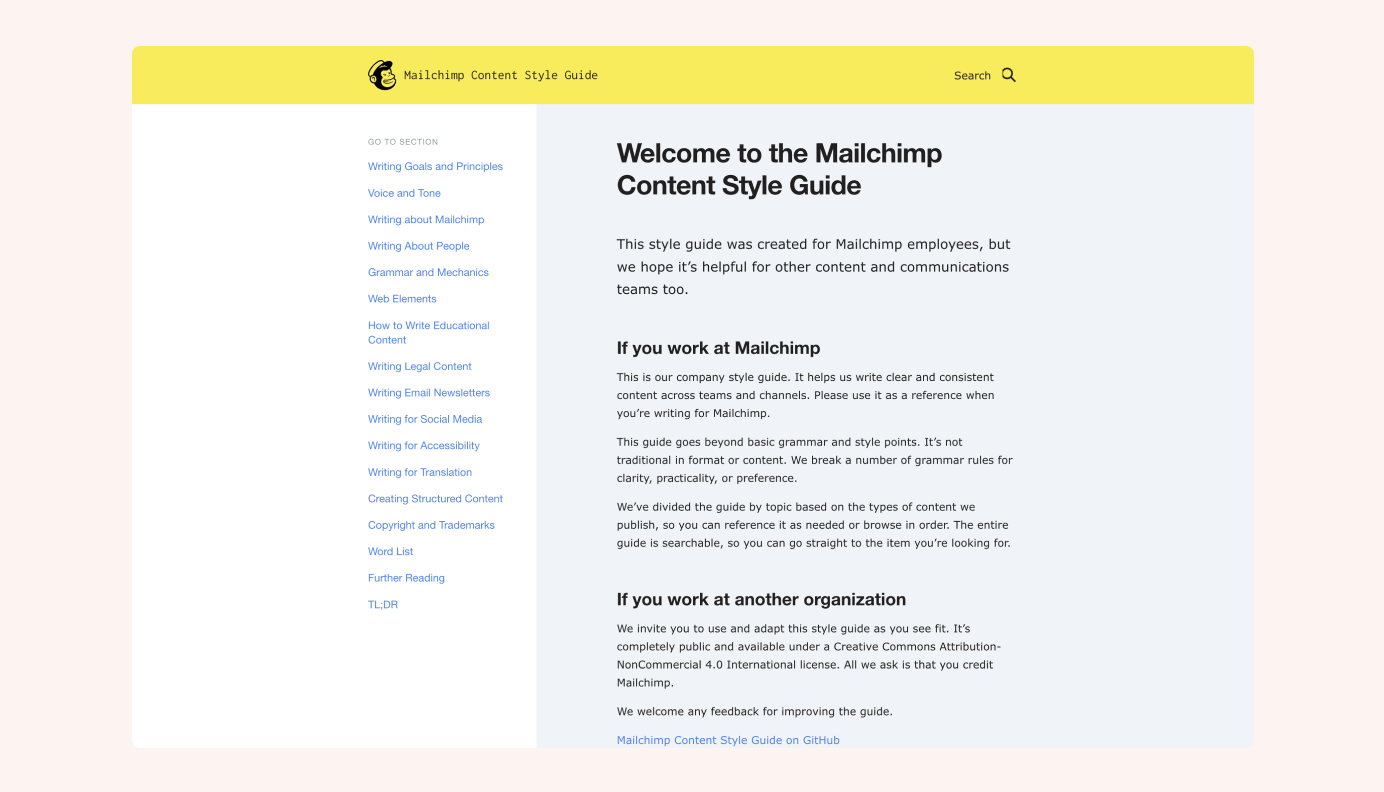 You could have the most robust content style guide in the world, but none of it would matter if you couldn't find what you need. Mailchimp's guide tackles this issue head-on, using intuitive sections to parse out information. You can easily select from those sections in the sidebar, and if you aren't sure where to look, you can use the search bar at the top of the page.
The style guide is also set up with newbies in mind, letting you go section by section with a next option at the bottom of each page. That makes it even easier to go through the entire style guide, which is key if you're not familiar with a company's content. And when you drill down even further, you'll also see that the sections themselves are well-organized with headers, bolded keywords and phrases, and bullet points. That means it's going to work even if the reader is scanning, as most people do when reading online.
By providing this kind of thoughtful navigation, Mailchimp makes it more likely writers will stick to the style guide.
Establishing a solid writing baseline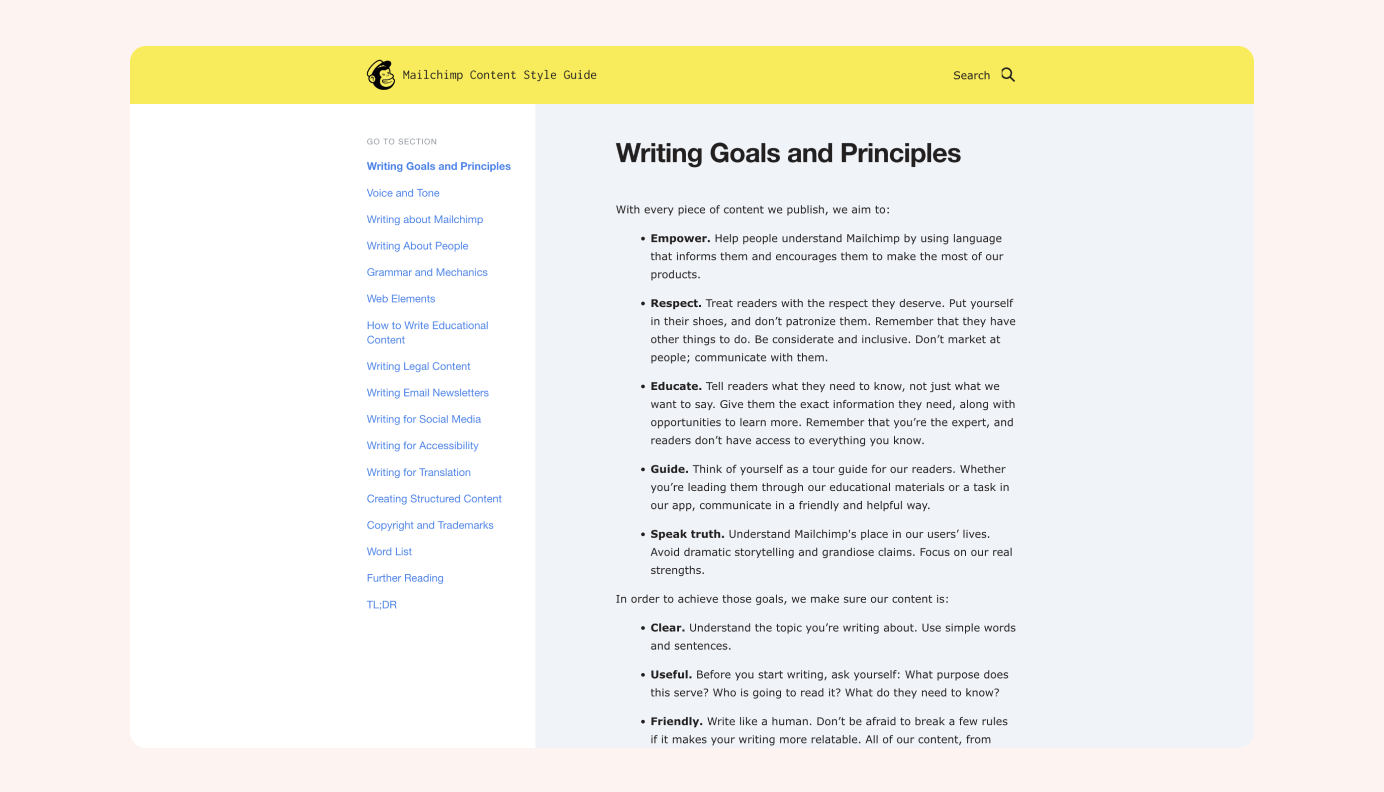 You need to know what your goal is if you're going to write a solid piece of content. Mailchimp's style guide addresses this crucial area by making Writing Goals and Principles the first section. It's brief, but pointed: The key takeaways are boiled down to a single, bolded word. That way, readers can carry that context (what the goals are and how to best achieve them) through as they either read on, or as they create new content.
This baseline information is supplemented by the Grammar and Mechanics page, which goes into specifics, like active voice and common style questions. There's also the Creating Structured Content page, which talks through templated and modeled content guidelines. It's a top-down approach, and that's what makes it work.
Another important piece of the puzzle here isn't as obvious at first glance: The guide itself is written in the desired voice that Mailchimp strives to create. For example, the company says it wants to be plainspoken, informal, genuine, and jargon-free. If you read the guide, those key ideas come through:
"At Mailchimp, we've walked in our customers' shoes, and we know marketing technology is a minefield of confusing terminology."

"We don't use gross SEO techniques like keyword stuffing to bump search results."

"These words can be slippery. Here's how we write them."
Writing a style guide in the voice is a next-level move. But, for those who are willing, it acts as another example of what readers should be going for in their content.
Going over the intricacies of each content type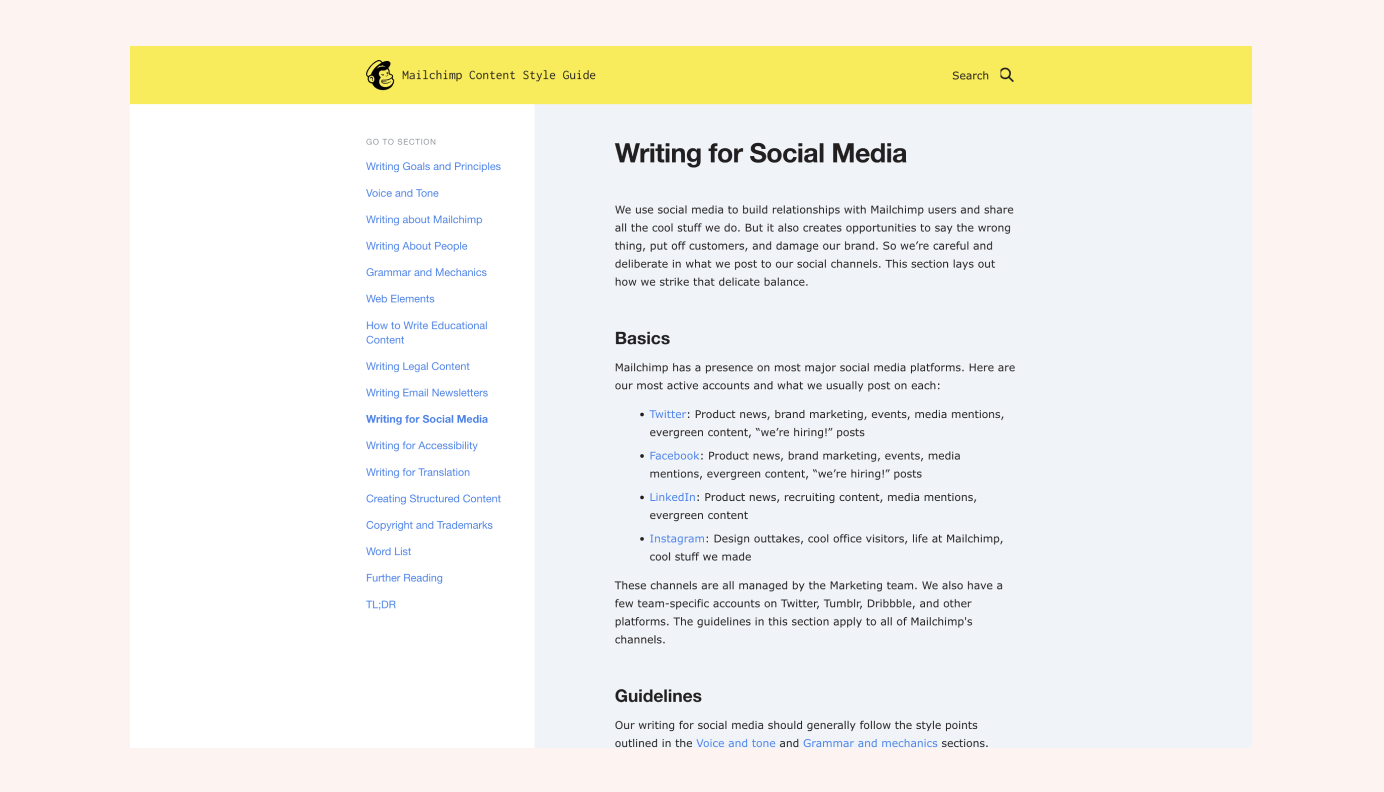 Different types of content often call for different guidelines. For example, you might use emojis and hashtags on social, but never in blog posts. It all depends on your content strategy and company personality. To clarify how this impacts content across the company, Mailchimp's guide goes over a wide range of content types: 
→Web elements (a.k.a. blog posts)
→Technical writing
→Legal content
→Email newsletters
→Social media
Whether you have an entire marketing team at your disposal, or it's just you and a few employees, splitting up your content guidelines in this way is going to ensure that readers can create content that positively contributes to the brand.
Two other key components are also addressed in Mailchimp's guide: Writing for translation and accessibility. These should be considered across all types of content, especially as your company grows. Doing so helps you capture a wider range of customers, increasing your impact, and it's the right thing to do. Win-win.
Content style guide template
Content style guide needs are different for every company, and every content team. Those needs depend on things like goals, content types, and subject matter. For example, a tech company style guide may be tailored to the site's blog and other customer-facing communications, while a content marketing style guide may be written with specific social media accounts in mind. And technical content may include templated SKU details or case studies.
The Mailchimp content style guide can serve as a solid jumping-off point if you're creating your own guide, offering inspiration and a potential format to follow. But you'll need to think through your content strategy and define the needs and wants of the company to create the ideal guide for your company.
To help you get started, here's a template that will walk you through the process:
General content guidelines
What to keep in mind when creating content, including:
1. What goals should shape all content? (Boil it down to the essentials.)
2. How can readers best achieve the above goals?
3. What questions or state of mind might the reader have while engaging with the content?
Audience
Who your ideal audience is

What the assumed level of knowledge is about the business or topic

Which customer personas you're targeting

What matters most to your audience in relation to the business or product
Desired impact of content
What your ideal messaging about the product or company looks like

What the messaging shouldn't look like (examples or guidelines)

What your voice standards are. Use

Neilsen's four dimensions of tone

to define this:
→Funny vs. serious
→Formal vs. casual
→Respectful vs. irreverent
→Enthusiastic vs. matter-of-fact
→Alt text
→Structuring content
→Plain language
→Closed captioning
→Visuals, including color combinations
Grammar
Which stylebook content creators should stick to in general (e.g.

AP Style

, the

Chicago Manual of Style

)

Which exceptions to that stylebook readers should be aware of (this is your

Word List

section)

What common grammar and punctuation questions readers might have, like:
→Abbreviations
→Jargon
→Slang
→Active vs. passive voice
→Dates and times
→Exclamation points
→Ampersands
→Pronouns
→Citations/attribution
→Oxford comma use
Content types
For example:
Email marketing

Subject line guidelines (length, goal, etc.)
Boilerplate information (where to find it, what to include and when to include it)
Guidelines for structuring the email body
CTA's (where to insert them, how to blend them into the copy, and how often to use them)
Sample emails to emulate (and what not to do)

Blog posts

Headline standards and styles (sentence or title case; delivering on the premise, use only H2s and H3s, and any other guidelines you may have)
General post structure guidelines
Linking and SEO practices (how many links to aim for, the maximum, how to write SEO-focused content and get it to rank)
Examples of blog posts that get it right
Attribution guidelines (these can vary depending on where you pulled information from)

Social media

Overview of all company social media accounts, including links to those profiles
General guidelines for social posts (including what not to do)
Hashtag guidelines
Proper engagement vs. improper engagement

Videos/podcasts

Scripting guidelines (including structure and what to include or avoid)
Intro/outro best practices
Sample video or podcast scripts that work for the business
Examples that don't work (and why they don't work)
Creating your ideal style guide can take a lot of time and effort — but it impacts everyone, from the content strategist, to the copywriter to the UX designer. So it's well worth the investment. For those who want more support and guidance, Writer's style guide tool can help jumpstart the process.