Content strategy, Writing 101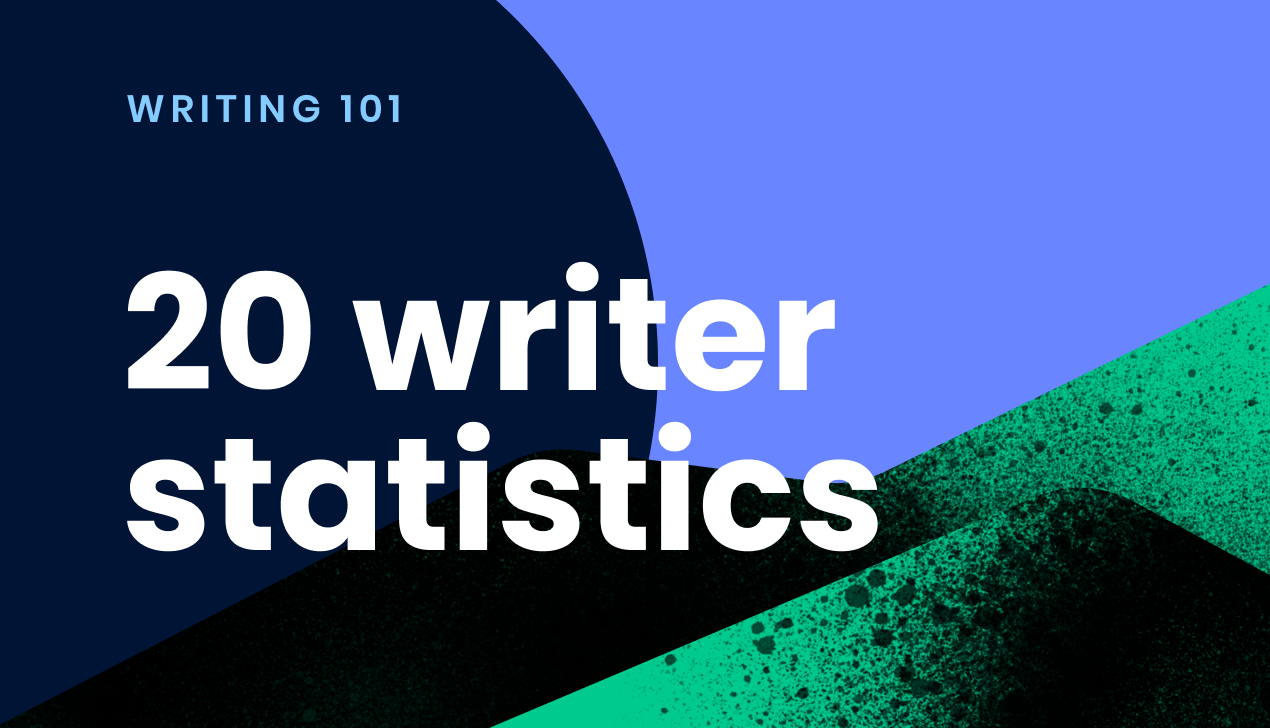 Writing can be a tough gig — but it can also be a rewarding one. And when you look at the data, one thing becomes clear: it's a good time to be a writer.
Geography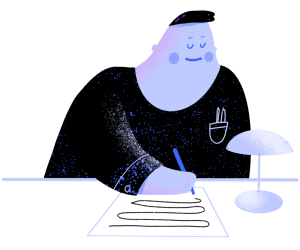 How many writers are in the US?
There are more professional writers than you may think:
1. There were 48,544 in-house writers and authors in the US in 2019, while about 82,656 writers are self-employed, according to the Bureau of Labor Statistics.
Professional writers are 0.03% of the general population – a tiny number given how important writing skills are to today's economy.
According to the survey Freelancing in America: 2019, the most-cited reasons for freelancing include flexible lifestyle, being one's own boss and earning extra income. However, the Coronavirus has put a damper on things, and 76% of freelancers said they lost work because of the pandemic — even as the traditionally employed seek out freelancing gigs to supplement their earnings.
How many writers are in the EU?
It's hard to say. There isn't an organization that's studied the number of writers, whether freelance or in-house, in the European Union. Assuming the figures are on par with the US, at 0.03% of the population that would be 178,400 writers in the EU.
How many writers are in the UK?
2. There are about 62,000 writers in the UK as of 2018.
On the other hand, there are approximately 238,000 freelance writers and translators in the UK according to a recent survey of freelancers — though it's difficult to parse out the writers alone. It also found that writing is the fourth most common type of work for freelancers in the UK.
How many writers are there in the world?
Again, it's unclear as those statistics aren't tracked by a single organization. But, if we used the US as a model and included only medium-income countries, that would mean approximately 650,000 in-house writers and just over 1 million freelance writers globally.
Average hours of work
How many hours do writers work a day?
According to the Bureau of Labor Statistics, most full-time writers in the US keep regular office hours (9am to 5pm), but some work part-time or set their own work hours.
For example, a part-time freelance writer may keep a noon-to-4pm schedule to be available to editors as well as their family. That's not unusual: a recent survey of freelance writers found 45% worked part-time. 
3. Another study found that many freelance writers (38%) spend 10 or fewer hours per week working, while about 25% spend 11 to 20 hours per week working. Yet half of respondents said they didn't have another job, suggesting underemployment among ~40% of freelance writers.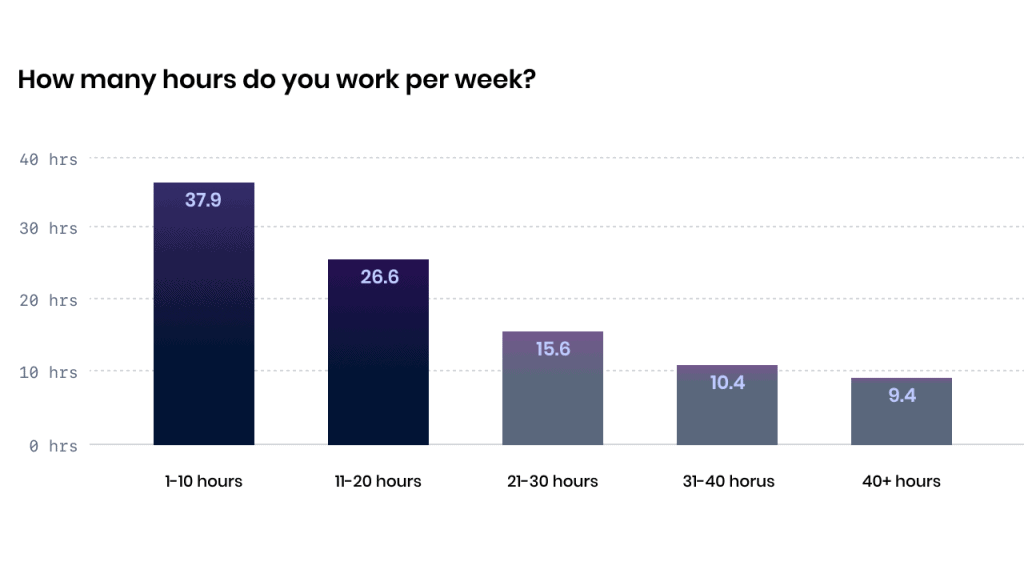 Earnings
How much do freelance writers get paid by region and industry?
Freelancing can be complicated. And wages depend on many factors, like work experience, type of assignment, and number of clients.
4. On average, freelance writers earn $24.02 per hour, according to Payscale.
5. However, one survey found that 30% of those in their first year earn $10 or less per hour.
There are several standard pay structures that determine what freelancers earn for writing assignments:
Flat rate: per article or project

Per-word rate

Retainer rate
These can also vary depending on the type of assignment. For example, a blog post may not pay as well as eBook or case study. And pieces requiring interviews, or a short turnaround, can increase the price. "Kill fees" can also be a factor. Those apply if a publication or company issues an assignment but later decides to back out. This is often a 50% fee.
Sometimes freelancers simply name their terms, but not always. Certain publications or companies may have a set rate they offer writers. Either way, negotiation is generally involved — that makes earnings more variable from month to month.
Here are some sample rates to help you gauge the landscape: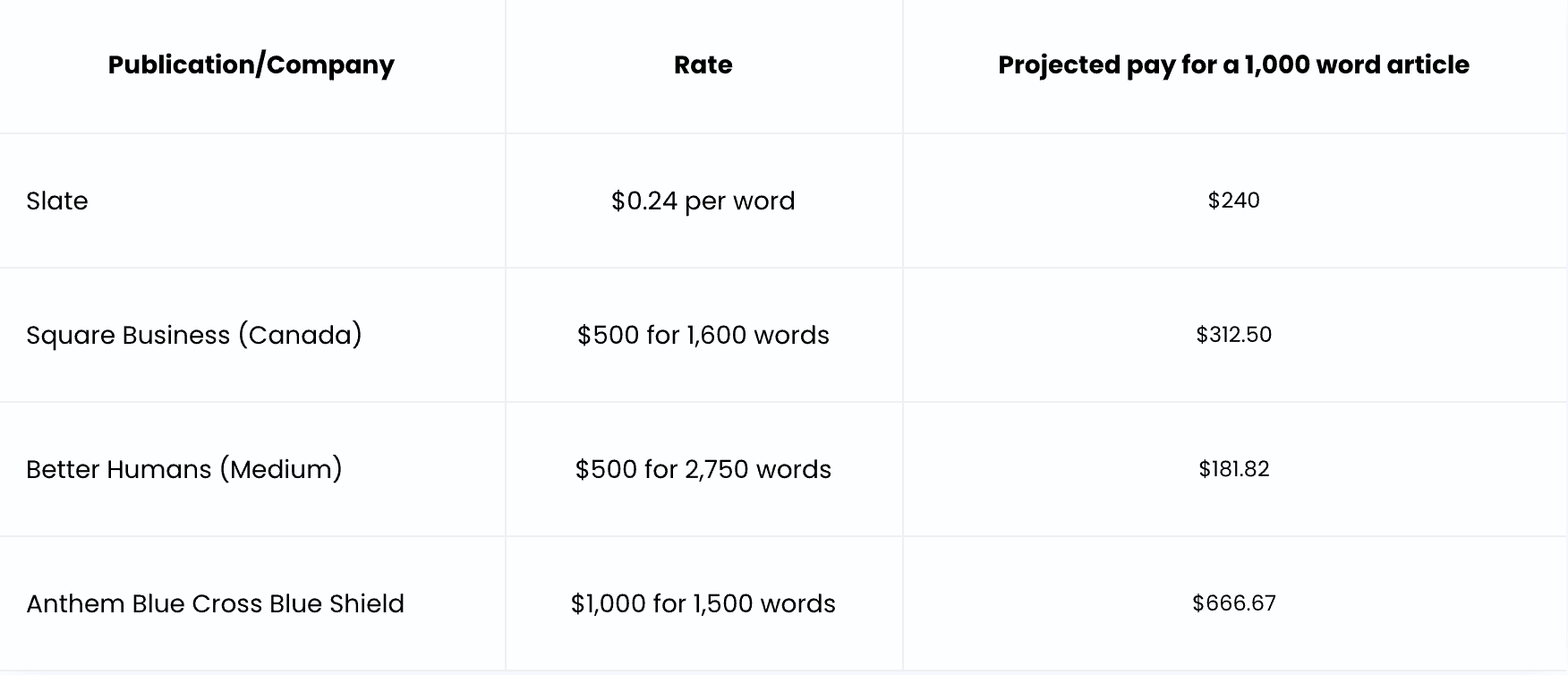 Content mills are also something freelancers may encounter. A content mill is a company or website that provides a lot of inexpensive content, and therefore assignments, for very little pay. In some cases, pay is less than a penny per word. It can be frustrating and time consuming with little to show for it, though many use those sites to get into freelance writing.
Wages can also vary by location and industry:
Freelancer Pay by Region
Where you live can have a massive impact on earnings.
US writer statistics
Freelance writers in the US generally earn a good living:
6. Independent US-based writers — a.k.a. freelancers — earned an average of $46.06 per hour (about $88,500 per year, if working full-time) as of May 2019.
In-house employees, however can earn more:
7. The District of Columbia offers writers and authors the biggest chance of earning big, with an annual mean wage over $100,000.
8. New York and California (which have the largest populations of writers and authors) follow with the second and third highest wages, respectively. Those are around $90,000.
Of course, higher earnings aren't always the norm:
9. Writers earn the least in Louisiana ($42,080 per year) and Puerto Rico ($43,770 a year.)
Policymakers can also sway earnings for freelance writers. For example, starting in January of 2020, California freelance writers were limited to 35 pieces per publication per year, according to a law known as AB-5. Though there has been pushback on that strict cap that would likely put a dent in freelance writers incomes.
Assuming a flat rate of $100 per article — which may be generous in some industries, or on the low end for others — a writer would earn up to $3,500 per year, per publication, and stay within the state's legal cap. So to make a full-time living from freelance writing, they may have to write for over 15 outlets. That number can be hard to achieve for the majority of freelance writers.
EU writer statistics
There is no one source of truth for freelance writer earnings in the European Union. However, here are some examples that shed light on the subject:
10. The average annual freelance writer salary in France is €48,409. (That's almost $57,000 US)
11. A freelance writer in Germany earns an average of €20.00 an hour, or €38,400 per year, if full-time. (That's about $45,000 US)
12. One study found that freelance medical writers in Europe earned an average of about €98,000 a year. (Equivalent to just over $115,000 US)
Another factor impacting earnings is that some countries in the EU require registering as a freelancer, and in some cases, paying a monthly fee. For example, a freelancer in Madrid, Spain must pay anywhere from €50 to almost €300 (or $58 to $350 US) per month in social security, regardless of income. There are also upfront sales taxes.
UK writer statistics
Freelance writing is a popular option in the UK, but it isn't as lucrative as it can be elsewhere:
13. The average hourly rate for UK freelance writers is £13.41 (just under £26,000 per year.)
In US dollars, that about $33,600 — the lowest average rate of any region examined here.
Writer statistics: Pay by Industry
The top industries for writers (including salaried employees) in 2019 were as follows:
14. Performing arts, spectator sports, and related industries: $70,990
15. Religious, grantmaking, civic, professional, and similar organizations: $68,560
16. Professional, scientific, and technical services: $63,920
Freelancer rates can vary just as widely depending on the type of work:
17. Freelance technical writers make an average about $70,000 per year.
18. Freelance journalists average about $60,000 a year.
Topic area can be the difference between struggling and finding financial stability. But freelance work can be more nebulous than those figures would suggest: Typically, the work is split 50-50 between a niche and other, more varied topics. And many writers are willing to write about any topic or industry. That, plus the high dependence on networking (which furthers intersectional problems of access), makes earnings harder to pin down.
Another important factor is benefits. Earning $70,000 a year with healthcare and a 401k match is more valuable than the same figure earned as a freelancer, where benefits come out of pocket. It can be harder to take a vacation as a freelancer, too, because that time off is work — and money — lost. On the flipside, new freelancers may find it difficult to get steady work, creating an unwanted work vacuum.
Writer statistics: Average writer salary
Although it's a difficult endeavor, writing professionally can be rewarding:
19. The median annual earnings for US writers and authors was $63,200 (or $30.39 per hour), according to the most recent statistics.
Of course how far that money will go varies. Those living in an area with a high cost of living, are who are supporting a family, or who are freelancing may find that the cash doesn't stretch as far as they'd like. Yet those with lower expenses may be quite comfortable.
Writing also has a relatively low bar to entry — all you really need is an internet connection to get started. But according to the Bureau of Labor Statistics, the job typically requires a Bachelor's degree. For reference, the average starting salary for someone with that degree type was $53,889 in 2019. And these days, a college education often means student loans. That costs about $400 a month for the average grad. That said, having a non-writing degree can be an asset if it allows you to write in industries that pay well, like business, finance, and medicine.
The writer statistics on career outlook, however, look somewhat grim: 
20. The Bureau of Labor Statistics projects a 2% decline in writer and author jobs through 2029, increasing competition for these jobs. 
Still, writers seem optimistic about the future. And as content marketing becomes a larger and larger channel for more and more companies, the ability to make a living while writing should become possible for more people.