Want to scale your content production? Do less.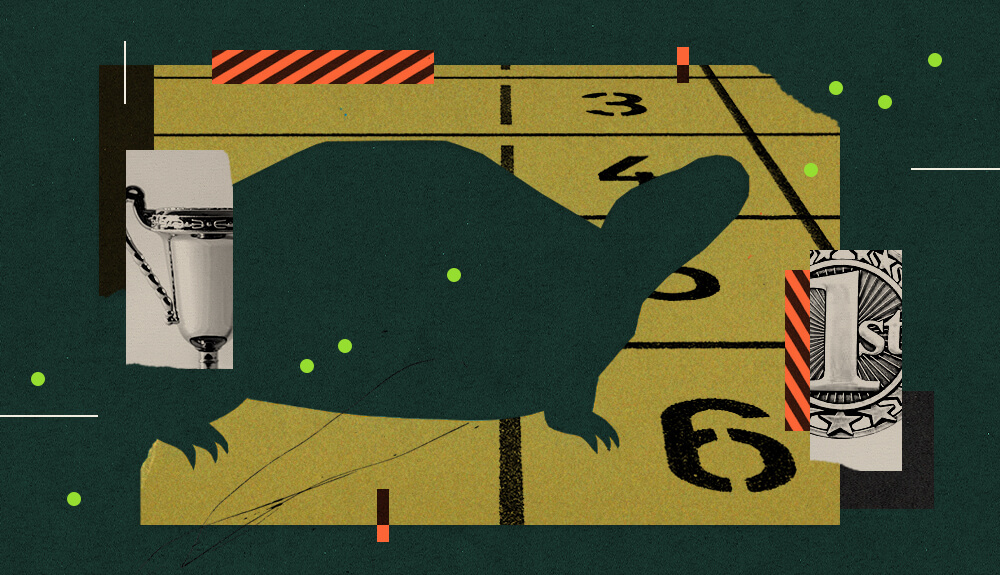 Aesop's Tortoise and the Hare is an allegory for how a more thoughtful, measured approach will outperform a rushed, haphazard one. In the fabled race, the tortoise moved slowly and steadily, while the hare ran as fast as he could. The hare might have thought he was winning, but he eventually ran out of energy and the tortoise won the race. In the same way, a more strategic, deliberate approach to content production will ultimately produce better results than a rushed, high-volume approach.
When you forgo strategy and human creativity for hare-like speed and volume, it can lead to low-quality, under-performing results. All that effort you and your team put into pushing out new content twice a week? Utterly wasted.
A more tortoise-like approach to content strategy and production will give your team the breathing room to bring their best ideas to life. Their best ideas will drive more meaningful marketing outcomes. And better marketing results will give your company the leading edge over those who focus on "more of the same, faster."
But being tortoise-like in your content production workflow doesn't necessarily mean growing at a slower pace.
In the Age of AI, it's possible to produce fresher, more creative ideas at scale, so your content efforts keep up with growth. The key is to identify which elements of the content production process that AI solutions can handle most effectively, and which elements still need a human touch.
Let's take a look at where many content marketing teams trip up in the race to ramp up production and how you can take a smarter approach to scaling your content operations– without sacrificing quality or that creative spark.
The pitfalls of racing to feed the content machine
In the now decades-long pursuit of ranking and reach, marketers have focused on trying to figure out what it takes to make search and social algorithms boost content. The rule of thumb is that if you publish lots of fresh content, web crawlers will be attracted to your site. SEO-obsessed teams risk cranking out content for the sake of content.
Hasty publishing hurts quality and loses trust (and brand consistency).
Speeding through work can lead to a higher likelihood of making mistakes. That may mean typos, grammar issues, or factual errors, as well as plagiarism or other intellectual property theft — intentional or not. If your content is filled with errors, readers will perceive your company as messy and unprofessional. If your content is plagiarized, readers will perceive your company as unethical. And if your content has inconsistencies in terminology and tone of voice, your brand will be watered down.
Rushed production timelines smother creative ideas.
Pressure to do more work in less time can force content marketers to rely on simple, overdone ideas for their blog content. It becomes difficult to cover topics in a thoughtful or new way or examine issues in depth. The content that results is shallow and boring – it blends in with every other article or social media post on the same topic. The last thing you want is for your content to fade into the background.
Time-crunching kills content strategies and project management.
A cookie-cutter content strategy that's solely focused on pumping out content at large volumes risks ignoring new market demand for certain topics or types of content. A firehose publishing approach will just add to the content noise and your audience will likely ignore it.
Plus, when there's pressure to meet short deadlines due to the pace and volume of work, it becomes difficult to follow your strategy. When teams create content calendars in a rush, the ideas tend to be less data-driven and more spontaneous, without much planning involved. "Random acts of marketing" often don't address important strategic questions, like whether the right audience will be reached, if a topic meets search intent, and if it's the best way to use budget and workforce.
In the scramble to publish, best project management practices go by the wayside. Hurried teams often lack consistent, repeatable processes – each new assignment is like starting from scratch. This adds to the likelihood of burnout.
Cursory content causes search rankings to go down the drain.
A "do more, faster" approach to your content strategy also harms your SEO performance and wastes time and resources. After the release of Google's Helpful Content Update, content that just exists to grab search real estate doesn't perform as well. Chatter among SEO experts since the release reveals many webpages that previously ranked in the top ten results for target keywords are now bumped to second-page positions.
Low-quality content can negatively impact your domain authority — a score that indicates how well your website will rank in search engine results — and other content creators are less apt to find your content worthwhile of a backlink. Rushing to create more content can easily end up sinking its performance, resulting in low ROI and misused efforts.
7 steps to a more sustainable approach to content production
Sustainable content operations use resources efficiently and maintain a balance between quality and quantity. To power more sustainable workflows, today's most effective content teams use AI tools to handle the tedious taskwork of content production. With ‌time saved through automation, individual contributors have breathing room to perform deeper research and develop more unique content that aligns with strategy.
1. Automate task work.
Make it so your team spends less time on task work and more time on audience research, creative work, and quality assurance.
Take an inventory of your current processes: What repetitive tasks does your team devote time to? How much time does it take to complete each task?
Some examples of time-consuming and repetitive content tasks include:
Creating meta descriptions for blog posts
Reformatting promo copy for different social channels
Finding internal links for blog posts
Writing subject matter expert outreach emails
Writing alt text for images
Editing/proofreading
Emerging AI technology can help shoulder some of the burden of "mindless" content tasks that content marketing managers previously took on, reducing time on taskwork from hours to minutes.
For example, Writer will automatically transform copy from a blog post into a variety of formats that support content distribution, like a meta description for search, a bulleted summary that can easily go into newsletters, and platform-optimized social copy. Also, Writer will instantly find related links to other resources on your website based on whatever keywords or phrases you highlight in your draft.
2. Centralize, organize, and document your production workflow.
Scattershot, undocumented processes mean more work for everyone. If you have to start from scratch or hunt down resources for every new content project, it puts a drag on your workflow and can cause delays. Centralizing and standardizing your content production operations will make every step of the process flow with fewer setbacks.
Here are some ways to simplify your content production processes:
Reduce your content tech stack to 1 or 2 platforms for planning, organizing, and collaborating on content production.
Keep one content planning calendar for your team to reference and update it frequently.
Maintain a central idea roadmap where your team can add, prioritize, and build out ideas before they go on the calendar.
Make sure your docs are saved under a standard file-saving and -naming protocol for quick look-up.
Keep a template library for every type of content your team creates on a regular basis.
Keep all your reusable visual assets (logos, illustrations, social media cards) in a central repository for easy reference.
To improve quality and brand consistency, develop brand and editorial guidelines that you can share across your organization. Writer's style guide feature helps enforce your company's brand guidelines as people are writing drafts, reducing editing time on the back end.
To save time on project planning, create step-by-step playbooks for each type of content your team publishes. That way there are no questions about what should happen next. It helps to use a project management tool like ClickUp, where teams can create templates for common content marketing projects. It allows teams to quickly create checklists and assign new tasks that are based on existing ones without having to start from square one.
If you have content that sticks to a certain format every time, templates are a content team's best friend.
Here are some types of content you can turn into templates to buy your team some headspace:
Content briefs
Blog post outlines
FAQs
Outreach/promo emails
Newsletters
Event takeaways
Case studies
Job descriptions
3. Rethink your publishing cadence and how you'll support it.
What would happen if you cut your publishing frequency in half next month? If you've been taking a "more, faster" approach, this may be unsettling to consider. But would the business outcomes of your strategy really see a negative impact?
Most blogs, even those that publish frequently, experience the 80/20 rule of content marketing: most posts get very little traffic and only a small amount of posts drive the bulk of traffic. Which means if you're publishing content for the sake of content, and you paused publishing, it's doubtful your audience will miss it.
If your current goal is to publish eight to ten new blog posts a month, do you have historical performance data driving that OKR? If so, do you have the resources to achieve the goal without skimping on quality, creativity, or work/life balance? If not, consider cutting down your goal to a more tenable publishing cadence or balance publishing net-new content with refreshing and repurposing existing content. You'll carve out time to spend on making your content unique, insightful, accessible, searchable, and visually appealing. The kind of content your audience will look forward to seeing and will be more likely to share, bookmark, or refer to in their own content.
If it makes strategic sense to publish frequently, AI writing tools like Writer can be the "second brain" your team needs to come up with new ideas or the right words, fast. Writer has templates that walk people through each step of blog writing, from brainstorming headlines to spinning up rough outlines to writing first drafts– cutting the entire process down by hours.
4. Evaluate and prioritize ideas before developing content with a checklist.
Before you start executing on your ideas, take a moment to evaluate whether they're worth developing into fully fleshed content pieces. Use this checklist to evaluate them:
The content idea ties to at least one business goal
The content will educate and/or entertain readers
The content works with your SEO strategy
The content helps instill trust in your brand
The content has a point of view unique to your company
The content can be written so it's readable and easy to process
The content can be completed to your standard of quality in the time available
The content can be easily updated later
5. Build in time for research and the creative process.
Productivity doesn't just equal output. In the frenzy to publish, content leaders can underestimate the value of having time and space to gain industry expertise, absorb new ideas, and find sources of inspiration. If you want to be a voice of authority or a thought leader in your space, it's imperative that you have time to, well, think.
Here are just a few productive ways ‌your team can spend the time they've gained from automating taskwork:
Talking with your customers and prospects
Brainstorming ideas informed by audience research
Reading books and consuming masterful content
Attending workshops and webinars
Interviewing subject matter experts
"Off the wall" creative projects
Think of your content program like an idea engine: to run a content program effectively, you need a constant source of inspiration. And the more you engage with your customer community and industry colleagues, the bigger your distribution network will grow so you can spread your ideas.
If your team is stuck for ideas or needs help with research, you can employ AI to assist. Among its many web-reading and word-writing capabilities, Ask Writer summarizes research and helps creators bounce ideas around.
6. Be choosy with your metrics and channels.
There are a lot of metrics available when it comes to analyzing content, and it isn't necessary to track them all. Follow the metrics that tell you the most about your readers and followers, such as website traffic, social engagement, and backlinks. When choosing what mediums and platforms you want to use to distribute your content, be selective. Go for the ones that make the most sense based on analytics data.
For example, Facebook and Instagram stories have become popular in recent years, but many businesses are finding they're not worthwhile. In a HubSpot survey, 25% of respondents said it was the least effective social trend they've tried, and 37% said they're going to decrease their efforts on them. Stick to channels where you see the most traffic and engagement. You'll avoid stretching yourself too thin by creating content for channels that yield results.
7. Don't skimp on your SEO efforts.
If you're going to use SEO to increase your website traffic, make sure you're setting aside time for activities like delving deep into search intent. Creating content just to have it on your site is not helpful. According to Ahrefs, 90.63% of content gets no traffic from Google search, so it doesn't serve you to publish hastily written content just so your blog looks fresh — especially if the subject matter itself is less than fresh.
Set aside time to be deliberate in your SEO strategy, and create higher quality content that results in more traffic to your site. Content that ranks well for long stretches of time helps provide more stable traffic. The benefits are measurable and provide evidence that slowing down your content creation leads to a better ROI than constantly pushing out hurriedly created content.
Do less for better results
You may learn that adopting a more sustainable process leads to producing even more content than before. Equipped with tools that automate workflows and ensure a higher standard of quality, your team can work more productively. They'll be less likely to burn out or cause publishing delays.
Or you may learn that a more deliberate approach means producing a smaller volume of net-new content overall. But taking time to adopt a data- and insights-driven strategy while leveraging existing content will result in better outcomes for your business and for your team.
Content marketing is a marathon. The goal is to win the attention and trust of a target audience. AI-powered tech will help you simplify and streamline content operations so you can win the race to your audience's heart and your team can enjoy the journey to the finish line.
Illustration by Blake Cale