What are the best style guide examples?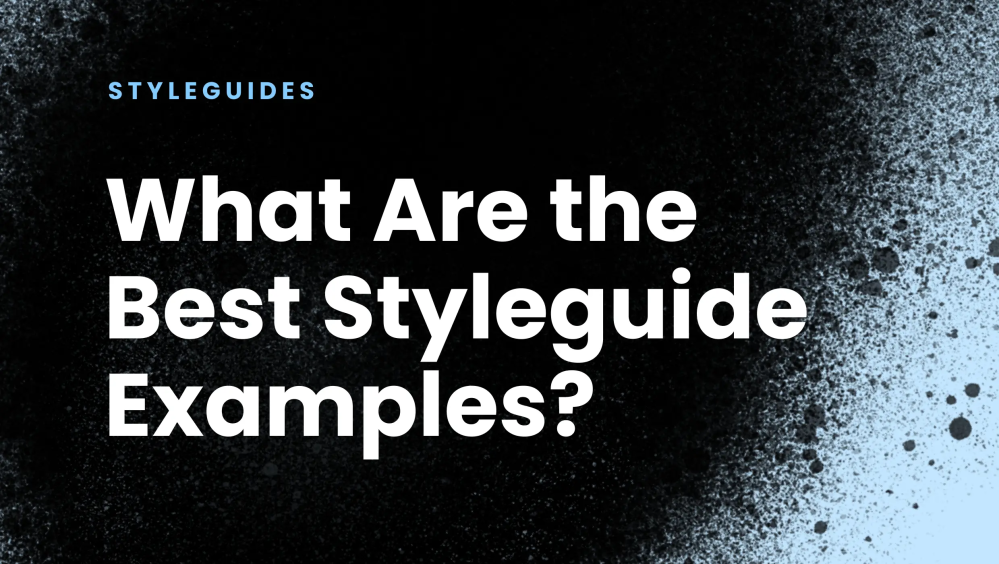 What is a style guide?
Style guides are tools that companies and publishers use to keep the brand elements consistent, to ensure nothing goes out into the world that contradicts their message to customers. 
Style guides are essential resources for building a healthy, consistent brand that people remember and relate to. 
The best style guides accomplish several tasks at once:
Clarify the nuances of

voice

.

Make that information easily accessible to everyone who needs it. 

Stay up-to-date as things evolve. 
Accomplishing all of these tasks is easier said than done, and it's always good to have a guide to lead the way when it comes to developing your own style guide. To give you inspiration, here are 10 of the best style guides around — and what makes them great.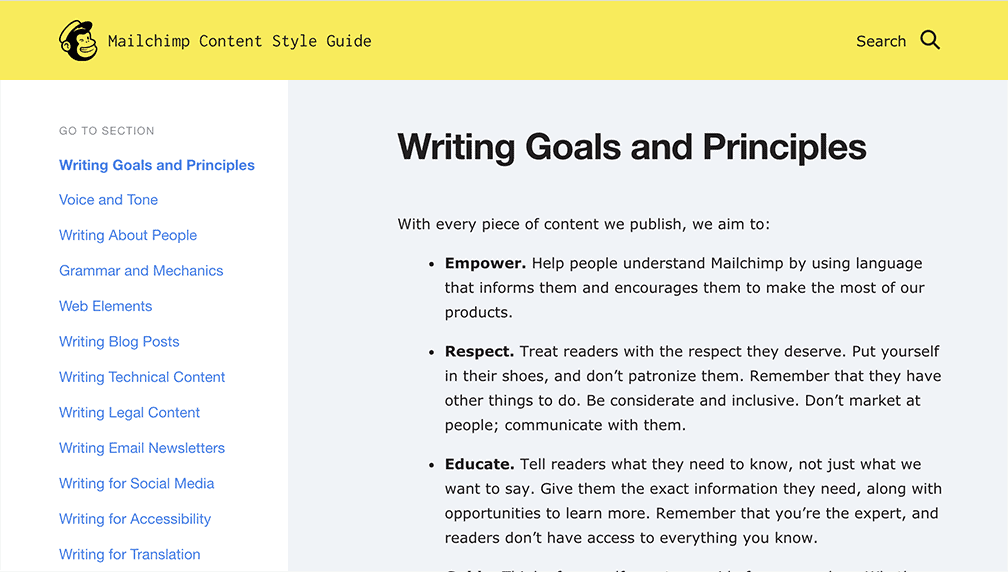 MailChimp's style guide is an industry leader
MailChimp's style guide is widely regarded as a role model for style guides. In fact, they offer it under a Creative Commons license, which means you can adapt it to your needs provided you give them credit.
The sidebar menu makes it easy to navigate, which is especially important given its immense size. It also has a search feature, which is helpful for those who want to reference specific information later on. That's vital to ensuring that people will actually use the guide. Another great aspect included here is the use of bolding and headers which further helps parse out the information and makes it more scannable.
---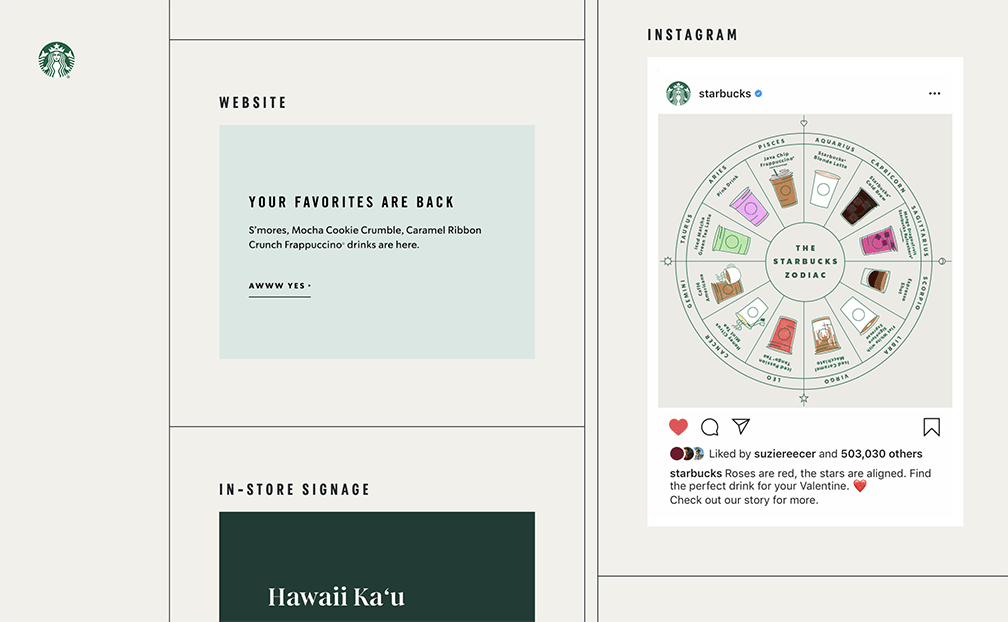 Starbucks' style guide is easy to understand
Although Starbucks' style guide focuses more on visuals than on text, and isn't as comprehensive as other examples listed here, there are still important lessons to glean from it. For one thing, it's simple, clean page design makes it easy to understand. That can be more difficult to achieve when you have a long, complex document to get through.
And there's a strategic use of examples pulled from across its various social media platforms and in-store copy. This helps the reader understand what good use of text looks like for the brand. And it saves them from having to scour the internet for examples. Style guides can change over time, and even if the reader tries to find examples, some of their findings may be too old to be relevant anymore. This approach avoids that issue.
---
Microsoft's style guide provides helpful examples
When it comes to highlighting updates, Microsoft's style guide offers an excellent solution: A section dedicated to raising awareness about those additions, right on the first page. It's another way to make room for those natural changes as the brand grows.
When you drill down further into this guide, you'll also see that it offers the reader helpful high-level takeaways in combination with examples of what works (and what doesn't.) That can help readers to understand how to implement the information well.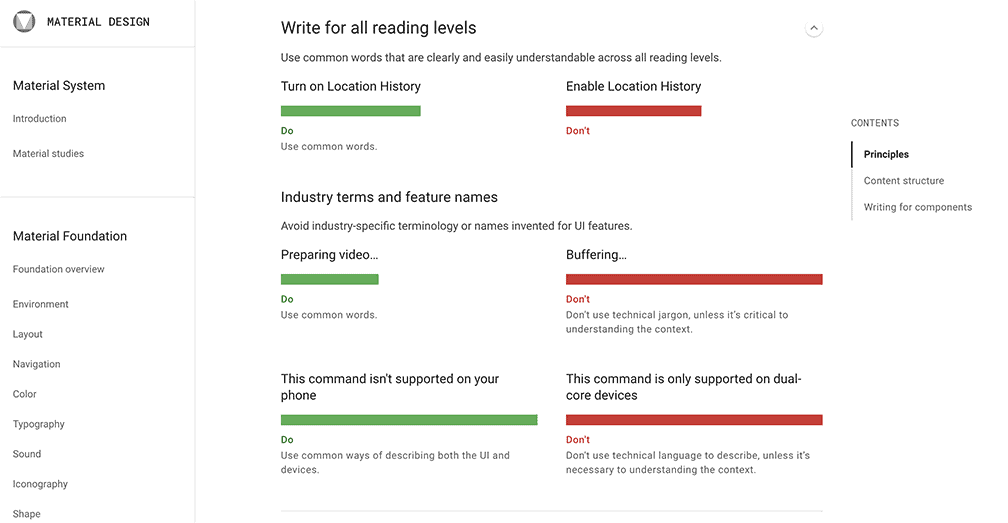 ---
Material Design's style guide takes helpful examples to the next level
Material Design takes Microsoft's do's and don'ts a step further by color-coding them, thereby drawing the eye to those examples. This incorporates room for different types of readers, including those who tend to scan for information.
It also features two key navigation features: The left sidebar, which helps readers go from section to section, and the right sidebar, which helps them navigate inside of a given section and look for more specific information.
---
Atlassian's style guide highlights brand and personality
Atlassian's style guide shows an understanding of the need for a style guide — something which readers may not be aware of on their own. By providing an explanation of why brand personality is essential, for example, it makes it more likely that the reader will take the guide to heart.
It's also written in the company voice, which helps drive home what readers should strive to achieve when developing new content for the brand.
---
University of North Carolina at Chapel Hill's style guide emphasizes the importance of relevant information
University of North Carolina at Chapel Hill's style guide puts an emphasis on the importance of keeping the content relevant. This can easily be overlooked, as it may be assumed to be obvious. But that may not always be the case for the reader. And staying on message is just as important as the message itself.
Like Starbucks' guide, the direction regarding written communication is rather brief when compared to some of the other guides listed here. However, it still does address the important points, like the college's strategic initiatives, brevity, and tone.
---
Formstack's style guide bullet-points key takeaways
In a similar way that MailChimp addresses the issue of navigation, Formstack's style guide provides the reader with a side menu to ease their search for relevant information.
It also highlights the company mission and ties that into their directives for content. This also includes two versions of elevator pitches that can easily be incorporated for various company needs. And you won't see large chunks of text here. Instead, there's an emphasis on bulleted lists and bolded keywords, combined with a conversational tone that make it easy to digest.
---
Coop Design System's style guide practices what it preaches
For those looking for a guide that's built specifically for scannability and clarity, Coop Design System's style guide provides a great example. The text is written in a clear and concise way, and the use of larger-than-typical font helps make it more accessible, too.
Again, there are quick and digestible takeaways in the form of bulleted lists, as well as simple headers and subheads that parse things out into digestible buckets of information. Essentially, this guide practices what it preaches in the style guide itself, making it a great meta-example for the reader.
---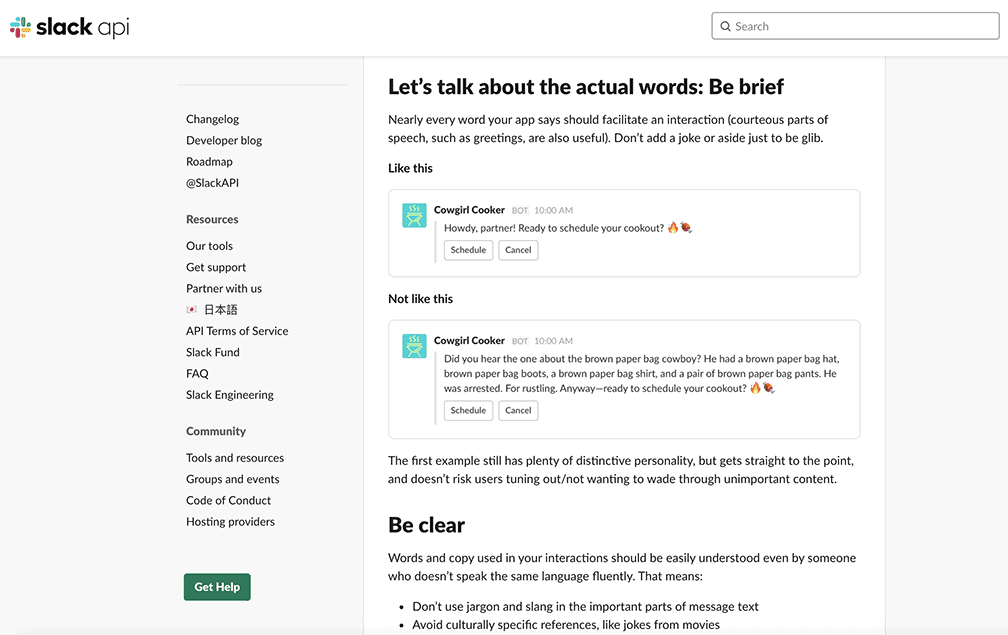 Slack's style guide shows how to write with an empathetic voice
Slack's style guide does something that's difficult, yet necessary, for a style guide to do: It tackles the complicated issue of drawing the line between "enough" and "too much." For Slack, that means talking about injecting personality into their copy, a task that can easily be taken too far.
It does this by giving the reader quick, bulleted points to stick to, and then it goes on to give solid examples within their own product interface. The guide also explains those examples, rather than leaving it to the reader to conclude what makes them work or not. Removing ambiguity is a great way to ensure readers can implement these guidelines into their work effectively.
Another notable aspect is that it gives actionable steps to include empathy within the messaging. This is a great opportunity to reiterate company messaging around topics like diversity and inclusion.
---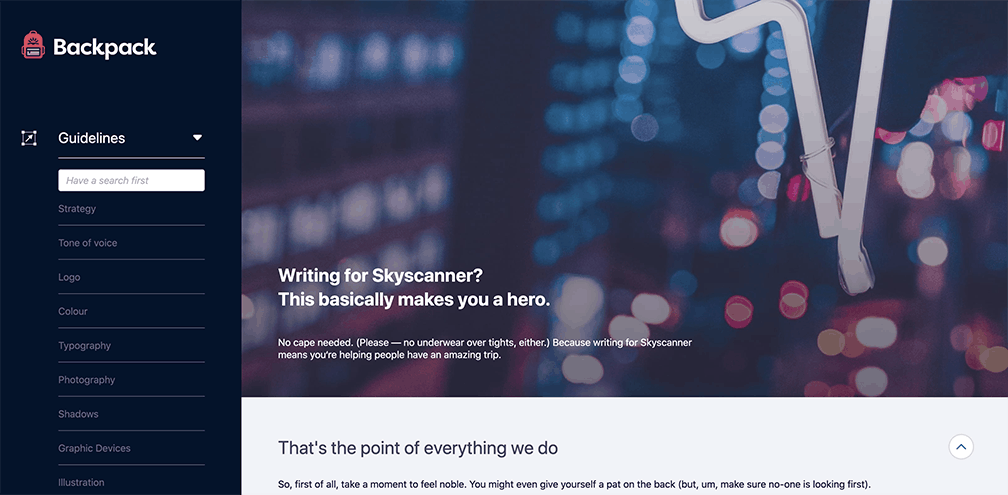 Backpack's style guide is essentially an engaging Q&A
A style guide can easily lapse into a stale reading experience, which makes it harder to get through and understand. But that's not the case when it comes to Backpack's style guide. It's written in a positive tone and the wording feels conversational. Everything is posed in a question-and-answer format with drop-downs, making it more scannable and less intimidating.
By shifting the focus onto what the reader might want to know about adhering to the voice of the brand, the guide becomes more accessible and useful. That's something to consider when crafting your own style guide.