Writer + Contentful means consistent, impactful, on-brand content across all channels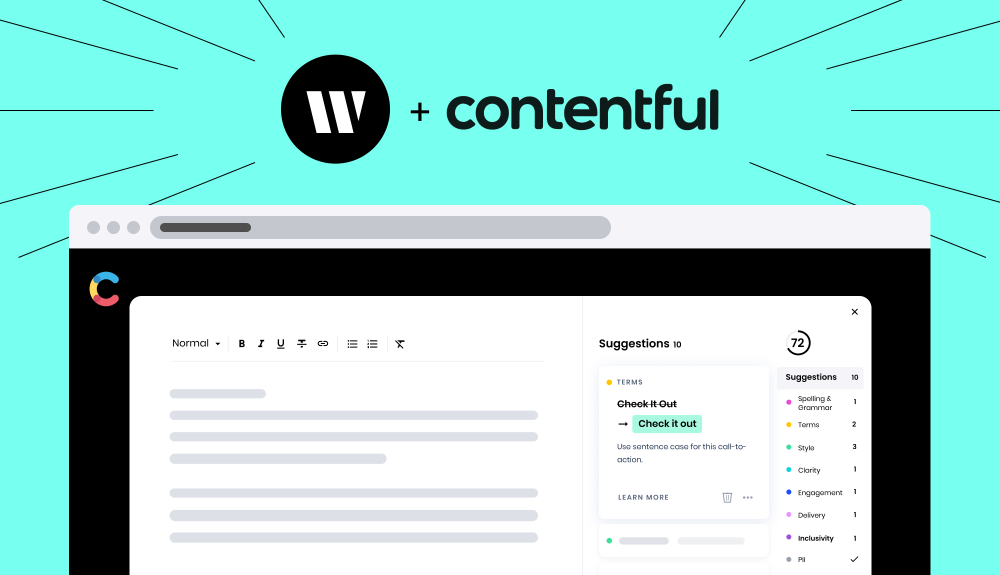 Writer is partnering with Contentful, the leading content platform for digital teams, to help marketers publish consistent, impactful, on-brand content across digital channels. With the Writer app now on the Contentful Marketplace, organizations can more easily scale their content production and deliver best-in-class digital experiences for their customers.
Unifying content in a single hub with Contentful
Contentful helps digital teams work faster and at scale by organizing content in one place for use in any digital channel. As a headless content management platform, Contentful easily integrates with a company's existing systems. You can find apps in the Contentful Marketplace like Slack, Shopify, Dropbox, Jira, and now Writer, to help you do more.
Introducing the Writer app for Contentful
Writer allows digital teams to bring their style guides to Contentful. Powered by Writer, Contentful users get writing suggestions for style, terminology, clarity, delivery, and inclusivity right in the Contentful editor. You can also create custom snippets for easy content reuse by your team.
Writer's clarity features help prepare content for globalization, an important task for many Contentful customers.
The free Writer app for Contentful will check for grammar, spelling, and punctuation errors, and evaluate written content with readability stats like grade level, reading time, word count, and sentence length. These features are available on the paid plans, too.
How it works
To start using the Writer app, head to the Contentful Marketplace and select "Install now." Then, sign in with your Writer credentials. You'll see our "Check content with Writer" button on top of your rich text and long text fields.
Just as you'd use Writer anywhere else you create content, the AI writing assistant will automatically begin providing writing suggestions to increase the clarity and consistency of your content. Improve your readability, follow style guidelines, and catch any last-minute errors.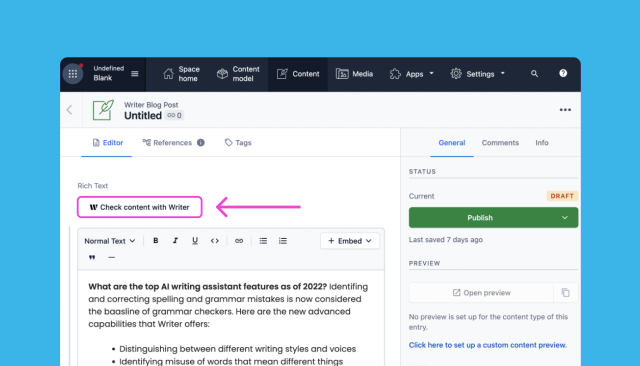 Writer + Contentful
Marketing teams owning their content production stack is becoming table stakes. It's hard to publish at the quality and consistency required to beat the competition without it. Together, Writer and Contentful help teams build agile, beautiful, and powerful content.
Pairing these two together is exciting for developers and marketers alike. As the digital world grows, software and tools need to evolve alongside it. When you don't have to spend as much time on editing posts or updating your websites, you have more energy to spend on creating high-quality content.
Interested in using the Writer app with Contentful? Email us at hello@writer.com, or start a free Team trial that also gives you access to a content style guide, taxonomy tools, and collaboration features.