You don't need a content writer. You need a copywriter.
So you got the green light to hire another writer. Excellent!
But what kind of writer do you actually need? "A really, really good one" unfortunately doesn't work as an answer here, though we understand where you're coming from. As content design continues to grow and expand, writing-related roles are becoming more specialized. One common mistake is thinking that copywriting and content writing is the same job, when in fact each has a specific skill set.
Both of these writers can support your marketing goals, but they do so in different ways. Knowing when it's best to work with a copywriter or a content writer can help your marketing efforts align with your business goals — and, even better, it'll keep your writers feeling happy, challenged, and fulfilled.
What's the role of a copywriter?
Copywriting is all about persuasion.
Copywriters are skilled writers and communicators who are adept problem solvers, researchers, creative thinkers, and planners who can efficiently switch from one writing tactic to another and have a deep understanding of brand voice. The work they do — copywriting — is writing that is done for marketing or advertising purposes and encompasses many different writing tactics, such as writing for ads, email newsletters, and webpages. In most cases, the main goal of copywriting is to increase sales.
Copywriters are versatile. They can tackle the different types of writing that fall under the copywriting umbrella and know what type of language and tone to use depending on what tactic they're using, who the target audience is, and what stage of the customer journey it falls under. On one day, they may be writing a LinkedIn post on behalf of company leadership to increase brand awareness, and on another, they may be using more direct language to close a sale and boost conversion rates on a landing page for the company's product.
Sometimes copywriters choose to specialize in specific areas of copywriting, like sales emails, even though they may still contribute other types of writing. This is similar to how professional photographers may have the same level of basic knowledge about how to use a camera to take a good photo in various situations but choose to specialize in photographing weddings, product photography, architecture, or other subjects.
Within a marketing team, copywriters collaborate with ad design teams, website and digital lead generation teams, teams that produce digital content like videos and podcasts, and engineering, product, and customer service teams.
Types of copywriting
Ad/sales copy — print, radio, television, direct mail
Brand copy — website copy, social media posts
Marketing collateral copy — brochures, flyers, emails, marketing campaigns
Technical writing copy — FAQs, help center articles, technical products
Public relations copy — press releases, company newsroom
Content marketing copy — blogs, thought leadership pieces, video scripts, podcast scripts
Examples of copywriting
Brand copy: A section on Intuit's website explains how the company's products help provide customers with the data they need to make decisions that save them money or time.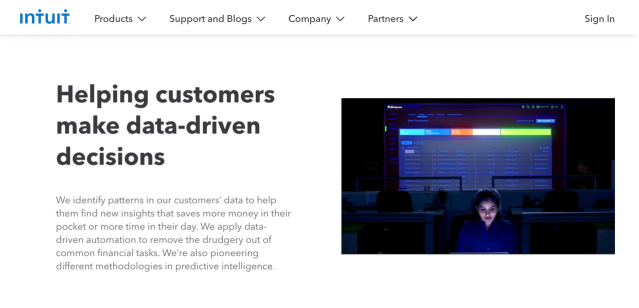 Technical writing copy: Twitter's Developer Platform site is loaded with technical articles that teach people what they can do using Twitter's API v2.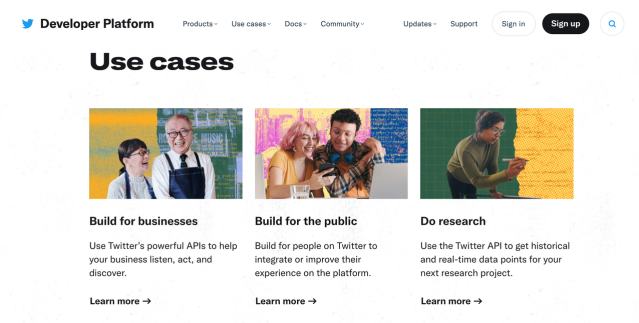 Public relations copy: The Pinterest Newsroom offers numerous articles that may be of interest to journalists writing about the company, as well as articles with information that journalists can reference or use to spark ideas.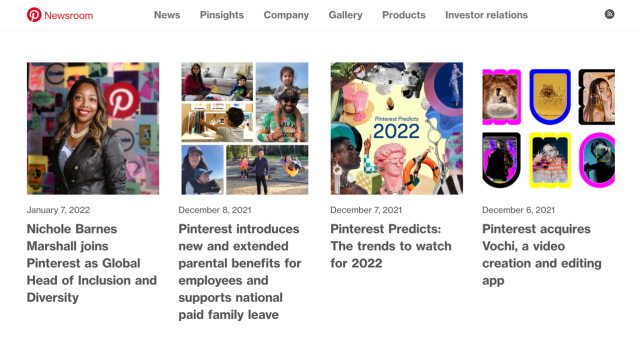 What's the role of a content writer?
Content writers are also experienced writers and communicators, though their skill set differs from copywriters. Content writers focus on writing that comes from a storytelling approach, which requires them to think creatively. They're able to conduct research, analyze data related to content performance, edit and promote content, and they have a thorough understanding of the marketing sales funnel, search engine optimization, and content strategy.
Content writing is a category of copywriting that focuses on attracting a specific audience to a brand using value-driven content. The main goal is to engage readers through helpful, informative writing that earns their trust and establishes the company as an industry expert, such as through blogs, white papers, and case studies.
Because content writing is about building a relationship with a reader through a piece of content — often at the earliest stage of the customer journey — it leaves more room for creative storytelling, which is why copywriters who excel at this skill may choose to specialize in it.
Content writers have a slightly more specific niche in a marketing team. They still collaborate with many of the same people and teams that a copywriter does, but it may be on a less frequent basis. For example, a copywriter might work with the product or engineering team almost daily, while a content writer may only work with them when the need arises.
Types of content writing
SEO blog/article content
Thought leadership content
Report/white paper content
Social media content
Video/podcast content
Long-form content
Examples of content writing
Blog content: The Webflow blog offers content that's relevant to its readers, such as a guide to marketing for SaaS companies.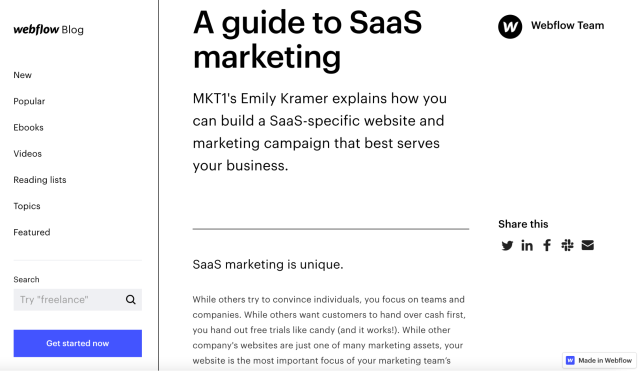 SEO blog/article content: This blog post from UiPath comes up on the first page of Google's results when searching for "email automation artificial intelligence," helping attract new readers.
How much should you pay copywriters and content writers?
The amount you should pay copywriters and content writers depends on their experience and your budget. You could choose to hire one writer to do all of the copywriting and content creation you need — and it's possible that's the best option if your budget is limited.
However, the most successful companies dedicate the budget necessary to work with an in-demand, experienced writer who is skilled in the exact type of writing they need. They understand that a writer's $100,000 salary or $300 per hour rate could result in a return that amounts to several million dollars — all because of a high-quality sentence or a compelling tagline at the top of their homepage.
Here's the annual salary of each of these types of writers if they were living in San Francisco, California, according to Payscale.com:
Copywriter | 5 years' experience: $50,000–$108,000 with a median salary of $71,000
Copywriter | 15 years' experience: $59,000–$148,000 with a median salary of $88,000
Content writer | 5 years' experience: $40,000–$102,000 with a median salary of $62,000
Content writer | 15 years' experience: $52,000–$165,000 with a median salary of $86,000
Additionally, some companies may opt to work with freelance writers if their needs are short term. According to Salary.com, the average freelance copywriter in the US makes $53,104 annually, while the average freelance content writer in the US makes $53,951 annually.
Should you hire a copywriter or a content writer?
Ultimately, choosing which type of writer to hire comes down to what's needed to fulfill your marketing strategies and the business goals you have. Align the skill set of the writer you hire with the types of writing that you need to be done — especially if the writing tactics where you need the most assistance are due to holes in the skills of your current marketing team. Also, decide which types of writing will best help you support your business goals and think about how each type of writer can help you create the content needed to reach those goals.
For example, if you're looking to boost your website's traffic, it's best to hire a content writer who's familiar with SEO. If you want to be able to improve your customer journeys to increase sales, you'd want to hire a copywriter who can connect the dots across your various marketing tactics to lead customers to make a purchase.
Questions to ask when deciding which type of writer to hire
What types of writing do you need to complete?
What are your marketing goals and business goals for those pieces of writing?
What skills are key in helping you reach your goals?
How will the role fit within your existing marketing team?
Is your biggest priority sales or engagement?
Will your writing needs evolve over time?
Are your needs long term or short term?
Connect to the right audience with the right writer
Hiring the right type of writer can help you more effectively support your marketing team's strategies and the goals of your business. That means you can connect with the audience that matters most when it comes to growing your business.
Illustration by Natalie Nelson
More resources