A detailed guide to quoting
Quotations have the power to elevate your written work when used correctly. But in order to use a quote properly, you must give full credit to the original source.
Before you can learn how to properly include quoted material, you need to have a firm understanding of what a quotation is, the purpose for using one, and the difference between quoting and paraphrasing.

What is a quotation in writing?
Quotations serve multiple purposes in writing. Students and professionals alike can benefit from using quotations in their work. Whether you're writing a research paper or a blog article, you'll likely find yourself needing to use them at some point. Quoting can add perspective, validation, and evidence to your piece.
What do you mean by quoting?
Quoting is a technique that allows you to include an original passage from a source in your work as a direct quote. You do this by framing or surrounding the quote in quotation marks like this, "This is an example of a sentence framed by quotation marks."
However, you can't just add quotation marks and call it a day. You also need proper attribution for your source.
Keep in mind that there is a difference between direct quoting and indirect quoting. With direct quoting, you include the source's exact words framed within quotation marks.
With indirect quoting, you can paraphrase what the person or text said in your own words instead of copying it verbatim. Indirect quoting, also known as indirect speech or discourse, is mostly used to summarize what someone said in a talk or interview. Indirect quotations are never placed within quotation marks.
How do you properly quote?
To properly quote someone, you'll need to follow some general quoting rules along with properly citing your source using your preferred MLA, APA, or Chicago style guide.
For example, many people incorrectly use punctuation with quotation marks. Do you know whether or not to include punctuation inside the quotation marks?
Here's how to handle punctuation marks with quotes, as well as a few more rules to consider when including quotations in your work:
Punctuation
As a good rule of thumb, periods and commas should go inside quotation marks. On the other hand, colons, semicolons, and dashes go outside of the quotation marks.
However, exclamation points and question marks aren't set in stone. While these tend to go on the inside of quotation marks, in some instances, you might place them outside of the marks.
Here are a few examples to illustrate how this would work in practice:
"You should keep commas inside the quotation marks," he explained.
She wanted to help, so she said, "I'm happy to explain it"; they needed a thorough explanation, and she loved to teach her students.
It gets a little trickier with exclamation marks and question marks when quoting. These can be either inside the quotation marks or outside of them, depending on the situation. Keep question and exclamation marks inside the quotations if they apply to the quoted passage. If they apply to your sentence instead of the quote, you'll want to keep them outside. Here's an example:
He asked the students, "Do you know how to use quotation marks?"
Did the students hear the teacher when he said, "I will show you how to use quotation marks"?
Closing quotations
Once you start using a quotation mark, you have to close it. This means that you can't leave a quote open like the example below because the reader wouldn't know when the quote is over.

Capitalization
The rule of capitalization changes depending on the context.
For example, if you quote a complete sentence, then you should capitalize the first word in the sentence. However, if you are quoting a piece of a sentence or phrase, then you wouldn't need to start with capitalization, like this:
She said, "Here's an example of a sentence that should start with a capital letter."
He said it was "a good example of a sentence where capitalization isn't necessary."
Sometimes, you'll want to split a quote. You don't need to capitalize the second half of the quote that's divided by a parenthetical. Here's an example to show you what that would look like:
"Here is an example of a quote," she told her students, "that doesn't need capitalization in the second part."
What is the purpose of quoting?
As stated above, quotations can serve multiple purposes in a written piece. Quotes can signify direct passages or titles of works. Here are a few of the reasons to include a quote within your written work: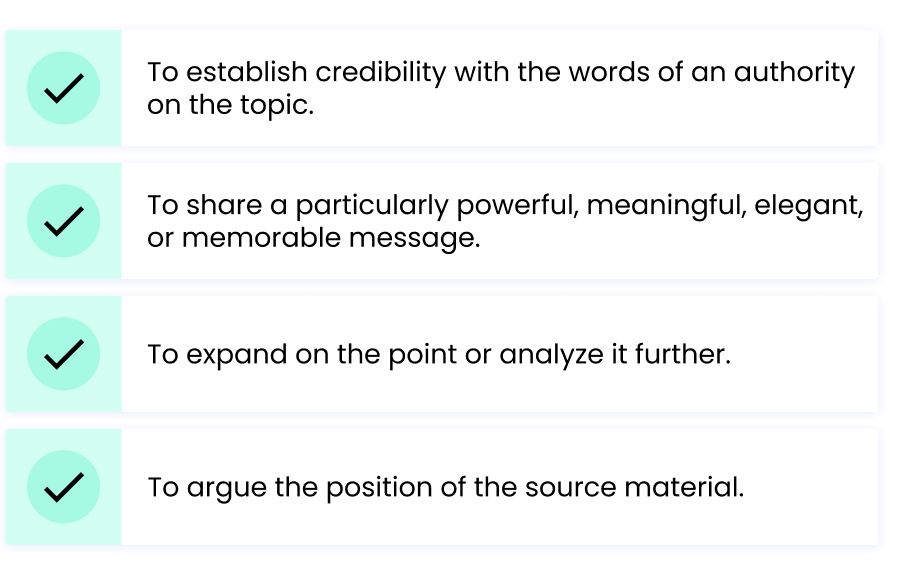 These intentions can apply whether you've interviewed your source or are taking a quote from an existing, published piece.
However, before you use a quote, you'll want to understand how it can strengthen your work and when you should use one. We'll discuss when you should use quotes and how to properly cite them using different style guides in the next section.
When you should use quotes
Quotations should be used strategically, no matter what type of writing you're doing. For instance, if you're a professional copywriter crafting a white paper or a student writing a research paper, you'll likely want to include as much proof as possible in your work. However, stuffing your paper with a ton of quotations can do more harm than good because the piece needs to represent your ideas and interpretations of the source, not just good quotes.
That being said, quoting reputable sources in your work is an excellent way to prove your points and add credibility to the piece. Use quotations in your work when you want to share accurate ideas and passages from source materials.
You should also use quotes when you want to add emphasis to a source on the topic you're covering.
For example, if you're writing a research paper, then it would be beneficial to add quotes from a professor involved in the study you're referring to in your piece.
How to cite a quote in MLA, APA, and Chicago
MLA, APA, and Chicago are three of the most common citation styles. It's a standardized way of crediting the sources that you quote. Depending on your assignment, you may need to use a specific one when citing your sources.
This section shares how to cite your quotes in these three popular citation styles, along with several examples of each.
MLA
Modern Language Association (MLA) is most often associated with academics in English or philosophic fields. With this style of citation, you'll need to include quotes word-for-word. It's fine to use only phrases or pieces from a specific quote, but you'll need to keep the spelling and punctuation the same.
Here are some other criteria to keep in mind when citing using MLA style:
• If the quote goes longer than four lines, you must use a blockquote. Do not indent at the start of the quote block.
• Start quotes on the next line, ½ inch from the left margin of the paper.
• Quotes must be double spaced like the rest of the paper.
• Only use quotations when quotation marks are a part of the source.
• Include in-text citations next to the blockquote.
• If a blockquote is longer than a paragraph, you must start the next paragraph with the same indent.
• Don't include a number in the parenthetical quotation if the source doesn't use page numbers.
Here's an example of a short, direct quote with MLA using a website resource without page numbers:
She always wanted to be a writer. "I knew from a young age that I wanted to write a novel." (Smith)
And an example of a blockquote from page 2 of the source:
John Doe shares his experience getting his book published in the prologue:
I never expected so many people to be willing to help me publish this book. I had a lot of support along the way. My friends and colleagues always encouraged me to keep going. Some helped me edit, and others reminded me why I started in the first place. One of my good friends even brought me dinner when she knew I was going to be working late. (2)
With MLA, the reader can reference the full sources at the end in the Work Cited section. For this example, it could look like this:
Works Cited
Example:
Smith, J. (2021). Example Blog Post. Retrieved 2021, from www.example.com
Doe, J. (2021). Book Title One (1st ed., Vol. 1). Example, TX: Example Publishing.
See this article for more information on MLA style citations.
APA
American Psychological Association (APA) is used often in psychology, education, and criminal justice fields. It often requires a cover page and abstract.
Here are a few points to consider when using APA style to cite your sources:
• Citation pages should be double spaced.
• All citations in a paper must have a full reference in the reference list.
• All references must have a hanging indent.
• Sources must be listed in alphabetical order, typically by the last name.
Using the same source examples as we did with MLA above, here is how they would be cited in APA:
Doe, Jane. Example Blog Post. 2021, www.example.com.
Doe, John. Book Title One. 1st ed., vol. 1, Example Publishing, 2021.
See this article for more information on APA style citations.
Chicago
Chicago Manual of Style (CMS) is commonly used in history and humanities fields. It was created to help researchers. Here are a few points to keep in mind for Chicago Style:
• There are 2 types of referencing styles:
→ Notes and Bibliography
→ Author-Date
• The list of bibliography must be single-spaced.
• The text should be double spaced, except for block quotations, tables, notes, and bibliographies.
• The second line should be indented for sources.
•Author last names must be arranged alphabetically.
Here's how the same example sources used above would be cited using Chicago style:
Doe, Jane. "Example Blog Post," 2021. www.example.com.
Doe, John. Book Title One. 1. 1st ed. Vol. 1. Example, TX: Example Publishing, 2021.
See this article for more information on Chicago style citations.
Types of quotes and examples
There are two main types of quotes: direct and indirect.
Whenever you want to use someone's statement word-for-word in your text, you'll need to include properly cited, direct quotations. However, if you want to paraphrase someone's words then indirect quotes could be more appropriate.
For example, say that you're writing a press release for a company. You could interview different people within the company's staff and paraphrase their quotes. This is particularly useful if the direct quote wouldn't work well within your piece. For instance, you could change this direct quote example into an indirect quote that would more succinctly represent the speech:
Direct quote:

Indirect quote:

***
Keep in mind when using quotations that you should aim for using as few words as necessary. You don't want to quote an entire paragraph when only one sentence contains the key information you want to share. If you need to add context, do so in your words. It'll make for a much more interesting piece if you're using quotes to support your stance alongside your interpretation instead of just repeating what's already been said.