Writer for
Contentful
The writing assistant for content publishers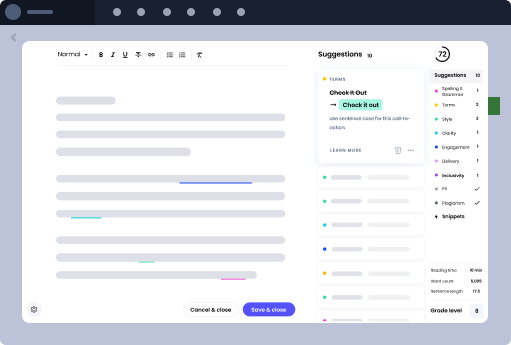 Loved by content publishing teams at
Writer for Contentful
Consistent, impactful, on-brand content across all channels
Style
Set editorial style rules for punctuation and capitalization so everyone's on the same page.
Readability
Check readability stats such as grade level, reading time, word count, and sentence length.
Terminology
Build a robust terms list based on approved terms and product taxonomy so your publishers can access them quickly.
Inclusive language
Communicate inclusively with corrections for outdated, ableist, or gendered language within Contentful.
Clarity and consistency
Help your team write clearly and consistently. Enforce uniform language across your website content.
Snippets
Insert reusable snippets, which can be any content that you write often.
COMPLIANCE
Your data is safe with us
Protecting your data is our top priority. We keep your data secure with enterprise-grade security features, compliance audits, and privacy protections.