How the busiest content teams handle internal requests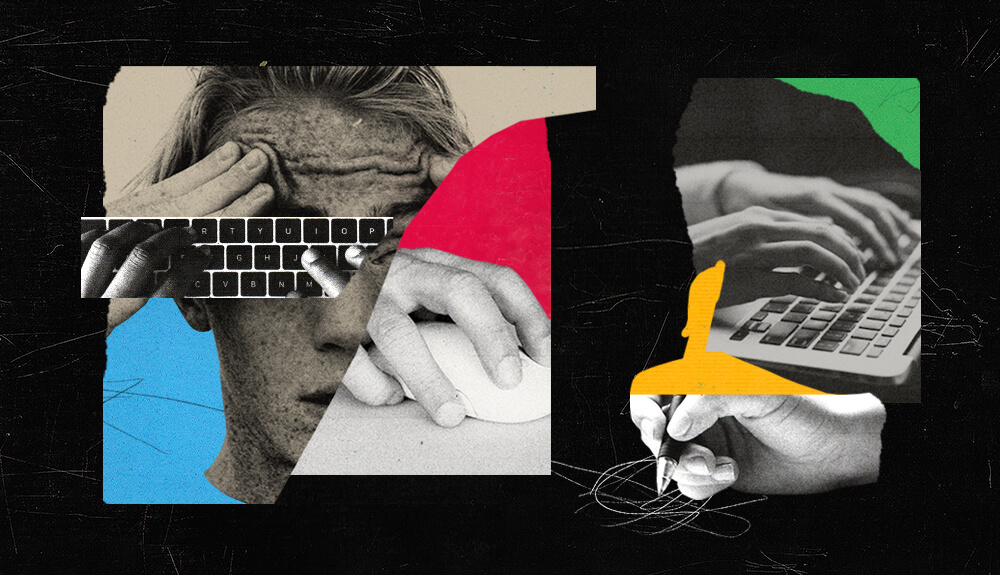 It's chaos.
Content requests are coming in through Slack and email. Context is missed. Details get lost. Writers are being asked to whip up "just a few lines of copy" at a moment's notice. People spend days hunting down pieces of key info they need to complete their tasks.
You need to do something to save your team from burnout. You need a process.
Implementing a system for internal requests helps everyone work better. It means fewer messages back and forth. It means less frustration. It means more time and energy for creativity.
Internal content request systems (and why you should set one up right now)
An internal content request system just means having a standard way of making and dealing with content requests. You can set one up very quickly. It doesn't need to be elaborate. It doesn't need to be fancy. But everyone in your organization needs to follow it. Approaching all content requests in the same way allows your team to do their jobs effectively. Everyone has the information they need to do their work.
Using a system means that key information is always communicated. Team members don't get "blocked" or have to re-do work because they weren't told about the relevant context. Requests are never lost. They all land in the same place, and they don't rely on someone remembering to copy them over from a jumbled chat thread.
Getting everyone on the same page about timelines when the request is first made empowers your team to meet deadlines. You'll be able to spot any problems or roadblocks in advance.
So, how do you do it?
Get input from the whole team
What one team member might see as an unnecessary detail could be essential context for someone else. Most projects require cross-functional teams. Engineers, copywriters, designers, and project managers all have to collaborate.
To find out what different people need, talk to your team members. Ask everyone to contribute their perspective. For the system to function well, it needs everyone to stick to it. Getting your whole team involved at the start means they'll feel invested and will be more likely to actually use it.
Ask request receivers:
What information do they need to create the content?
What important context is often missed?
How much notice do they need for certain tasks?
Ask request makers:
What information do they think content creators should know?
How and when do they want to be updated on progress?
Put everything in one place
Having one source of truth for your project makes teams faster. The treasure hunt for information is gone. They don't spend time waiting on responses before they can get started. The flexibility this gives you is also an advantage. Anyone can step in and do the work regardless of if they were on that call with the CEO three weeks ago.
Eliminating contradictory information helps the project to stay on track if anything changes. Everyone can clearly see the new plan and understand what's different. This is essential if your team is working remotely and communicating async.
Headspace decided to create a design system in Notion to organize their work. Ken Seeno, Headspace's product design manager, explains how this took them from chaos to efficiency. "Before, we had a Google Doc here, a Figma file there, and all these loose documents would get lost… Now everything's linked, organized, and accessible to the whole team within our Notion workspace."
The system allowed them to create "Lego blocks" — a comprehensive style guide designers can refer to. Everyone has access, and Ken says this helps keep work coherent.
Use a creative brief template and standardize requests
Standardizing requests means everyone is clear on the expected outcome. Using a brief template facilitates this. It "forces folks to put their ideas to the test" by being specific about what they need. Start by using a template like this one, and customize it for your team.
Things to include:
One to three sentences giving a high-level summary of the context
The goals of the task. Describe the problem it's solving.
Deliverables with specific requirements (like word count or design dimensions)
The proposed timeline
Team members responsible for doing the work
Stakeholders who you'll update about the progress
A space to link to necessary resources (like style guides)
Depending on your team and the kind of project you're working on, you'll want to add further details. For example, Zapier's SEO-focused content briefs include primary and secondary keywords the writer should incorporate.
Next, decide on some rules for content requests. For example: "We deliver requests in this format, and we make them at least X days in advance." Share this with your team so everyone knows about the new approach.
In the beginning, it might be difficult for request-makers to make concise and useful briefs. To make it easier, here are some general guidelines:
Start with a high-level picture, then zoom in to give more detail
Keep it short. Limit your sentences to a maximum of 25 words.
To make your briefs accessible to newer team members or freelancers, avoid using company jargon
Break up large sections of text into small chunks or bulleted lists
Keep communication lines open
Projects change fast. Get your team to update and add to your documentation as work progresses. Make your pages "living documents" — give everyone viewing and editing permissions. Ensuring everyone can see the content requests that come in allows for effective collaboration. According to Ken, the Headspace system works because "it's living, accessible, and open."
As you start to use your new system, ask your team for feedback. Then you can update the brief template to add or remove more details when necessary.
Unleash your team's creativity
Setting up a system might seem like an unnecessary extra task. The truth is, it'll save you a lot of time further down the line. Your team's creativity is your biggest asset. Implementing a content request system will allow them to focus on the work they're best at. Anything you can do to give your team more space to experiment and get creative is a win.
To that end, make sure to keep the system simple. Remember, the goal is to save time, not create more work. Get started today by asking your team what roadblocks they frequently deal with. You'll be able to put together your brief template before you know it.
More resources