What content marketers can learn from a wig-wearing Texas funk trio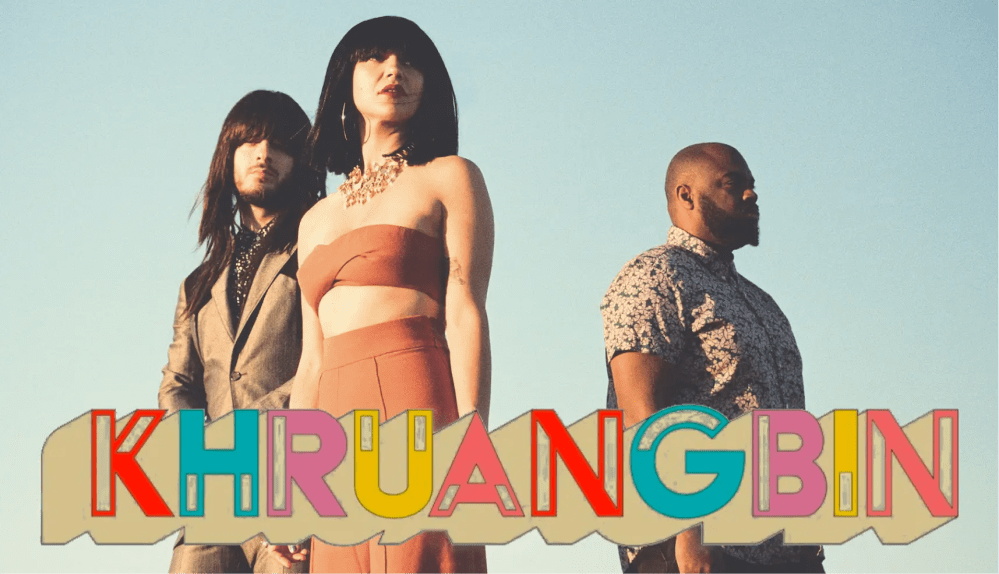 As a content creator, you have more potential sources of inspiration than you might imagine. The truth is that our whole world is "content," and everyone — from your goofball friend who posts epic memes on Facebook, to the illustrious journalist whose work you admire from afar — is creating some kind of content.
So when it comes to seeking out ways to jump start or level up your content initiatives, it can be fun — and informative — to look in unexpected places for new ideas. Like a wig-wearing funk trio from Texas.
Khruangbin has a unique sound that's influenced by different music genres (soul, surf-rock, psychedelic, and funk to name a few) and many different cultures (Thai, Spanish, Middle Eastern, and more). Their name means "airplane" in Thai and is pronounced "crung-bin."
Over the last 10 years, the band — guitarist Mark Speer, drummer Donald "DJ" Johnson, and bassist Laura Lee — have earned a devoted following and a reputation for being instantly recognizable while constantly transforming themselves.
It's a neat trick.
After reading and listening to lots of interviews with Laura Lee, we couldn't help but put together a few ways you can steal some of Khruangbin's moves to tune up your creative process and collaboration skills.
1. Establish a memorable style
There's an awful lot of noise out there. Finding your special groove, hook, or look makes it easy for the right people to spot you in a crowd.
Khruangbin does this with an interesting combination of style staples and style experimentation. On the staples side of things, Laura and Mark always wear long, black wigs for performances. This costume choice started as a way for the introverted musicians to partially conceal their identities, but it quickly became part of their signature style.
On the flip side, Laura has never worn the same outfit twice while performing. Since 2011, she's worn more than 600 unique ensembles that include pieces from high-end designers (Alberta Ferretti, Christopher Kane, and Mary Katrantzou), vintage Escada collections, and up-and-coming designers from around the world.
Takeaway
With style, take advantage of a broad palette. But make strategic choices about the trademark elements that'll make your content instantly recognizable.
2. Create a vibe that resonates with your audience
As performers, the members of Khruangbin want to create a strong rapport with their audience. Even before they adopted their signature looks, the band embodied a very multicultural sound and feel. Each of the musicians comes from a different culture and background, and — as a group — they embrace all the different facets of themselves and the places they come from. Their fans admire and appreciate this aspect of the band because it reflects the makeup and aesthetic of the group's extended community.
Takeaway
Get to know your audience so you can find the common threads between what you're doing and what they want.
3. Revel in the beauty of the remix
Khruangbin recently released Mordechai Remixes, a new version of their 2020 album. This reimagined record features artists and producers like Quantic, Soul Clap, Knxwledge, and others putting their own spin on the original songs.
Laura explained the project to Interview Magazine as "giving five chefs the same ingredients and seeing how each one plays with them," going on to say that the key to a successful remix is giving the collaborating artist the freedom to create their own thing.
Takeaway
The Queen of the Content Remix, Brittany Berger, defines remixing as "any marketing effort that gets new results from old or existing content, including but not limited to repurposing." Remixing can involve adapting content to different channels and formats, re-promoting older content, and more.
Or, to follow Khruangbin's example, it might be about getting new perspectives on existing content.
4. Be authentic and embrace imperfection
Khruangbin is all about artistic integrity and innovation. Super-slick production, however, is not their thing. Instead of a "hyper-clean" studio sound, they prefer the "dirty" tone achieved by recording outside in a way that weaves natural elements like wind and birdsong into their tracks.
Content that's too perfect can feel inauthentic and create distance between you and your audience. Khruangbin avoids this by letting the seams show a little.
Takeaway
High production value doesn't mean high engagement — sometimes a quick screenshare video or Loom feels way more authentic. We can't help but mention our favorite example of a company that embraces this strategy: Figma.
#FigmaTip: Let's make some charts in Figma 📊

Figma User Researcher @JasonGan9 shows you how.

For more Figma tips, check out our Figma Like the Pros livestream recording: https://t.co/YRxzagcu7d pic.twitter.com/k1TMbbF0ZK

— Figma (@figma) March 10, 2022
5. Work together to serve a single vision
Just like a lot of content creators, Khruangbin's work is ultimately the product of a team — not just the artists themselves, but also the collaborators who contribute to the music, videos, and album artwork.
The key to maintaining the quality and consistency of their music and the media that supports it is ensuring that everyone on the team is working together to serve a single vision.
Take the cover for the Mordechai album, for example. In an interview with Rob Goodman on the Making Ways podcast, Laura and artist Nate Utesch shared how the final piece of artwork was Nate's stylized interpretation of a sketch Laura made on a hike.
Nate described his egoless role as being "here to learn the band's language and carry it through." Laura added that supportive roles are just as important as lead roles. That's teamwork.
Takeaway
Clearly define your vision so it becomes a touchstone for every member of your team. Also, make sure everyone is on the same page about leaving ego at the door. There are no prima donnas on a successful content team.
6. Embrace constraints
The band originally intended to shoot the video for "Pelota" as a live action piece. Unfortunately, Covid had other ideas.
While some creative teams might have been frustrated and discouraged, the Khruangbin crew embraced the creative constraints imposed by the pandemic. The result was a striking animated video that the band and their fans love. As Laura explained on Making Ways, "moving to animation actually opened up a much bigger world. It couldn't have turned out better."
The band is also taking advantage of new formats as they emerge. Though, as Laura puts it, her "heart is a vinyl record," that didn't stop the band from creating a Spotify enhanced album. "Only a few giant artists like Taylor Swift had done enhanced albums, so we didn't have a roadmap. But we looked at it as an opportunity to connect with people in a new digital presentation while still having it feel very Khruangbin."
Takeaway
Don't be afraid of the unknown, and don't assume that limitations are all bad. Creative constraints have a way of inspiring innovation. And sometimes the unknown can turn out to be a huge win.
7. Think like a curator
Laura worked as a museum curator for several years. This background helped her build a really broad network of creative contacts within the creative world, a valuable asset that she taps into regularly.
Now, she curates all of the posters and artwork that the band uses on their albums and in their promotional material. She loves pulling in artists who don't normally work with bands because they bring a fresh perspective, unique style, and a lot of enthusiasm.
Takeaway
You don't have to do it all yourself. Sometimes the best solution is to curate existing material in a way that sheds new light on a topic or helps introduce your audience to something (or someone) new.
8. Done is better than perfect
Most of us can relate to the Douglas Adams quote, "I love deadlines. I like the whooshing sound they make as they fly by." But the truth is that deadlines can be a powerful tool.
As someone who was constantly starting new projects without finishing her existing ones, Laura found the experience of working in advertising very valuable. "People are counting on you, and at some point you just have to put the brush down," she explained on Making Ways.
Takeaway
There's no such thing as perfect, so stop wasting time trying to get there. Give yourself deadlines and stick to them. If it helps, set up some accountability practices.
9. Find your inspiration everywhere
Instead of getting caught up in the technical minutiae of the process, Laura adds value by seeing the bigger picture and connecting the dots.
So, while she might ask that the mix on a track be "less velvety and more chocolatey" (definitely not technical terms), she can find inspiration anywhere and everywhere. Anything can spark a new idea — cooking dinner, taking a hike, walking down stairs.
But Laura processes all of her experiences through a focusing lens. In her case, she uses a question her therapist asked her about the sentence or word she'd like to have on her tombstone. Laura chose the word "adventure." She uses that idea to contextualize all her varied inspirations.
Takeaway
Pay attention to everything around you. Don't limit yourself to a particular set of sources when it comes to inspiration. Keep your eyes (and your mind!) open to new ideas and new connections. Great content ideas can come from anywhere — it's all in how you see the world.
Want more inspiration from Khruangbin's Laura Lee? Listen to her fantastic episode of the Making Ways podcast.