How to quickly prototype a game-changing content ops strategy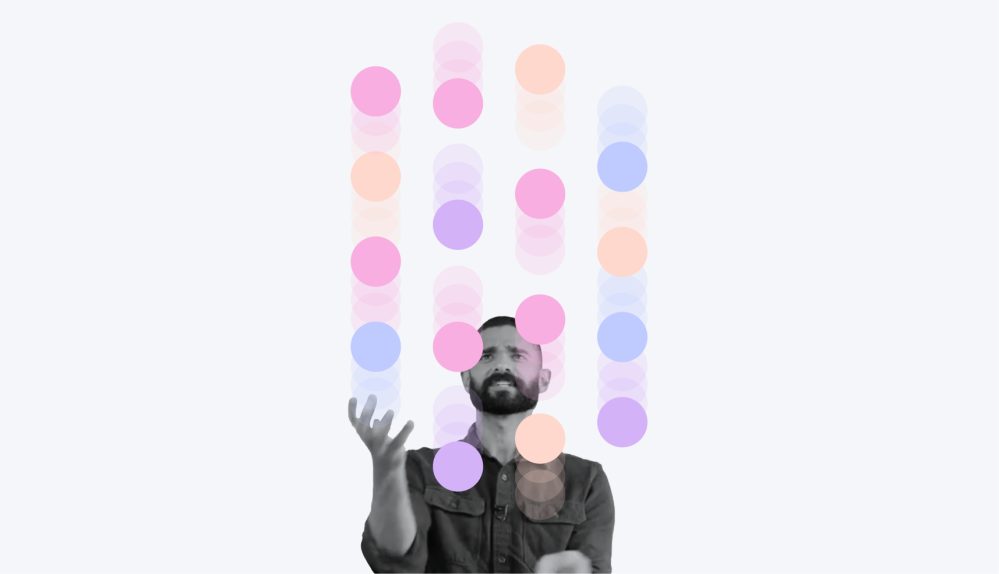 Once a nice-to-have addition to the go-to-market strategy, content is now a critical business asset that's discussed at the highest levels of leadership. "Content marketing" has become marketing.
There's more pressure than ever to publish more content, hit bigger goals, and achieve results as quickly as possible. With so many people involved — most of whom aren't writers — consistently creating "good content fast" is hard. But an even bigger issue is the seemingly endless (and always growing) list of requirements.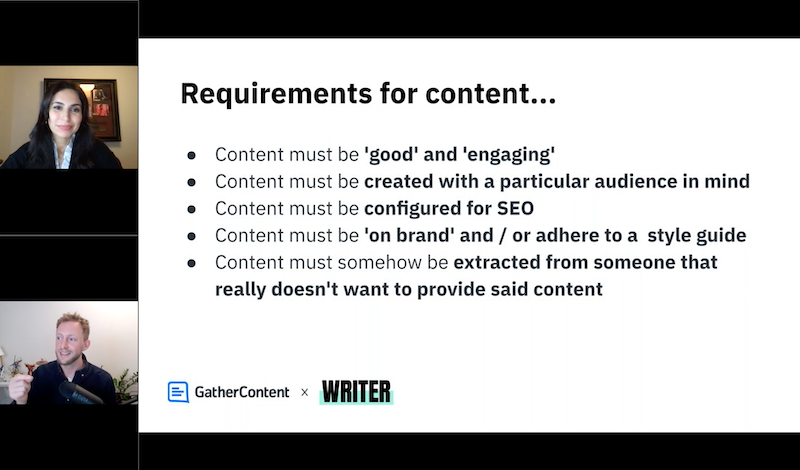 Content marketers have to be aware of, manage, and meet multiple expectations and requirements across a wide range of areas: overall quality, engagement, accessibility, SEO, technical requirements, audience alignment, brand alignments, adherence to the style guide, legal compliance, translation, localization, personalization, multi-channel readiness, and more. Whew. That's a lot to juggle.
It seems impossible to keep all these balls up in the air. But that's where content operations comes in.
Content operations, also called content ops, is a mission-critical practice for any organization that takes its content seriously. To demonstrate a quick way to operationalize meeting all these requirements, we hosted a webinar with Angus Edwardson, co-founder and VP of Product at GatherContent.
What follows here is a highlight from our webinar. You can watch the full recording at the end of the article.
How to make content marketing less chaotic
Angus defines content operations as "the people, processes, and technology organizations use to produce and publish content." This includes workflows, governance policies, production, approval, style, automation, and publishing.
"We're working in quite large and complex organizations where there's a lot of technology and people involved," Angus explained. "That's why we need to invest in maturing content operations as its own industry. Standardization, structure, and automation are crucial to successfully scaling content operations without drowning in chaos."
We must transform existing processes with automation technologies — it's the smartest way to accelerate time to market while simultaneously improving quality. Writing is the last business process for which we don't yet have tooling. But it's crucial to solve the problem of operationalizing content production if we want to meet current demand and scale the process to keep pace with growth.
Content marketers need to find efficient and effective ways to compress the content production cycle. One quick way to do that: use GatherContent and Writer to prototype an automated content ops strategy.
GatherContent: a place for everything and everything in its place
As Angus pointed out in the webinar, a lot of teams already have a content ops process. The problem is the way they document and facilitate the process — it typically relies on clunky technologies and tools. For instance, it's not efficient to work with a style guide that's buried on a website or completely out of date.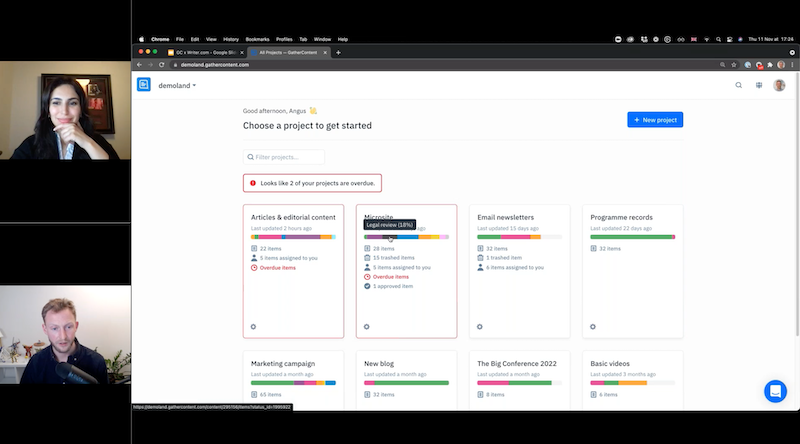 GatherContent workspaces operationalize the project management elements of content production: templates, assignments, collaboration, status updates — everything you need to stay on track. It enables you to keep all your content-related workflows in one place and view by approval status, monthly blog posts, pending reviews, and other filters and criteria. The result is a much better experience for the content creator, the editor, and — ultimately — the company and the audience.
And GatherContent is designed to be a familiar experience for people who are used to working in Word and Google Docs. Angus and his team are committed to delivering a "zero learning curve" experience for users.
Writer: a second pair of eyes
One of the biggest struggles content marketers deal with daily is managing content creation across multiple content creators. In addition to marketing staff and external resources, most companies also tap content creators from within the organization. The trick to consistency and cohesion across such a broad range of content sources is to arm all your creators with the right tools.
The first tool most companies employ is a style guide. But even the best style guides often fall by the wayside. The fact that they live in Google Docs or as a PDF makes them tough to operationalize. They aren't built for scale.
As a result, content ops and content strategists have to shoulder the burden of enforcing the style guide manually on a case-by-case basis. Unsurprisingly, this "solution" tends to create a bottleneck.
Writer operationalizes your style guide and seamlessly integrates its consistent use into the content creation process. It goes way beyond spelling and grammar to cover everything from naming conventions and common phrases to reading level, inclusivity, clarity, and more. Writer automates a lot of the editorial process to help compress the production process while delivering better, more aligned content.
The magic of content ops
The goal of content ops is to deliver "good content faster" — to consistently get to market with quality content that is engaging, strategic, and meets all the requirements.
Building an intentional content ops practice that's supported by the right combination of structure and automation tools helps you not only deliver "good content faster," but create a company culture that values accurate, consistent, and effective content.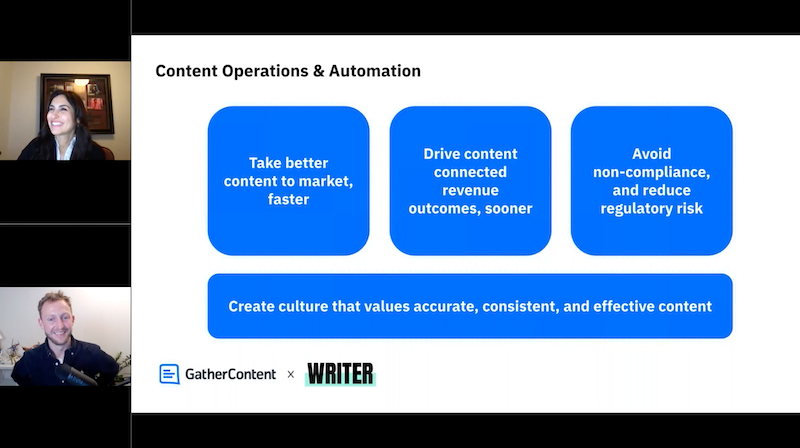 Both GatherContent and Writer deliver a zero learning curve experience that compresses the content production cycle. But a content ops strategy that uses this kind of automation is about more than just speed — it gives creators and editors a huge confidence boost. They can rest easy knowing all the t's are crossed and i's are dotted.
To hear more, watch the webinar recording. You'll learn how to get started developing your own content ops and automation strategy — and how to demonstrate its value to your entire organization.