How to avoid plagiarism in 5 simple steps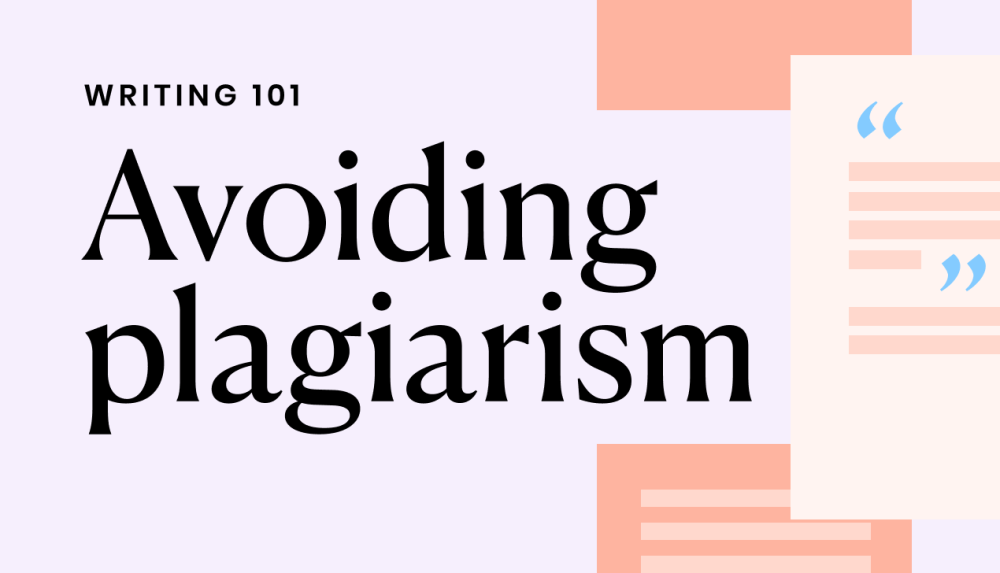 Whether you are a student writing a term paper, a freelance writer on a deadline, or a copy editor reviewing articles for your company's publication, plagiarism can be a real issue,  particularly when creating pieces that rely heavily on research and interviews. Even with the best of intentions, you could find yourself accidentally plagiarizing one of your sources.
In this article, we'll cover the basics to help you avoid plagiarism in five simple steps, including:
1. Know what plagiarism is and isn't
2. Attribute all of your quotes
3. Give credit to all sources
4. Add something unique or original to your content
5. Run all content through plagiarism software
Why you should avoid plagiarism
As writers and editors, we should aim to produce work that's free from plagiarism. Why? Because it's unethical. 
In an earlier article, we mentioned that plagiarism is stealing someone else's intellectual property. 
Plagiarism isn't just copying and pasting someone's work word-for-word and trying to pass it off as your own. This might be the most obvious form of plagiarism, but direct plagiarism isn't the only type. You can also accidentally plagiarize by failing to keep track of your sources, omitting citations, not attributing quotations properly, paraphrasing someone else's content incorrectly, or just leaving off footnotes or a reference page. Plus, it's even possible to self-plagiarize when you borrow from your past work to produce new content.
While this is mainly an ethical issue, this doesn't mean you can't land in hot water. For example, Google and Bing can and do treat plagiarized content as duplicate content, which carries penalties. In addition, if you plagiarize copyrighted materials, you could face hefty fines and legal repercussions.  
Because of this, editors and writers must stay diligent about catching plagiarism before publishing content or submitting work. Here are five simple steps to help you avoid a potential plagiarism issue.
Five steps to avoid plagiarism

Knowing the different types of plagiarism will help you spot it before it becomes an issue. These are the four most common types of plagiarism: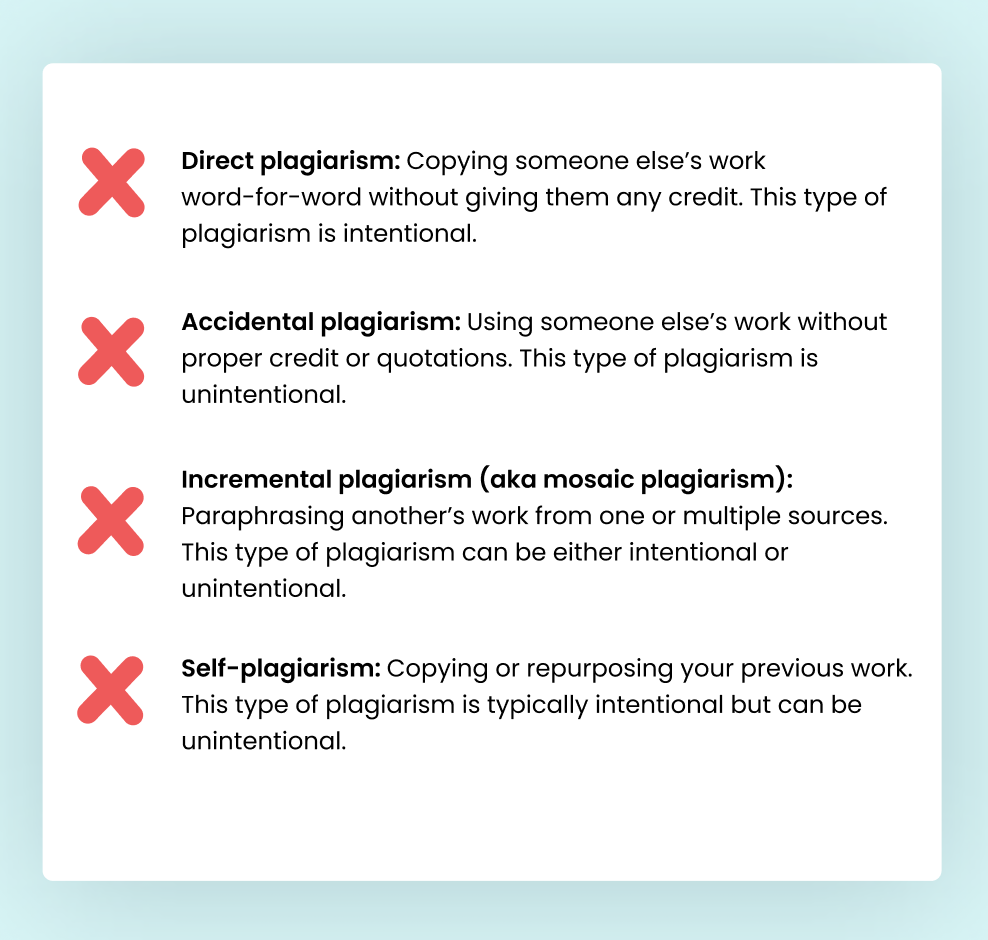 If you want to use someone's exact words in your written piece, then you'll need to add the copied words in quotation marks along with citing the source in-line, using a footnote, or on your reference page (if an academic paper, for example). If you leave quotations out, then you open the door to having someone assume you wrote the quote. 

If the idea or wording isn't yours, then you should include a citation. This goes for both direct quotes and paraphrasing.  
When you paraphrase, you're essentially translating someone's ideas into your own words. However, just because you're using your own words doesn't mean you don't need to cite the source. Wherever possible, approach the idea from a fresh perspective and structure it differently than the source material. If your copy is similar to the source, then you'll need to add a citation.

In fact, when in doubt, give credit. This is the most common way that people wind up committing either accidental plagiarism or mosaic plagiarism. They lose track of their sources when writing their paper or article and forget to cite one (or a few) when paraphrasing or quoting. 
Depending on the style guide you're using – be it APA, MLA, Chicago, etc, your citation will need to include information like the date of publication, author, and the full name of the source.

Is there anything about the content you are writing that is unique, different, or hasn't been shared before?

This will not only help you avoid plagiarizing any existing content, but it will also make what you write stronger. You aren't just recycling or sharing what others have already talked about or written about. You are adding your own two cents.

Here are some questions that can help you when you are brainstorming and researching ideas:
→ Do you have a unique angle or perspective on the topic?
→ Can you run an experiment and share the results?
→ Do you have access to original data or insights through your product or service?

Once you've completed your work, you can check for any issue using plagiarism software. Multiple plagiarism checkers – both free and paid – exist that allow you to check your work against existing, indexed web pages or compare it one-to-one with a specific URL or bit of content. 
If your work passes a plagiarism check, then it's good to go. If not, you may need to reassess what you've written or verify that you have appropriate citations and quotes in place.
This is one of the best fail-safes to ensure you don't publish any plagiarized content. 
***
 
In the same way that you create brand and editorial style guidelines and SOPs, you should also create a checklist that all writers and editors must follow before submitting and publishing new content.

This checklist could be a series of questions like these:
→ Did you attribute all quotes?
→ Did you list and cite all sources you used – including ones that you paraphrased?
→ Is there something original or unique about the content you wrote?
→ Did you run the post through Writer's free plagiarism checker tool?

Following the steps above will help you achieve original, high-quality content that isn't plagiarized.
More resources