Your guide to
AI writing
software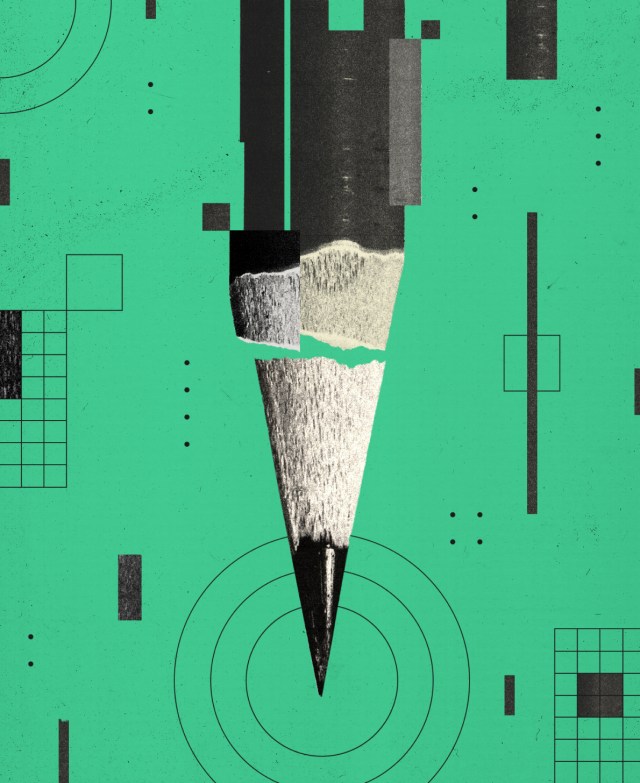 AI writing software is your friend, not your competition
First things first: Artificial Intelligence (AI) will never replace the thoughts, stories, and ideas of humans. Creativity can't be replicated — full stop. But, AI writing software can catalyze content creation and create a standardized approach to content production.
AI writing software is here to automate repetitive and not-so-fun tasks. Consider it your team's special assistant. It can polish writing, speed up content generation, improve quality, grammar check overlooked errors, and help maintain voice consistency. In a nutshell, AI writing software can help ensure that all of your content is up to par with your company's writing style and quality — in a fraction of the time.

What is AI writing software?
AI writing software are online tools that use artificial intelligence to generate text based on inputs from its users. Not only can they generate text, you can also use them to catch grammatical errors and writing mistakes to help improve your writing. AI writing tools have come a long way since a Stanford student created the first spellcheck software in the early 1970s.
Since then, spellcheck, grammar check, and autocorrect functionality have become commonplace, and people expect artificial intelligence to help them in their daily lives — whether they realize it's AI or not.
And now, with the rise of generative AI tools, writing with AI will become the norm rather than the exception. Generative AI software combines the benefits of checking for grammatical errors with the ability to output human-sounding content instantly.
AI writing tools are easy to use, fast, and convenient. They've even evolved to work as browser extensions and desktop apps.
A short history of
AI writing software
1971
The first spell check is open-sourced by a graduate student at Stanford's Artificial Intelligence Laboratory.
1981
Grammatik is the earliest grammar checker to hit the market. More of a style and diction checker for PCs, it was years before it could check actual grammatical mistakes. Grammatik was eventually acquired by WordPerfect Corporation and integrated with the WordPerfect word processor.
1993
Dean Hachamovitch at Microsoft invents autocorrect for Word, creating a UX pattern that becomes familiar to billions of computer users. An early grammar checker is released as well.
2007
Autocorrect comes to Apple's mobile OS.
2010–2020
Years of progress in machine learning, natural language processing (NLP), and neural networks allow for the next generation of paid and free writing assistants to be AI-based.
2022
Tools like Grammarly include options to edit and restructure full sentences to improve grammar and syntax.

The tl;dr: advances in deep learning (i.e., neural networks) meant that massive bodies of well-edited content could train a grammar model on what good grammar looks like — no complex rules necessary. Read more here.
Machine learning explosion
Feb 2019
Google's AI-based grammar checker comes to Google Docs.
Apr 2019
Writer's AI-based grammar and proofreading check is released, allowing AI-based writing assistance across the web through its Chrome extension.
Sep 2019
Grammarly releases its tone detector.
Nov 2019
OpenAI releases a full version of GPT-2, an AI-based text generator that can create human-sounding long-form content (including fake news).
Jun 2020
With advances in NLP and ML, OpenAI releases GPT-3, trained to generate natural language and style variations.
Jan 2021
DALL-E, which uses GPT-3 to generate images from written descriptions, is released.
Nov 2022
OpenAI releases ChatGPT, an AI chat that uses large language models (LLM) to generate outputs from prompts.
Feb 2023
Writer releases Palmyra, an LLM that is trained on secured enterprise content.
Mar 2023
Google releases its own generative AI, Bard. OpenAI releases GPT-4, able to analyze text and media inputs.
The teams that benefit

Who benefits from using AI generation tools?
Content marketers
Content marketing specialists rely on AI writing software to make sure their writing is engaging and written in a consistent voice across all platforms — including websites, blog articles, and social media.
In addition to editing, AI writing tools can also generate blog posts, outline frameworks for thought-leadership pieces, generate social copy for distribution, and repurpose content.

Brand management
Similar to content marketers, creative teams and copywriters use AI writing tools to write with a consistent voice across multiple mediums — including product and services descriptions, brand messaging and positioning, and advertising copy. AI writing software allows brand teams to input their terminology, style guide, voice, and tone standards to be applied to content.
Writer offers Chrome extensions so that your content is consistent no matter where it's written. This is particularly helpful for any interactions with customers through email or social media platforms, as you can be confident your brand tone is consistent at every customer touchpoint.

Communications
Communications professionals — such as those who work for PR agencies, nonprofits, and government agencies — use AI writing assistants to ensure that they're writing in the most appropriate tone for their target audience.
Communications leaders also use AI writing software to proofread their content and make sure it's on brand and consistent with other organizational announcements.
Writer offers a helpful style guide to ensure your messaging follows the brand guidelines and uses inclusive language. You can input your brand's style guide directly into the platform, and Writer will automatically scan your content and make suggestions to make sure product terminology, jargon, and language are accurately represented. This feature eliminates the need for cross-referencing between documents.

Support, training, and documentation
Customer support teams and customer service agents use AI writing tools to scale the process of writing effective emails, chats, help desk content, and other messaging and information for customers. AI writing software helps large teams ensure they're providing consistent answers to customers' questions and problems.
And with features like Knowledge Graph in Writer, teams always have the information they need at their fingertips. It connects content creation to your company's databases, resource documents, and company information. Customer support agents can feel confident in their answers — without having to leave the draft and waste time scouring through endless documents.

Human resources
HR teams and recruiters use AI writing software to scale the process of posting job descriptions, recruiting materials, company promotions, and internal company communications. Specialized AI software helps ensure messaging is inclusive, comprehensive, and written in a welcoming tone.

Product UX
Product designers and content strategists who collaborate to build websites, apps, and other digital products use AI writing assistants to help scale the process of producing consistent content across pages and digital properties.

SEO professionals
SEO teams use AI writing tools to ensure website copy is clear, high-quality, free of grammar mistakes, and SEO-friendly. This type of content is exactly what Google is looking for, and you'll be rewarded with higher search rankings.
And by using AI tools to write content for a certain keyword, you can be certain you'll hit your SEO best-practices target. Writer can input and create content for the targeted keyword that comes across as natural and SEO-optimized.
Writer also offers teams the convenience of having their content prepped for SEO and distribution with the highlights feature. Imagine a world where as soon as you've finished polishing your final draft, a perfect meta description has already been created for you. Well, we've done just that.

Authors
As the saying goes, editing is perhaps the most important part of writing. Literary writers, journalists, essayists, bloggers, and other wordsmiths use AI writing assistants to help them revise and polish their books, articles, and other content. AI software has even evolved to help with topical research.
Thanks to the advancement of AI writing software, editing goes further than spelling and grammar checks. Now, with the click of a button, Writer helps authors get alternative suggestions to make their content simpler or more enriched.
With the rise of AI, quality content goes beyond error-free copy. It needs to strike a balance between the right information with the right bit of human experience, pulled together with a strong brand tone.
When considering what type of AI writing tool will support your team, consider a platform that improves and enhances your company's style.
Here's a guide to help you find the platform that best fits your needs: Writer vs. Grammarly

Job seekers and resume writers
Now that many organizations use AI to filter resumes and scan for keywords and criteria that match position descriptions, job seekers benefit from using AI as well. Job seekers use AI writing assistants to ensure their resumes and cover letters are well-written and free of errors and to help optimize their profiles and resumes for applicant tracking systems (ATS).

Students and scholars
Students and scholars benefit from using AI writing tools to help correct spelling and grammar mistakes, clarify meaning, and polish sentence structure. Students use these tools not only to produce better quality work but to learn how to improve their writing in the process.
And with the inclusion of plagiarism checkers, students can be sure their work is original and plagiarism-free.

English as a second language (ESL) writers
People whose first language isn't English use AI writing assistants to edit their writing for grammar, word usage, spelling, and other common writing mistakes. AI writing software not only corrects their writing but helps improve their writing skills through real-time education. Some specialized tools translate writing into multiple languages and provide dictionary definitions to help users make sure they're selecting the correct words for their writing projects.
Use cases
Wondering how you can incorporate generative AI into your team's content creation? See how top-tier companies leverage AI writing tools to reach their goals. (And if you still need inspiration afterward, take a peek at our Big Book of Enterprise Use Cases.)

AI writing tools for content strategy
Content types
Product updates
Blog posts
White papers
Content strategy includes anything from 400-600 words for short blog posts, product updates, or customer briefs, to 2,000-plus words for case studies, white papers, and collateral. It's key for content strategists to implement a consistent voice in whatever content is being written.
In addition to adhering to style guidelines, AI writing tools can help make your posts more interesting and reader-friendly. Produce high-quality content and rank higher in search engines with AI on your side.
Scale your strategy
As a content strategist, you can define and set the strategy, but you can't write everything that falls under this umbrella. AI content generation can help you scale your efforts and ensure that writers are sticking to your defined strategy.
Enforce a company-wide style guide
A style guide is a crucial element for any company that's producing content (which is, well, all of them). AI writing tools can ensure that everyone is adhering to your style guide and using the proper terminology, punctuation, tone, and style.
Write inclusively
Avoid using any outdated or discriminatory language in your content. AI writing software can flag this type of language and help you keep your voice inclusive and unbiased with modern alternatives to outdated language.
Repurpose your content
Running out of blog ideas or need some help with your digital marketing plan? AI writing tools can aid you in rephrasing your content so you get more out of it. It's more than just rewording ideas but completely repurposing your content into new, original content.
For example, with Ask Writer, you could take a high-engaging LinkedIn post and ask it to transform it into a blog outline.
Case study: how HubSpot uses Writer to streamline UX writing
HubSpot's content design team uses Writer to scale-up production of high-quality, consistent UX content, and give users a joined-up experience across the platform.
Thanks to terms in Writer, the HubSpot team has the ability to guide writers to use company-approved terminology, so they can maintain strong and consistent messaging across all its content. Before they used Writer, all their important terms were scattered across multiple spreadsheets, and they had no way of telling if anyone ever looked at them.
"Writer helps our team not just work faster but more confidently. They feel that they're making better decisions," says Jonathon Colman, who co-leads HubSpot's content design practice.
Writer gives HubSpot one source of truth, but it also ensures compliance as writers are guided on the appropriate terms and terminology of the company.
Interested in learning more? Check out Faster, better, together: How the HubSpot content team uses Writer


AI writing tools for marketing
Content types
Social media posts
Landing pages
Product descriptions
Ad copy
Webinar recaps
Marketing and sales content is usually created by people who are already strong writers, so AI writing tools need to go way beyond grammar and spelling.
The focus needs to be on creating marketing copy that's written in an objective, helpful tone and maintained throughout a piece. This content is usually aiming to inform, educate, and persuade its audience — which also impacts word choice.
Enhancing marketers' knack for writing copy with tools that echo the brand's style makes building brand reputation easier than before.
Increase clarity and consistency
Improve clarity and increase conversions with shorter sentences and lower grade-level writing. Excessive wordiness and industry jargon won't make you sound more professional — AI can help you sound like a pro while still being understandable.
Writer offers handy "polish" and "simplify" options that break down walls of text into easily digestible pieces.
Share guidelines with everyone
No need to worry about marketing copy sounding different depending on who wrote it. All your writing rules and preferences can be shared with everyone when you select the right AI writing tool for you and your team.
AI tools are especially helpful in providing every writer with accessible and easy-to-implement writing guidelines. With AI tools, content is generated following style guides, which means writers can effortlessly align their writing to the brand style without spending a lot of time in the editing stage.
Utilize marketing templates
Save time by using AI templates that mold a use case to your content needs depending on your outputs. No need to rewrite sales copy or remember specific product descriptions when you have AI writing templates to do that for you.
Each template comes formatted to match the intent of the content. Even better? They're created from your inputs and personalized to your needs. It helps your team get ahead with a solid first draft that just needs a little human touch.
Case study: use AI writing software to optimize marketing content
Ivanti uses Writer to hit all their targets and speed up their writing tasks. Thanks to Writer, their team can focus on strategic processes instead of spending time writing content from scratch.
"My ratio of writing to editing has become much more lopsided on the editing side since starting Writer, as opposed to the curse of the blinking cursor blank page," says Ashley Stryker, Ivanti's senior content marketing manager.
And Ivanti's terminology is always expanding, so they needed AI writing software that would continuously learn and grow. Thanks to Writer's ability to be trained on the company's marketing materials, the team can continuously optimize their content without spending time training the platform.
Read more here: Powering Ivanti's GTM pivot with enterprise-grade AI


AI writing assistants for editorial
Content types
Blog posts
Press releases
Newsletters
Enforce your editorial guidelines easily with AI writing software. Content teams tend to have a mix of experienced content writers, so it's important to use an AI writing tool that features robust grammar and language checkers as well as advanced business writing features.
AI writing software can help editorial teams create brand champions across the company by making it easy to use branded terms and a consistent voice and writing style wherever important content is being developed.
By correcting off-brand tone and suggesting more brand-appropriate language, an AI writing assistant can help an editorial team take dusty editorial guidelines and really execute them.
Enjoy automated editorial corrections
Configure your writing style rules — from punctuation to capitalization — and apply them to everyone. Spend less time copyediting minor, repetitive mistakes, and let AI take care of that for you.
Writer speeds up the process by automatically suggesting changes and explaining terms during the drafting process. The ability to correct inside drafts means that every writer, whether in-house or freelance, follows the same rules.
Improve clarity, readability, and delivery
An AI writing assistant can help you use the active voice, write engaging headings, include clear calls to action, and present relevant information. Ensure you're using the best (and most straightforward) language to convey your points and key messages.
Tools like Writer allow you to shorten text with its generative features, which saves time in the editing stage. And when you use Writer to generate content, you have complete creative control over the tone.
Coach your contributors
Ensure crisp, clear, error-free writing across the board from writers and non-writers alike. Freelancers or new hires joining your team will be able to write on-brand from the jump with help from an AI writing assistant.
Using writing software like Writer makes it easy to onboard new writers and set them up for success with tools that have been trained on your brand tone.
Case study: how Intuit uses Writer to build a strong voice
The Intuit content strategy team uses Writer to reinforce their editorial design system in Figma and Google Docs and help their teams follow editorial styles. Writer's snippets feature can provide all writers with a template to follow, which ensures brand consistency.
"We needed documentation and systems that would help to declare what our decisions around language and style and voice are, and then share those with the entire organization and demonstrate that we were taking leadership over voice and language decisions," says Tina O'Shea, who leads Intuit's 60-person content strategy team.
They were able to do this thanks to Writer's ability to store style guides and use snippets to help writers maintain a strong voice.
Read more here: How the QuickBooks content leadership unified voice across Intuit


AI writing assistants for support
Content types
Agent emails
Customer chat communications
FAQs
Tutorials
When supporting customers and users — whether through email or chat — tone matters. Give your agents the right words to use.
Being able to set an overall language complexity setting for your audience depending on the type of service you provide is important. Related to that is the ability to customize terminology for your audience so that the words you use are consistent across the entire lifecycle, helping establish a taxonomy for your product or service with your audience.
Enforce custom terminology/rules
Consistently apply key messaging and ensure no one bungles your elevator pitch, value propositions, or mission statement again.
Maintain on-brand writing
Use AI writing tools to configure a content tone specific to your brand and align your agents with a friendly, approachable tone and language. Helpful word suggestions will ensure that everyone is writing in the company's voice. With writing software that allows you to input your company's style guide, you ensure your whole team can adhere to it.
Reuse snippets
Writing assistants such as Writer have evolved to create "snippets" that allow you to send the same, consistent message. Don't let support agents waste valuable time typing out the same thing again and again.
Case study: how iManage used Writer to boost support documentation
With the help of Writer, iManage increased their knowledge document creation from less than 200 to over 1,000 articles a year.
iManage accelerated their documents and support by leaning on Writer for help with the creation process. They no longer have backlogs of articles to edit, nor do they spend time training new writers. Instead, Writer helped their subject matter experts transform their knowledge into digestible and helpful pieces of content.
Read more here: That time Karl from iManage scaled support output by 400% with Writer


AI writing assistants for documentation
Content types
Knowledgebase articles
Technical documentation
Product descriptions
Documentation is a vital part of a company's operations — though there's no denying it's not the most exciting part.
Documentation is already quite a specialized communication function, and complicating this workflow slows technical writers down. Spend less time on this process while still maintaining a professional writing style with AI writing assistants.
Speed up the writing process
Write your documents efficiently with a writing assistant that offers real-time autocorrect and autocomplete. Don't spend valuable time working tirelessly on documents when AI can improve your productivity.
With Writer, you can set up the outline of your blog using the blog post builder and then let Writer fill in the rest. This gives your team more creative control over the direction of the article without spending a lot of time writing a draft.
Rephrase your text
Receive suggestions on other ways to present your ideas. Restructure sentences or paragraphs to make content easier to read and tailored to your target audience and avoid writer's block.
Write as one
Anyone at your company can create documents, but it's crucial for them to all sound as if they were written by the same person. AI can help keep your writing style in sync so that everyone is representing your company's voice properly.
Case study: how 6sense uses Writer for customer support
6sense leans into Writer to enhance the customer experience at every content touchpoint. Their aim is to help their customers with support documentation that's both conversational and helpful. They use Writer to transform what might be hard-to-follow or bland copy into an extension of their brand tone.
"One of the use cases that we wanted to be able to use Writer for was our product documentation. We've got great product documentation written by our product team, so it's not necessarily digestible. So, to be able to take product documentation and edit it and create that voice that we would be able to do if we did it ourselves," says Latané Conant, chief market officer at 6sense.
"It's literally taking documentation and saying, 'Make this sound more conversational.' My favorite use case goes similarly back to that voice and brand."
Latané says the team was looking for a best-in-class solution that could help them maintain the smallest nuances of their brand. That's one of the reasons they chose Writer.
"We sweat the small stuff. That comes down to training the AI on our voice, our tone, you know, those little niceties that we thought were really important for us from a brand perspective, weren't nice-to-haves. They were must-haves. When it came to us really adopting generative AI, the way that we wanted to adopt it."
Learn more here: How 6sense marketing uses Writer to get more efficient


AI writing assistants for learning and development
Content types
Reports
Instructional materials
Academic papers
Both students and teachers benefit from using AI writing assistants. Students can use AI writing tools to learn more about writing fundamentals and best practices while they're writing papers or working on research projects and homework assignments.
Teachers can benefit from AI writing tools to speed up the process of reviewing students' work and make sure they're adhering to specific style guidelines.
In addition to checking grammar, punctuation, spelling, and readability, students can use AI writing assistants to properly format citations using MLA and APA standards. Teachers can use these same tools to check that all sources have been cited correctly and also verify the originality of students' work with plagiarism checkers.
Onboard and train quickly
Train new instructional designers on voice, terminology, and style in a snap. Make learning sticky with detailed, helpful, in-context tips and explanations. They'll be writing like you in no time.
Write with inclusive language
Write inclusive curricula with in-line corrections for outdated, ableist, or gendered language. AI writing assistants can catch and correct any discriminatory language.
Check for plagiarism
Tools can tell you whether your writing contains plagiarized content and flag passages that require citations. AI assistants help students write originally and allow teachers to ensure their writing is indeed organic.
Broaden vocabulary
Enhance vocabulary (and learn new words while you're at it!) with contextual synonym suggestions. Students can write papers of higher quality and improve their writing skills in the meantime.
Case study: how Neo uses Writer to onboard their writers
The team at Neo uses Writer to generate drafts for blogs, emails, and social copy. Thanks to Writer's LLM, which learns from company input, they can enforce their brand and terminology in all content pieces.
Using Writer, the team was able to show what the voice looked like for new writers and cement their writing style with one single source of truth.
Read more here: Building Neo from the brand up


AI writing assistants for human resources
Content types
Recruiting content
Careers websites
Job postings and job descriptions
Employee policies and communications
Internal wikis and helpdesks
Talking about "HR content" as a monolithic space is a little tricky, as the universe of HR content encompasses a variety of content types and content channels.
What is universal in HR content is that for the reader, this information is personal: it has to do with their futures, their careers, and their livelihoods. Getting both the context and the content wrong can be damaging to a brand or company. Improve your company's work culture and ensure that all communication is done in a healthy manner.
Eliminate unconscious biases
The words we use in job descriptions, career pages, and recruiting communications can inadvertently reduce your applicant pools. When you choose a writing assistant that has special HR features, you get a warning when you use these words/terms. Discrimination based on ability, sexual orientation, race, or national origin isn't only against the law, it's bad for business. Make sure you're using language that's above board, across the board.
Improve readability and clarity
Ensure content is at the appropriate reading level for your employee base. AI can also confirm that sentences, paragraphs, and documents are structured for maximum comprehension and minimal reading time.
Ensure compliance and proper language
Eliminate words or phrases associated with legal or HR risks while coaching employees on what to say instead. AI assistants have the technology to pinpoint improper language and offer more suitable suggestions.
Recyclable templates
When you select an AI writing assistant that allows you to reuse templates, you can feel at ease knowing that communication will remain consistent and correct. Create templates related to performance feedback, difficult conversations, and more.
Case study: how Ellevest uses Writer to reinforce their community values
Ellevest's content strategy team uses Writer to help them ensure that all of their content is inclusive and follows their voice. Thanks to Writer, their team can check the content that doesn't go through a formal editing process and still publish with confidence.
With the help of Writer, the team was able to transform the style guide and voice of experienced employees into an inclusive writing guide to "train more people on the style guide more quickly and release those bottlenecks," says Deedi Brown, senior editor and content strategist at Ellevest. By doing so, not only are they able to stay compliant and reduce editing time, but they also increased cross-team content collaboration within the company.
Read more here: Getting money in the hands of women: Deedi Brown of Ellevest on a community-driven content strategy
Get started


Discover the right AI writing assistant for you
With a variety of writing software and generative AI on the market today, it can be hard to find the best fit for your team. The right choice will depend on your company's needs and content goals.
Whatever your needs are, make sure to think about the long-term effects of an AI platform. You want to be able to mold the software to your needs as the company grows. In the long run, it'll have a big impact on your audience's perception of your writing style and messaging.
While some AI software works after a couple of "copy & pastes," others, like Writer, are plugged in and ready for action. Whether it's email, Google Docs, or WordPress, you have a brand safety blanket with Writer.
One thing is for certain: the future of content marketing is AI. And though it won't replace your team, it will make their work significantly easier.
Try Writer for free and see how powerful AI writing software — that's made especially for content — can help your team.
---
Illustration by Blake Cale
If you identify with any of the use cases above,
Writer might be your perfect match.