Effective
communication
in the workplace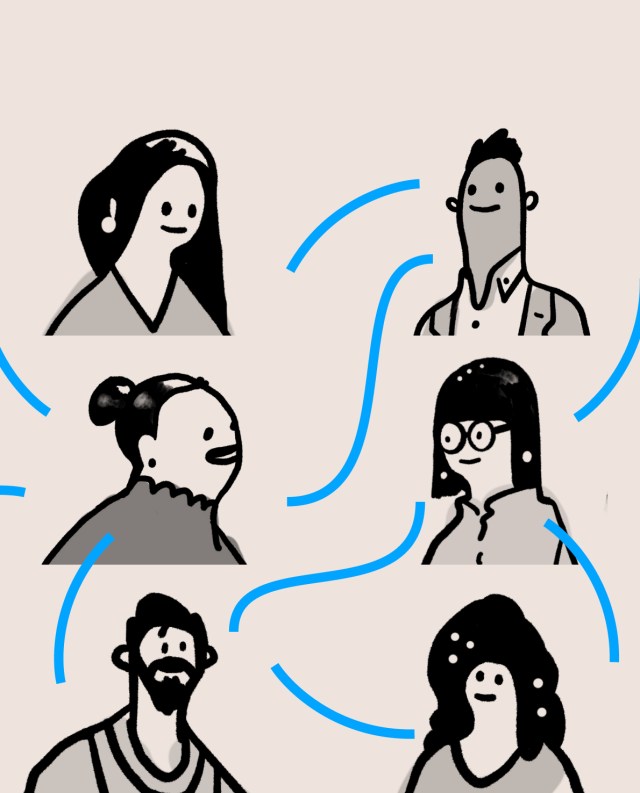 A new era of workplace communication
The past couple of years have seen a shift in the way we communicate at work. As more and more employees are working from the comfort of their own homes, communication has become less structured and formal, with email and phone calls giving way to platforms like Slack and Zoom.

Especially in tech, employees are just as likely to communicate via the comments feature of an application like InVision or Figma as they are to pick up the phone to call a colleague. As our methods of talking have changed, workplaces need to adapt alongside them to ensure communication remains healthy and effective.

With more communication taking place online, we're losing out on certain social cues like eye contact, facial expressions, body language, and other forms of non-verbal communication. It's time to adapt to different types of communication and proactively set our teams and our workforces up for success. There's enough already on everyone's plate — unhealthy communication in the workplace is the last thing anyone needs.


Where we meet now
To gain a better understanding of how the medium of communication has changed, Writer asked 1,000 American professionals at the end of 2020 to tell us how they interact with colleagues. A whopping 70% report communicating more over video conference than before the pandemic.
How often have you seen messages, posts, comments, and images at work?
The accelerated move to workplace chat has been well-documented, as 16 million Americans began working from home in March 2020. What's been less understood is the impact this has had on the quality of communication.
Respondents report an improvement in the quality of their video conferencing communication (52%), but a decline in the quality of their in-person communication (36%). Twenty-seven percent report increasing the formality of their communication style over video conference as that medium becomes the primary way they do business.
With all of this in mind, it's important now more than ever for companies to adapt to these changing communication methods and adopt appropriate workplace communication strategies in turn. Written communication is invaluable nowadays, and companies need to emphasize this medium when defining communication in the workplace.

What does effective workplace
communication look like?
It's important to take into account these new methods of meeting when looking at workplace communication. Communicating properly can make or break workplaces. It's the difference between building a collaborative, efficient team or cultivating a toxic, unhealthy environment. Effective communication relies on a variety of factors.

Selecting the right channel
Good communication starts with the medium you choose, which is now more of a challenge as more and more channels are at our disposal. Proper thought should be given to situations such as whether a message is best suited for a face-to-face chat, or if an email would accomplish the same job. Each channel comes with their own inherent feelings of formality versus causality, and it's important to make sure you're sending the right thing in the right place. A workplace focused on strong communication will make it clear what channel is appropriate for what kind of content.
Channels of communicatinon
Zoom

Slack
Asana
Google Meet
Text
Phone call
Email
Face-to-face

Messaging the right person
Before you hit send, make sure that the recipient is the appropriate person you should be having this conversation with. Many times, sending messages to the wrong stakeholder results in misunderstandings and confusion. Avoid this by taking a minute to step back and pinpoint who you should be talking to about specific things. Management can alleviate any of this confusion by making it clear who employees should turn to with specific questions or problems.

Emphasizing two-way communication
Good communication is more than just the act of sharing your ideas — listening to others is equally as important if you want to improve collaboration and company culture. Team members that feel heard are more likely to listen to you. If you want an open working environment, it begins with two-way communication. In turn, it can result in increased innovation, efficiency, and confidence.

Over-communicating versus under-communicating
One of the benefits of remote work is that teams can now be distributed across the country — or even around the globe. While this makes for a more diverse workforce, it also means that communication is at an all-time high on the scale of importance. Since not everyone will be online at the same hours, it's vital to document the work being done and the information that needs to be shared. Don't be afraid to over-communicate to ensure everyone is on the same page.


Why is healthy workplace communication necessary?
Unfriendly, impolite or passive-aggressive communication isn't new in the world of work, but a large number of people report toxic communication carrying over to new channels in the past couple of years. It goes without saying that no one wants to be part of a toxic working environment. Don't be a part of the problem, combat it.

Taking the proper, proactive steps to counter any negative communication is essential if you're looking to create a healthy workplace. This doesn't just mean shutting down any negative behavior when it occurs, but putting together the necessary framework to prevent it from happening in the first place.

Check out some common signs to assess whether your workplace is already veering into toxicity. It's not too late to fix things — and if you're doing just fine, props to you. But, there's no harm in putting together some preventative measures.
Signs of an unhealthy work culture
Extremely high turnover
Employees are overworked — working through lunch, late, or on the weekends
Constant fear of failing or underachieving
Little enthusiasm and lack of team morale
Poor management and leadership
Consistent office gossip and bullying
Unhealthy competition between team members
Ineffective communication when assigning tasks

Five tips to improve your own workplace communication
Better communication doesn't happen overnight, and it certainly doesn't happen without any effort put in. There's always room for improvement, and no harm comes from checking a few more boxes.
Tip 1: Identify preferred communication styles and channels
Do you have the right tools or apps at your disposal to set your team up for success? Make it clear which channels are used for what content when it comes to communicating — both formally and informally. Many workforces opt for Asana or Slack as team chat platforms to organize projects and communications. Writer is another great resource paired with those two, as the AI writing platform ensures everyone on your team is using the same healthy language.
Invest in the communication tools that work for you
Make it clear what topics belong where
Tip 2: Foster an open environment
You're likely to come up with more innovative and thoughtful ideas when employees feel comfortable sharing their thoughts. An open, judgment-free zone typically needs to be set from the top down, as employees with less seniority are going to be the ones who don't feel as comfortable making their voices heard. When an open environment doesn't exist, there's all sorts of problems related to lack of team communication and feelings of not being heard. Combat that by establishing a relaxed, judgment-free workplace where open communication can thrive.
Allow anonymous feedback
Set the expectation of "no dumb questions"
Tip 3: Deliver instructions clearly
No one wants to take a shot in the dark when it comes to expectations. Whenever there's a project or task — no matter how big or small — make it crystal clear what's expected. Give detailed instructions that make sense to avoid any poor communication or delays. When you've established an open environment, team members won't be afraid to ask their managers for more details or information when necessary.
Give instructions in writing and verbally
Make sure both parties are on the same page on what the end result looks like
Tip 4: Connect across teams and departments
Team collaboration and cooperation are crucial to effective communication. There are shared company goals across departments and they're best achieved when everyone feels comfortable working together. Team building is a vital component to communicating effectively and achieving prosperous team work. After all, healthy communication shouldn't be isolated by department — it should be a widespread feeling throughout the entire company.
Create time for teams to share what they're working on
Encourage communication channels for employees to connect
Tip 5: Celebrate milestones and achievements
Positive feedback and constructive criticism goes a long way. If you want to boost your team morale and employee engagement, make sure you're pointing out hard work and giving kudos on jobs well done. By doing this, you're making it clear that you care about performance and simultaneously rewarding positive behavior. Make all members of your team feel appreciated and continue to curate a healthy workplace.
Celebrate achievements in front of the whole team
Establish a way for team members to give each other positive feedback

Communicating professional milestones … over chat?
Speaking of milestones, as workplaces have embraced remote work, important work milestones we typically handled in person have changed as well.
Almost as many (15%) respondents report being hired over the phone as in person (16%) since early 2020, and 21% report interviewing for a job over video conference (vs. 16% in person).
Have you experienced any of these events at work, and how?
Many workplace trends that popped up during the pandemic are here to stay: the shift to remote work, a reliance on video conference and chat, and the need to balance work with home responsibilities. Brushing up on best practices around healthy communication must become a priority for companies who care about workplace culture.


The benefits of healthy workplace communication
Healthy communication in the workplace no doubt creates a friendlier, more positive environment. When employees feel valued and heard, retention, productivity, and innovation are sure to skyrocket. A good company culture and a solid communication strategy takes work, but the benefits are invaluable:
Benefits
Foster good team culture
Improve loyalty and trust
Increase productivity and profitability
Reduce miscommunication and conflict
Encourage innovation
Create a positive environment
If you have a communication strategy set up — you've taken all the steps to cultivate a healthy working environment — implementing it is the final, crucial step. There's no need to make your life harder than it needs to be. With an AI writing platform, you can ensure that your team is adhering to all the healthy guidelines you've put into place.


How Writer makes healthy communication easier than ever
Writer provides your team with the same writing rules. If you have a workplace communication strategy in place, Writer makes it easy for your team to comply without a second thought. With Writer, you can help team members improve their communication skills and build a positive work culture.
Avoid insensitivity or any passive-aggressive wording by flagging certain phrases and suggesting more inclusive alternatives. Some team members might not realize that their wording comes off as outdated or disrespectful — Writer gives them a kind nudge to rethink their choice of words.
If team members sometimes display uncertainty in their writing, Writer can give them suggestions to write in a more confident and direct tone. This is key to effective communication and an open environment, as you should be confident getting your point across in a clear manner.
There's even an option for gender inclusivity. Writer will flag any content that isn't gender-inclusive and provide alternatives that better fit the situation.
---
Communicate clearly
and effectively in the
workplace with Writer