The marketing leaders' guide: surviving (and thriving) in 2023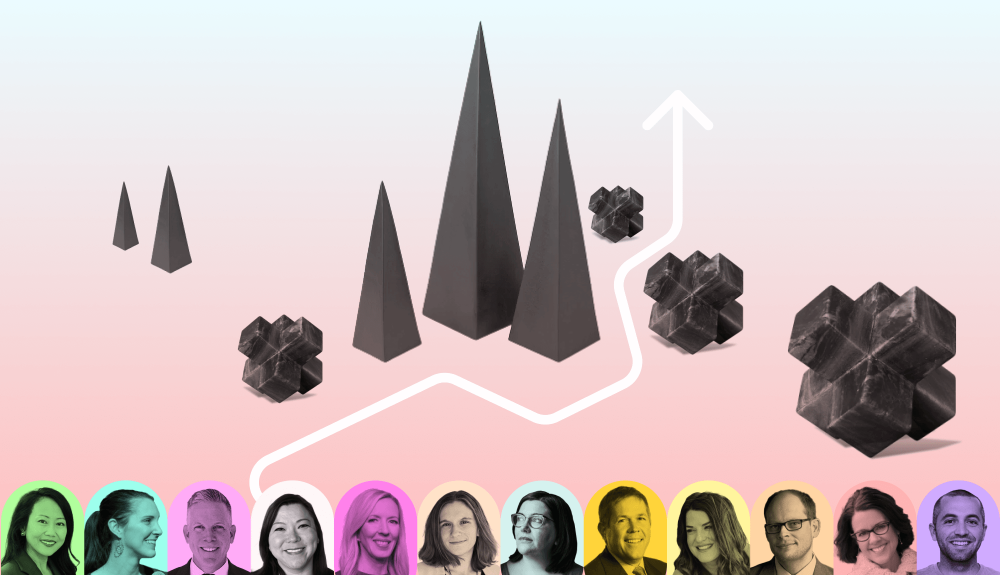 Planning out your 2023 goals and strategies probably looks different than in years past. We're all trying to keep our head above water as we head into a difficult 2023. What should marketers do — and not do — to make sure they're staying afloat?
Technology and marketing leaders joined Writer for a virtual event addressing the uncertainty we're all feeling headed into the new year. Leading CMOs share how they're transforming their marketing processes, we discuss how to get more out of your current content strategy, and how organizations can get ready to start using AI.
Adapt your existing processes
To cut, keep, or transform? In a year where marketers are expected to do more with less, it's crucial to tighten up marketing strategies and define what tactics fall into which categories.
The first session, moderated by Writer's CEO and co-founder May Habib, featured the following lineup of superstar marketers who discussed how they're planning to adapt their existing processes in the new year:
Lynn Teo, CMO at Northwestern Mutual
Clare Carr, VP of enterprise marketing at Chief
Annette Cardwell, VP of corporate marketing at Lattice
Jamie Barnett, advisor, investor, and board member
Takeaway 1: cut or scale back any non-essentials
There's still room for experimentation, but marketers are emphasizing being strict and ruthless when it comes to deciding what efforts to invest in.
Maybe things had a purpose once upon a time, but you've fulfilled that purpose. Clare Carr explained how her team is taking a magnifying glass to anything they do "just because."
"I call them vestigial tails. They had a purpose at some point in time — it's not a fault that they exist — but why are we doing it now?" Carr said. "I'm not trying to cut a whole program, I'm trying to cut the parts of the program we built because in 2021, this one thing that was true is not true now."
Cutting strategies can be tough, which is why Jamie Barnett is a proponent for scaling back when possible, and building optionality into all new initiatives to combat this.
"If something is not working, cut it. But a lot of times, when you cut something and try to bring it back six months later, you're almost worse than starting from scratch," Barnett said. "Build programs to the extent you can, but try to build optionality into everything you do. If you're signing a contract with a vendor, think of ways to build optionality: 'What if I need to scale up, what if I need to scale back?'"
Takeaway 2: keep processes that align with your team's values
Marketing strategies amplify your brand's voice and represent the company. Any processes that you decide to keep should always align with your company's mission and values.
For Carr and her team at Chief, they have a set of questions they ask themselves before diving into any new marketing tactic.
"We put everything through this filter of, 'What's the mission? How is this leveling up to the mission? What are the company values?'" Carr said. "To be specific, we have a company value of 'time travel' that we apply to all of our departments about how we work more efficiently so we can get our brand out there faster."
Going along with that sentiment, Barnett mentioned how crucial it is for companies to look inward and value the teams they currently have during this time.
"Really try to keep the team, because that's where things fall apart. Now is a great opportunity to take a long-term view on mentoring them," Barnett said. "Help these folks find ways to expand their skill set. You can't grow the people, so people need to grow to fit some of the needs."
Takeaway 3: transform your tactics to make sense financially
It's no secret that budgets are shrinking, and being fiscally responsible will be a definite topic in 2023, said Lynn Teo. Rather than sending teams off to work on their own individual projects, every initiative should build on another.
"There is more of a call now to bring separate streams together, to be intentional," Teo said. "That's how you squeeze everything out of a marketing dollar."
This sentiment was echoed by Annette Cardwell, who shared how her team is planning to transform the way they execute events and videos. If certain strategies aren't resulting in conversions, they may not be worth the effort.
Every year, Lattice hosts a virtual conference with 30,000-40,000 virtual registrants, which is one of their most expensive marketing ventures. "We need to be smarter about how we leverage that event. We want to be more intentional about what we use our conference and events budgets for," Cardwell said. "What are they achieving for us? Are those massive signups actually turning into new business?"
She added that the team is more focused on finding out where people convert and putting more attention into those audiences and building future conferences around them.
Get more from your content strategy
Having goals for the future — and an actionable plan to achieve them — is key. Colleen Jones, founder and president of Content Science, moderated the next session and shared a content maturity model she developed to help teams evolve their own content operations.
We've previously covered how this specific content maturity model applies to AI — which is even more relevant because a recent survey indicates that 98% of marketers are planning to invest in AI tools in 2023.
Even with so many people wanting to make the jump and start using AI, it's important to first be self-aware regarding the state of your content operations. Teams that identify at a "Chaotic" level 1 won't benefit from AI right away. On the other hand, teams at a "Sustaining" level 4 will be custom-training AI on their voice.
Steven Pritt, VP of content marketing at Thomson Reuters, commented on AI's rapid growth in recent years.
"What I really see is AI is less of a novelty now and it's becoming more of a necessity," Pritt said. "We're seeing it all around our creative stack in terms of our technology, and also within the tools we have in our martech stack."
Though Uber and Alexa and Spotify come to mind when thinking about AI and businesses, the technology is infiltrating all industries now. "If you want to be in the right spot at the right time for the right customer, you have to have these tools now," Pritt said.
Get your organization AI-ready
There's been a lot of discourse recently surrounding the ethics of AI. Organizations need to take into account any regulatory and legal, data and security, and ethical and social risks. Our next session featured several experts who have long been considering these implications of AI:
Stuart Meyer, partner at Fenwick,
Dave Buchanan, director of AI and NLP at Writer
Julia Falkowski, senior content designer at Intuit
Daniel Tunkelang, machine learning consultant
Jamie Barnett, advisor, investor, and board member
May Habib, CEO and co-founder at Writer
It's been a busy few months for AI. May Habib started by going over recent legislation from the US, EU, and China.
Regulatory and legal requirements will continue to evolve, as they do in the early days of any new technology. Stuart Meyer's advice is to not limit your perspective when navigating this landscape.
"We're all settling down in new environments we're not used to. The social science aspects are super important. The really critical thing companies have a tough time doing is to look at those aspects from other perspectives than their own," Meyer said. "I think getting outside views is absolutely critical to understand what's going to be found acceptable or not."
People don't always use things the way they were intended, and individuals can abuse AI that was initially meant for good. This doesn't mean we should abandon AI — the law will evolve to keep up with the times and fit reality.
Dave Buchanan added that early fears of AI may result in too many restrictions. "I think it's going to be really unfortunate if because people are concerned about AI, we put the wrong laws in place early on," Buchanan said.
Organizations need to also consider when to use AI practically, not just how to use it from a legal standpoint, Julia Falkowski added.
"We spend a lot of time thinking about what are the right ways to use AI," Falkowski said. "When do we need to bring a human in, how can we use AI to eliminate tasks humans aren't good at, and where can we rely on the strengths of humans to actually be creative?" Be intentional about having these conversations internally while simultaneously having ethical discussions.
Barnett approached the topic from a writer's standpoint and talked about the risks that can arise from using AI-generated content.
"For example, let's say something is labeled as a fact. Is it accurate in every context? How accurate does it need to be? Can AI eventually understand, with some probability, how accurate something is?" Barnett said. "Just being able to understand what the risk is in the context of what you're creating is really important."
Conclusion
There was a lot of content marketing gold in this event. Going into 2023, marketers need to be intentional about everything they're doing — from the processes they invest in to how they're using AI.
There's a lot to be excited about regarding the future of AI. Here at Writer, we're excited to share some new multimodal functionalities.
We're introducing a brand new template that allows you to upload files and generate takeaways. Doris Jwo, head of product at Writer, demoed how this works.
We've also upgraded our "Ask Writer's AI Anything" template so it can read the web and extract context and content. Again, Jwo illustrated how easy it is to insert a URL and create a summary, FAQs, or ask what needs to be improved.