Content is brand:
'One Voice' at UiPath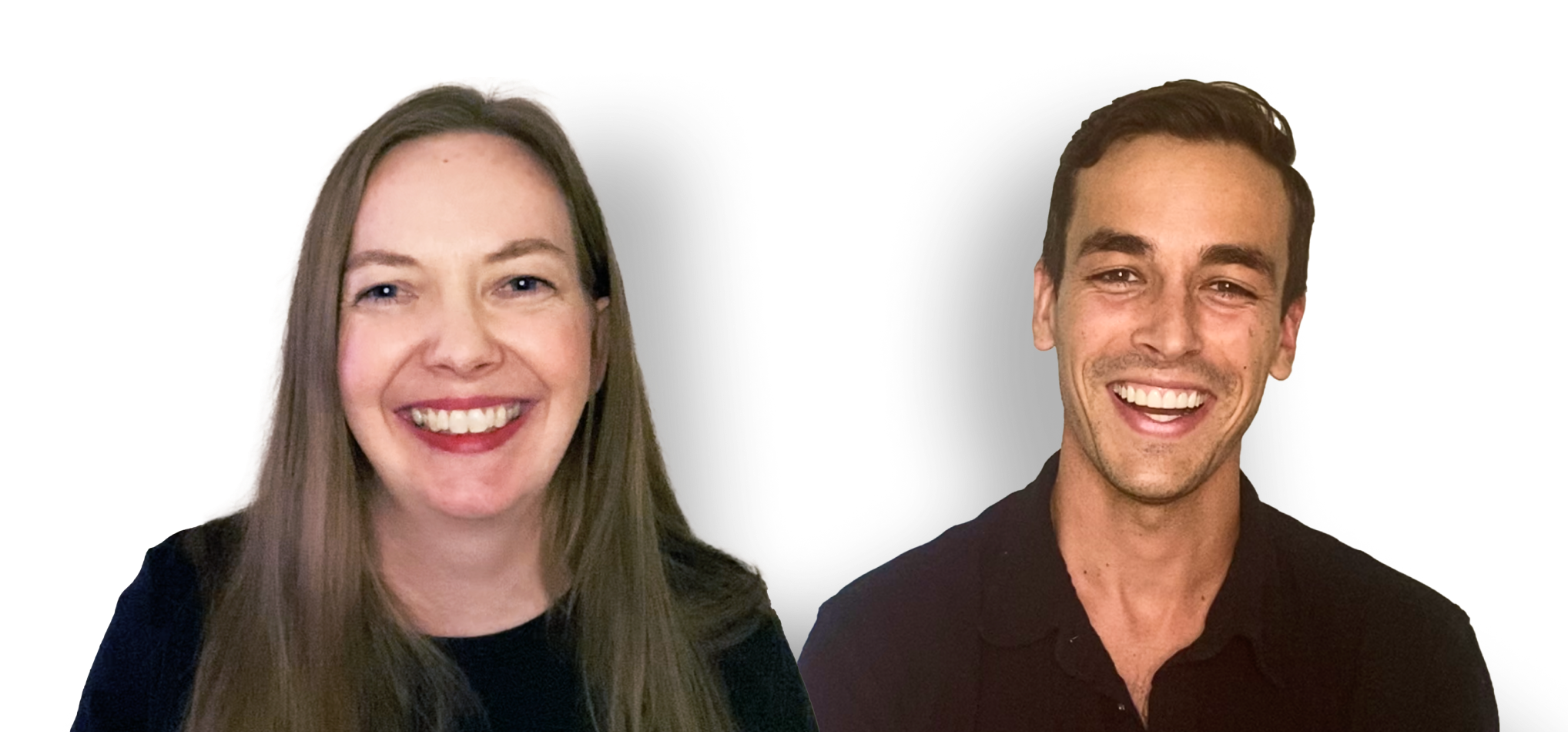 UIPATH AT A GLANCE
150
Writer users
at UiPath
41M
Words checked by Writer
in the last year
Listen to the story or read the (edited) transcript below
Writer is an enterprise-grade generative AI platform built for the needs of companies and teams. Unlike other AI products, Writer's training happens securely on a company's own provided data — their best-performing blog posts, landing pages, ppc ads, email, and LinkedIn and Twitter social — and their style and brand guidelines. The result is content that's consistent and on-brand, whether the initial text came from humans or from AI.
Kate McDaniel is the Blog and Web Editor of Global Content at UiPath. At the time of recording, Ty Magnin was Director of Content & Web Marketing. Read or listen to the story of how they worked cross-functionally to scale content and align their brand across UiPath.
Marketing, product, and documentation teams at UiPath use Writer to:
Have a single source of truth for the UiPath style guide and taxonomy
Communicate brand language decisions across the company
Rephrase content to align with their brand voice
Automate editing and copy review cycles
How has the UiPath brand evolved since you joined the company?

Kate
0:18
A few years ago, the company did a complete brand revamp. From a content lens, it meant a couple of things. Brand consistency is always key, and we had some basic styling things that we wanted to do with the brand. And then there was the whole brand voice.

Essentially our brand has evolved into being very conversational, very friendly, very engaging, sometimes a little witty — and that's very different from what most enterprise software companies are doing.

Ty
When Kate and I started at UiPath it was 2018 and we had just raised our Series B. We didn't really have any documentation of brand. And honestly, we hadn't really defined it for ourselves. Firstly, we had to define it, and then figure out how to document it, and then teach it to all the new hires that we brought on between the Series B through the IPO.

So we've seen the brand evolve through all those chapters. It's changed in terms of its voice and tone, and of course, in terms of our terminology bank. Like that thing has 5x'd, or 20x'd, as our product portfolio has grown.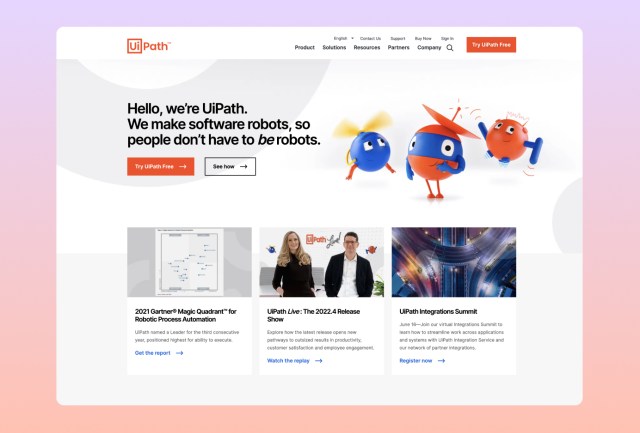 Did you all think about brand voice as a competitive advantage from the beginning?

Ty
2:50
Software is getting easier and easier to build. And so, for me, brand is becoming more and more important to help differentiate between competitive software companies. We at UiPath realized that important strategy and hired a great Chief Brand Officer in Mary Tetlow, who has really led our branding process.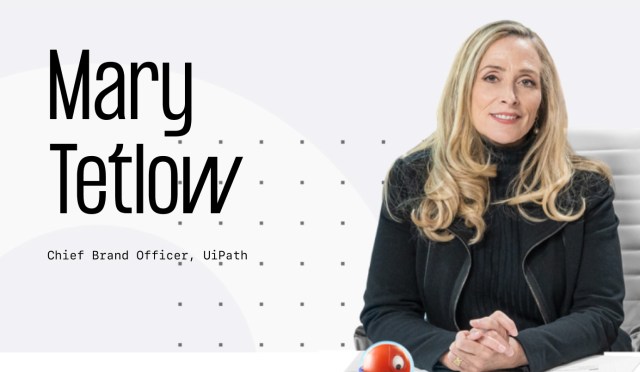 When did you start thinking you needed a tool like Writer?

Kate
3:42
How much time do we have? Writer did a lot for us. [At the beginning] we didn't have any brand documentation. And as we started to grow, we did the brand revamp. We had more and more employees coming into the company and the UiPath Platform was growing.

So right from the beginning the problem was, wherever you are in the company, what's the single source of truth for identifying how to format a product name correctly or how to write and sound like UiPath?

Ty
If I can take it all the way back before we had any semblance of a style guide: Kate, myself and two other writers took it upon ourselves to create one. We were defining our brand and we want it to hit on this important dimension [for content]. So I'm in San Diego. I flew three of them out to beautiful, sunny Southern California. We got this WeWork room on the top floor. A WeWork with no windows, right? We were basically locked in a room with no windows for two days straight. And what we came out with was a 65-page content style guide.

And as excited as they were, as they came out on Day 2 with that style guide, I think maybe I had locked us in that room too long, or we should've gone to the beach. Because 60 pages is a burden. How can you then turn around and hand the 60-page guide to your product marketing team? Or to the creative team, or to anyone who's contributing content and expect them to ingest it, know it, live it, breathe it?
So we had the 60-page guide for 12 or 18 months and came to the question of how can we make this a dynamic, living, breathing source. So when we found Writer, it was just such an obvious fit.

Kate
[Now with Writer], when I make an update, I don't have to go into a document, find it, make the update, save the file and then reload it back onto our company-wide brand center. Even just making changes in Writer is such a breath of fresh air after that experience.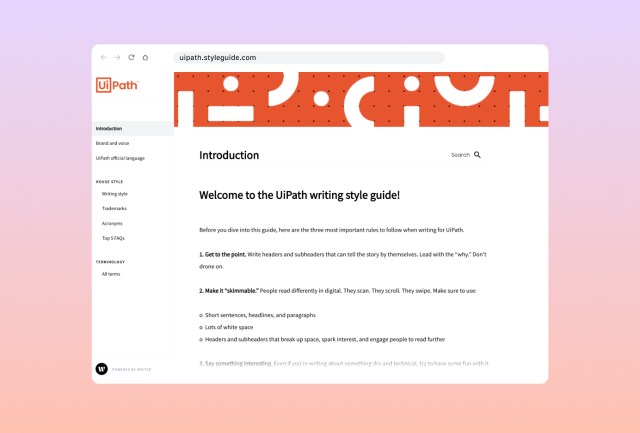 How did you communicate the value of having a unified voice across the company?

Kate
7:29
Mary Tetlow, our Chief Brand Officer, did a phenomenal job of helping people understand the power of brand: how critical it is to have brand consistency and that content consistency is part of brand consistency.

As far as helping people use Writer, people who had used a 70-page style guide were pretty open to trying something new! But I think one of the key things for us is that we started small. We did a pilot with some of our most prolific content creators with about 20 licenses. There was a lot of feedback and collaboration. We really encouraged people to tell us what works and what doesn't.

The relationship with Writer was really important, too. When I would get feedback on what was working or what wasn't working, I was able to go to our customer success manager or the Writer product team and highlight this. Being able to then go back to the people that had given feedback and tell them that they are being heard and that a solution was in the works meant that we built a continuous feedback loop.

Finally, we did a lot of socialization. We trained our group of brand ambassadors — whose role it it is to help our brand scale while sitting outside of the brand team — on the platform, and it got to a point where someone would request an automation tool or a UiPath robot to do something similar to what Writer is doing for us and we had done enough socialization that one of our brand ambassadors would respond and point them in our direction. Things evolved really from the bottom-up from a core group of people.
What features in Writer have made a difference?

Kate
10:04
Terminology! Selfishly speaking as the person who helped write the 70-page style guide…to now having real-time changes. We have also seen the style guide be really helpful for onboarding agencies. It's a great way to help someone external quickly understand how to write like us, while still being centrally located.

Another piece of feedback that I get from a lot of people is the Writer score. It's almost like playing a game. When you check what Writer is flagging for you and then fix it, and then you see that score going up, people seem to really enjoy that. I like it because the edits don't feel personal. Sometimes it's difficult to get something back when it has your editor's redlines all over it, but with Writer, it's not personal.

Ty
The terminology bank has a lot of value. To have that source of truth that is formatted in a way that is easy to understand and easy for us to update makes a big difference. We have 20+ products on our platform, each with its own name and own features that we want to standardize. There's something to that terminology bank that really has more value than you might expect.
What have you learned as you've rolled out Writer?

Ty
12:36
The thing that I'm most paranoid about is keeping our weekly engagement up. How many active users are we getting in a given week? Because if we could get over 50% of our licenses being used in a week, then I can be confident that we are offering value to our writers and that we're achieving this mission of standardizing our terminology and voice. Luckily we're far exceeding that, so it's not actually been a challenge, it's more the bar that we've set for ourselves.

Kate
The initial obstacle is getting people to try it once. There are so many apps that we use already, and even though all [Writer] requires is downloading a Chrome extension, there is sometimes initial pushback. What we have found to be successful is doing a team onboarding call, which blocks time in people's calendars and also lets them visually see how easy it is.
Did you look at other tools when you were evaluating Writer?

Kate
14:54
Part of our procurement process is to look at alternate tools. There are a few reasons why we went with Writer. Certainly the value we got for the price that we were paying. Also, the UI was really easy. And finally, I think it was the relationship — we really got the feeling that this was going to be a collaboration that we would work on together versus just feeling like a customer who you would set up and walk away from.

Ty
Call me superficial, but another key factor was Writer's brand. The way Writer looks, feels, and talks about themselves, talks to us…made us understand that this company 'gets brand'. If we want to improve our own writers and standardize our own brand, wouldn't you want to go with the company that demonstrates the understanding thereof?
"Writer is one of the few tools that I'll go out of my way to recommend to people."

Ty Magnin
(Previously) Director of Marketing, Content & Web
What metrics have improved after adopting Writer?

Kate
18:24
We have some editors in the company but it's hard to edit at the speed that UiPath moves. So certainly editing time has improved. It's hard to put a specific number or metric around it, but quality and brand consistency have improved over time. That's been a real standout for me and a big reason that we're such proponents of Writer.

A change I noticed is that instead of me or another editor being the people who are going out and saying, 'wait, that's not exactly how we would say that,' or 'that's not how we write that,' I'm seeing an increase in the number of people who are coming to me internally and saying, 'just wanted to check, is this how we would write this?' And so that's huge. It's people who are learning through using Writer, being empowered with their own knowledge, and empowering other people to do the same thing. That's big.
Tell us about your cross-functional language council

Kate
20:31
I lead and manage it and it's people from all across the company. The content stakeholders from different departments, essentially. Nothing goes into the style guide without being discussed in that council. But we've managed to create a workflow so that it's not a bottleneck.

The council allows us to be a place where we can discuss questions. There have been times where something may seem like an obvious change to me and or to another person and we bring it up in the monthly call and another department goes, 'actually, this is how that ends up working for us', or 'this is how we use that word'. And it's completely different than what we might've thought of before. And so those have been the kinds of experiences that are really great for the council.

We go over these questions, align, and then all the decisions that are made get updated in the [Writer] style guide every month.

We call that the One Voice Council.
What's next for content at UiPath?

Kate
21:59
So I think within Writer, the future is using some of the things that we're beta testing now. So ReWrite! One of the things that I'm most excited about with ReWrite is that our brand tone of voice is short, concise sentences and it can be difficult [to nail]. Sometimes it happens to me, too. I'm a longform writer, and you start writing and your sentences get really long. And I have been fascinated by the way that ReWrite is able to simplify those sentences — simplify and keep the context. And that's been really impressive to me because we're a robotic process automation company. That's a lot of context to correctly bring in for an edit, whether you're a person or whether you're the NLP that's running that. So that's been huge.

We're starting to see Writer move across our company. We have our product UX people working on [Writer]. We have our diversity and belonging teams starting to bring this in. Some of our legal folks. Also using Writer we have our support docs team and the people who make our Academy content — that's our free online training resource.

Our adoption is spreading beyond just some people in these departments to entire teams using Writer. And so now when those [writing and style] decisions are made in the One Voice Council, we have increased consistency across our marketing and our product teams. That's something we're really excited about.

Ty
What's next for content at UiPath is to continue to dominate search terms that are relevant to our audience. That game never ends. And I actually think we've got a ways to go. And then the second piece is getting our smartest content folks, Kate and a few others, to be able to focus on the higher order problems for us in content. And I think the more they can shift the editing responsibility onto tools and teach people and let that scale, the more we can have that deep content knowledge be applied to these other problems.

Like how to shorten or change formats of pages. Or find our CIO audience on the internet and start writing content that appeals to them. There are these other challenges then I'm excited to get to. And I think Writer is helping.

Writer is one of the few tools that I like go out of my way to recommend to folks. When I'm networking or talking to someone else in B2B SaaS, I bring it up often because for me, it's the new cool technology that people need to adopt more and more.