AI program director
The role every company should hire for today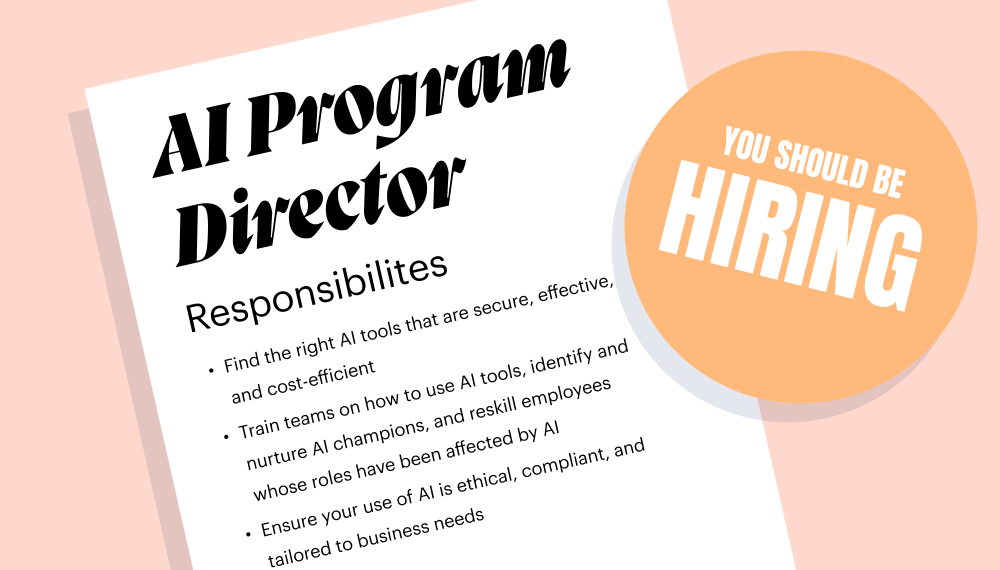 AI is here — seemingly overnight. It has suddenly gone from being somewhere in a misty future to an immediate opportunity and challenge that business leaders need to begin grappling with.
There are exciting possibilities and potential pitfalls for any company considering adopting AI. Leaders who want their businesses to be competitive need to start looking at what an AI-powered workforce is actually going to look like. The first step should be hiring an AI program director.
An AI program director drives internal strategy around adopting AI‌ — ‌and ensures it provides value to the business. May Habib, CEO and co-founder of Writer, explains that an AI program director's primary goal is to "help create a culture where AI is regularly used to automate standard processes and to solve complex business problems."
As envisioned by Habib and other innovators in the generative AI space, the AI program director oversees the process of adopting AI to make sure your AI strategy is supporting your business goals, your tools are safe and effective, and your employees are trained and confident using AI tools.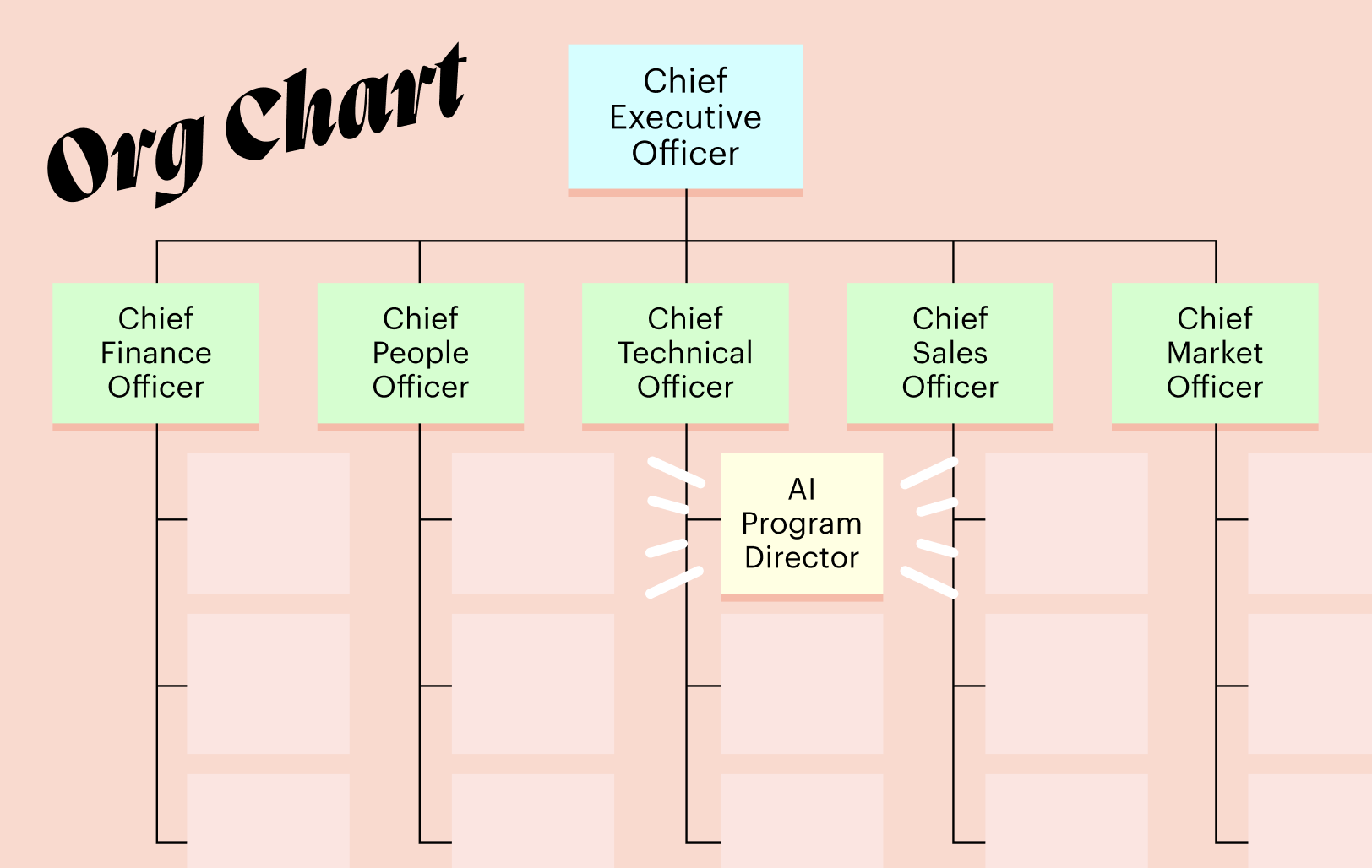 If business leaders want their companies to keep up with their competitors and successfully embrace the benefits of the inevitable rise of AI tools at work, they should be looking at hiring an AI program director.
Here's what an AI program director can do for your business as you explore the possibilities of AI:
Hire an AI program director to lead the way in implementing AI for your business.
Your AI program director will research existing processes and technologies to identify areas of opportunity and implement AI in a way that supports your business goals.
They will find the right AI tools that are secure, effective, and cost-efficient.
They will train teams on how to use AI tools, identify and nurture AI champions, and reskill employees whose roles have been affected by AI.
Your AI program director will ensure your use of AI is ethical, compliant, and tailored to business needs.
Implement AI in a way that serves your business goals
An AI strategy that's carefully researched and implemented with care will have a much greater impact on your bottom line than a disorganized and unfocused use of AI tools. To get the most out of your AI adoption, you need an AI program director to lead the way.
Choose where to implement AI processes
An AI program director's first job is to figure out where and how AI can best be used at your company. By taking a strategic approach and targeting the right areas, you can realize the full potential of AI and maximize its benefits. Your program director can also drive innovation and find new ways to implement AI that give you a competitive advantage in your industry.
Your AI program director will start building a strategy with research. They will conduct a comprehensive review of existing processes and technologies within your organization and talk to your leadership and departments across your company. Their goal will be to understand what each team needs, what their pain points are, and where AI can have the biggest impact.
There is no one-size-fits-all approach to implementing AI in large business operations. Different parts of your organization have different needs. Our enterprise AI survey found that IT, operations, customer success, marketing, support, sales, and HR all found valuable uses for AI. Your AI program direction will help tailor your solution to benefit each team.
Find the right AI tools for your organization
Once areas of opportunity are identified, your AI program director will figure out what tools are most suitable for your business. Our research showed that 59% of companies have purchased an AI tool in the past year and one in five is using five or more generative AI tools. You need to make sure you're using the right ones.
The AI space is quickly being filled by new products, but not every tool is equal. If you're spending money on tools you want them to be effective, able to meet your unique needs, and secure enough for business applications. Your AI program director will research available solutions and their associated costs and features to ensure that your business gets the most out of your investment.
Measure and report on the impact of your AI initiatives
Your AI program director will monitor the progress of your AI program and measure its impact to make sure you're on the right track. AI adoption initiatives are an investment. Measuring the impact of your program will help ensure a positive ROI.
If there are gaps, your director can ask, is AI actually helping our teams? Do they need more training? Improved workflows? A different tool? Is your AI strategy driving the business results you need? They can adjust your approach in response to their findings to optimize the impact of AI on your business.
Make sure your workforce can successfully use AI
You need your employees to be comfortable and confident using AI tools in their day-to-day work. Habib describes one of the biggest responsibilities the AI program director has is to "own generative AI literacy within the company."
Identify and support top performers and early adopters
AI is a hot topic, and there are likely folks at your company who have been independently experimenting with and advocating for AI technology. They might be the very people who convinced you to start looking seriously into hiring an AI program director.
Those explorers are invaluable resources for your business. Your newly hired program director should work to "create champions from early adopters in the AI space," according to Habib. You can nurture AI champions to take on important new responsibilities as your AI program develops.
Your AI program director will ally with your AI champions to help bring more high performers into your AI adoption initiatives and get more people excited about the possibilities of AI. When employees are enthusiastic about their new tools they will innovate, experiment, and find ways to increase their performance significantly. "Employees who give themselves longer arms via AI will become the top 1%," says Habib.
Train your workforce with new AI tools and processes
One of the biggest tasks an AI program director can take on is training teams on how to effectively use AI. They'll set up the initial introductions and workshops for new tools, develop SOPs for each tool, and create training materials for future hires.
AI tools require important input, skilled judgment, and knowledgeable direction from their users to be at their most productive. Companies using AI will "need stronger subject matter expertise across the board," said Habib. "With AI integrated into more processes, the ability to know when to accept or invalidate AI's help will be critical."
Make sure your workforce adapts to the needs of AI work
The use of AI will inevitably change the makeup of your workforce over time. People's roles and responsibilities will change, new positions will become necessary, and, yes, some positions may be eliminated. The goal of an AI program director is to help you use AI to scale and compete more effectively, not to reduce headcount.
Your AI program director will anticipate how AI-driven changes will impact your staff and develop your hiring strategy accordingly. They'll identify when new roles or types of roles will be needed and inform the development of new job descriptions to reflect the adoption of AI technology in their roles.
Mass AI-related layoffs can result in the loss of important institutional knowledge and reduced morale in remaining employees. You'll struggle to use AI effectively without enough skilled employees to direct its use. Instead, an AI program director can plan to reskill workers whose roles have been eliminated or impacted by AI so you can retain an experienced workforce.
Ensure you use AI ethically and responsibly
As with any emerging technology, using generative AI comes with risks. Businesses should make sure they're using AI in ways that follow legal and regulatory standards, protect data privacy, and prevent data bias and discrimination. An AI program director can anticipate and mitigate potential problems and help you develop AI ethics guidelines so you use these tools in a way that aligns with your business's values.
Create a corporate AI policy to guide AI practices
An AI program director will create a corporate AI policy to guide AI use across your business. While creating this policy, they will work to understand the legal and ethical implications of using AI, identify the industry-specific guidelines you need to follow, and assess the data privacy standards of the tools you're considering.
Address privacy concerns and follow legal and regulatory standards
Machine learning algorithms aggregate data from many sources. It's not always clear what is being done with the information you feed into an AI platform. This can make using those tools risky for businesses that are using them for private data or privileged business information.
ChatGPT, for example, is becoming popular. However, 46% of respondents to our State of generative AI survey believe someone in their company may have inadvertently shared corporate data with ChatGPT. Other tools, like Writer, follow stricter enterprise-grade security protocols.
Your AI program director will help you understand how potential tools process your data. Like any enterprise-grade software, you also need to ensure your AI tools follow important security best practices like SOC 2 Type II compliance.
For certain industries, such as healthcare, you may need your AI tools to be HIPAA compliant when processing patient data. Unclear AI compliance is a major legal and ethical vulnerability for anyone working with patient information. Your AI program director will find tools that are compliant with important regulations like these.
Own your generative AI technology
Finally, an AI program director can help your business develop your own, customized generative AI technology. They can work with your IT and engineering teams to develop internal tooling that serves specific needs for your business and collaborate with your CIO to develop unique AI-based solutions.
They can help develop a self-hosted large language model that's trained specifically on your business's needs. Palmyra, a family of proprietary large language models, and the Writer API give them all the tools they need to create an AI writing tool that is tailored precisely to your business.
Your AI program director can help train the model on your business materials and work with your other teams to provide it with your brand voice, guidelines, and specific industry language.
Hire the person who will help you be competitive with AI
Adopting AI early will give your business a competitive advantage in your field, increase your efficiency and productivity, and give you a leg up as AI becomes a more and more critical part of the business world.
Hiring an AI program director will help you apply AI in the most effective ways, train your teams to excel with their new tools, and keep your business safe, ethical, and compliant. They will guide your strategy and ensure you can use AI successfully.
At Writer, we think about AI supported by humans and humans supported by AI as two separate — but interdependent parts. Your AI program director will ensure those parts move in unison, both working towards achieving success for your business.
Use this AI program director job description template to start your hiring process: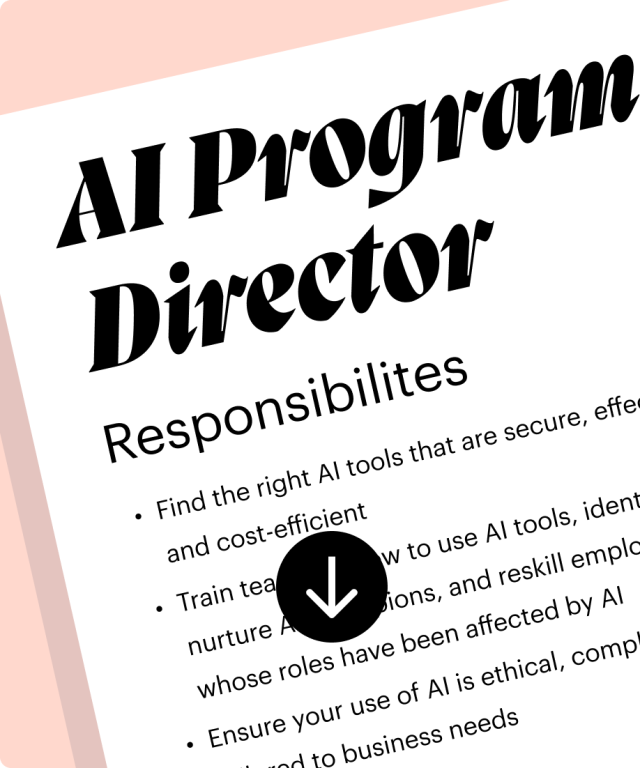 Read more: The leader's guide to enterprise AI adoption with Writer
More resources