AI for everyone
Integrate enterprise-grade generative AI content directly into your own applications and workflows with Writer's API
Your model,
your use cases
The Writer 20B large language model is the only in-production large language model that's trained on a foundation of primarily B2B data.
When your own best data is used to fine tune the model, the results are extraordinarily good.
Further customize generated output for your specific use cases, taking into account everything from brand voice and word and character length to fact verification.
It's generative AI that's actually ready for at-scale enterprise use cases — and we make it easy.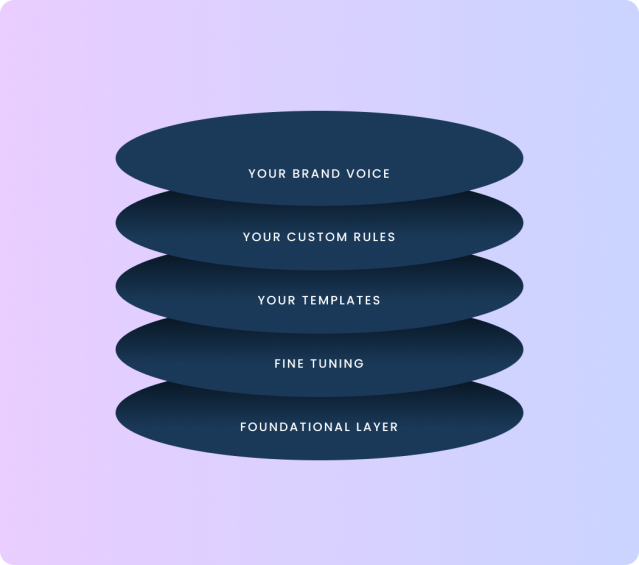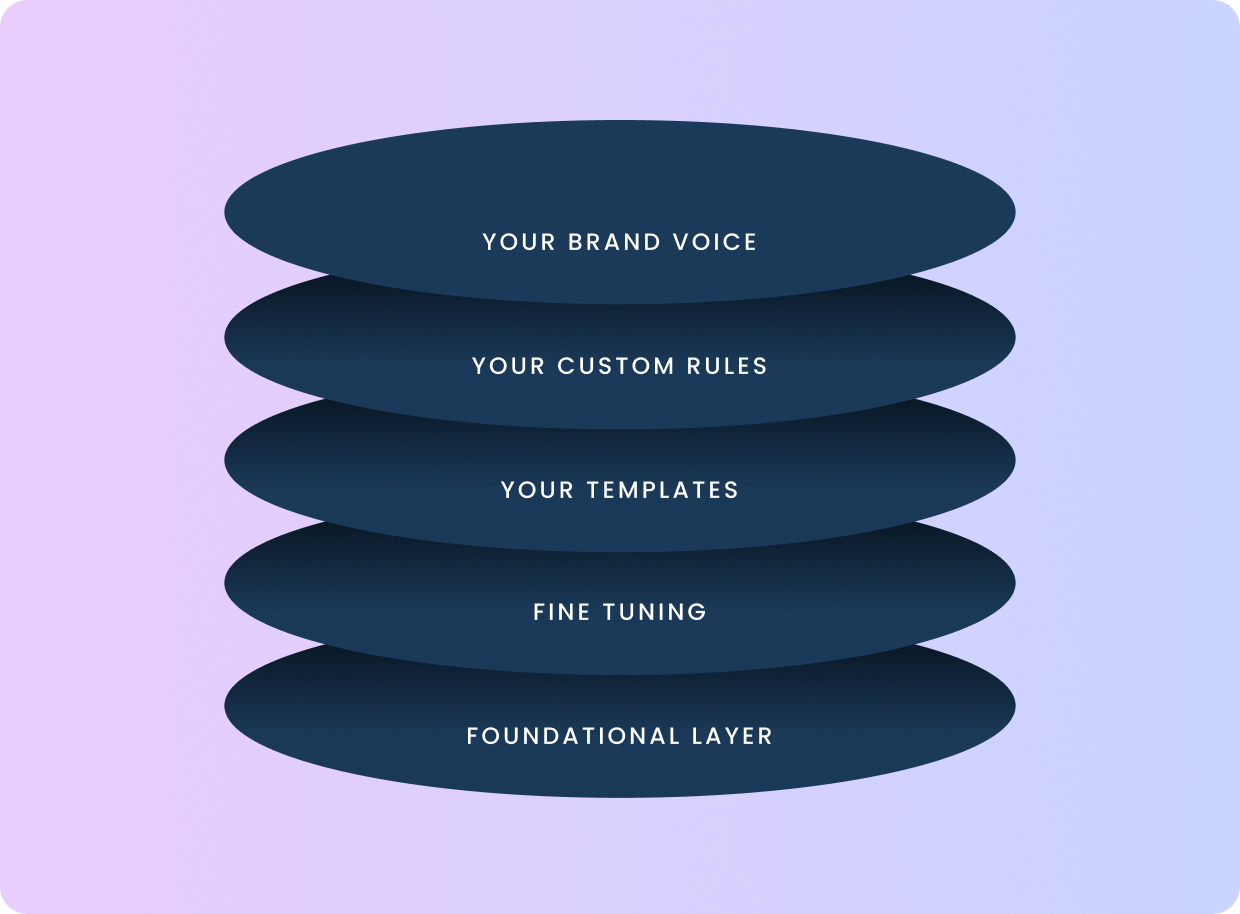 Ensure security of your users' and employees' data
Your proprietary data, whether internal communications in your systems or your marketing on your website, should be yours — not fodder for someone else's large-scale commercial model.
And if you're building generative AI features into your own application, you'll want to protect your customers' data, too. You don't want to leak their data for use in open source or third-party models.
With Writer, the data you provide to fine tune your model or train a template will never make it into our foundational model, nor is the fine-tuned model accessible to anyone but you.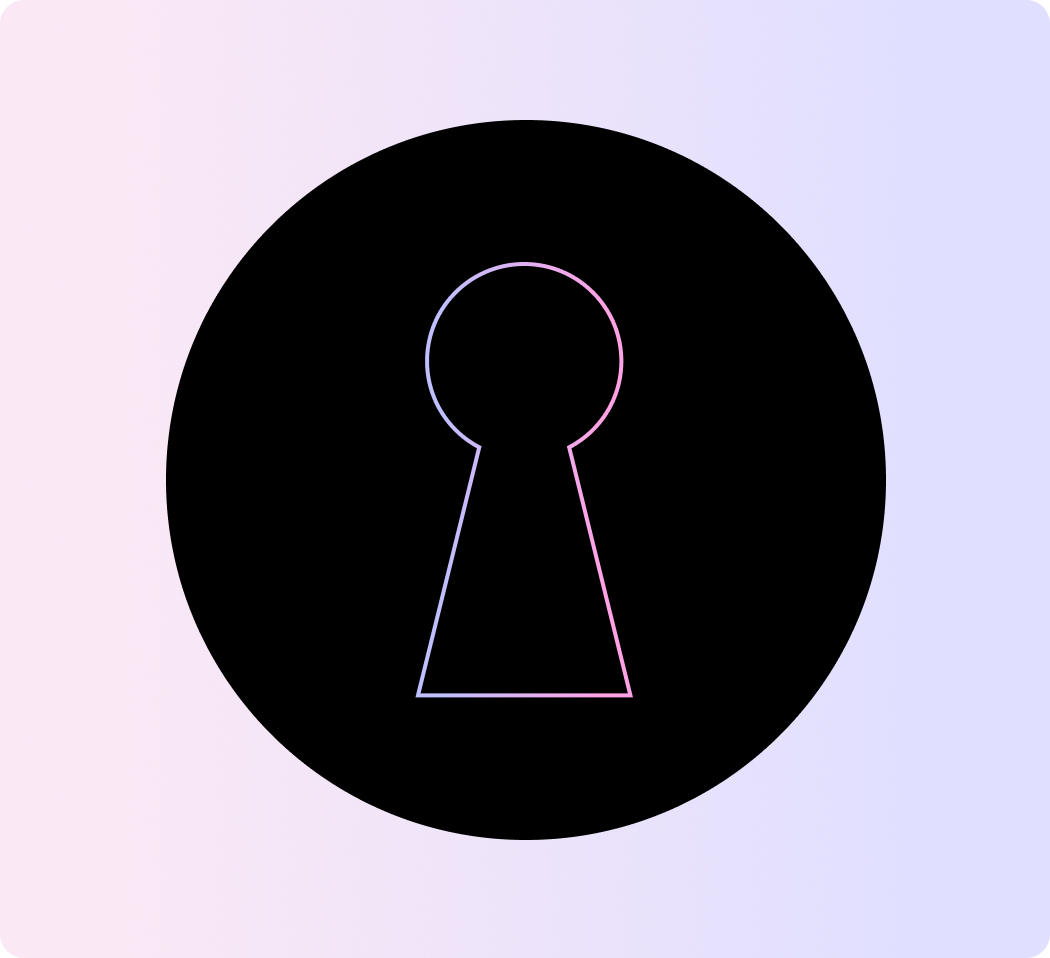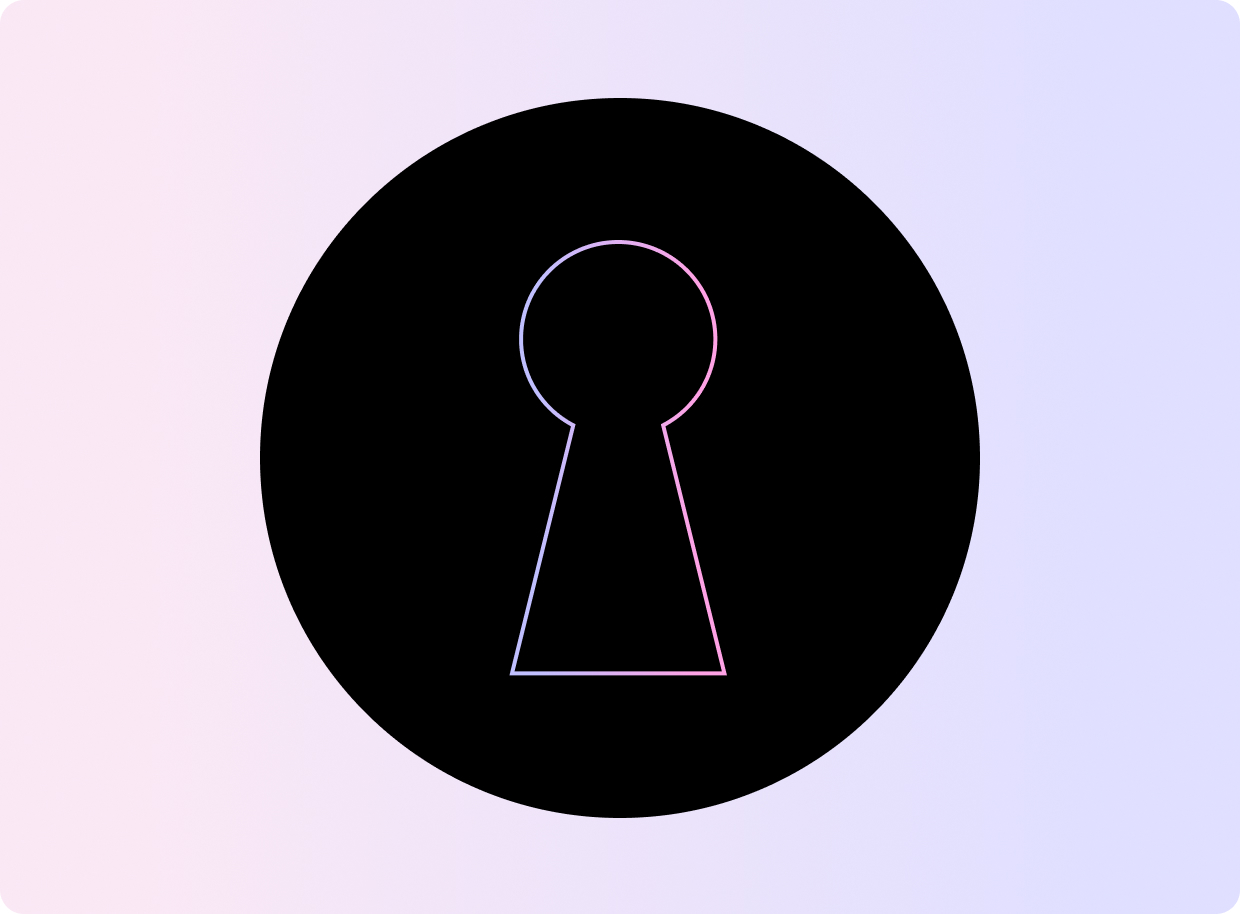 Quickly embed high-value generative AI into your product and workflows
With clear documentation, live Slack-based engineering and coding support, and deep experience building at-scale NLP and ML features, our team can help you across your entire workflow.
From planning your integration to evaluating your training data and end-user experience, our development team can help you go to market in a fraction of the time.
Unlike other generative text AI providers, we have deep enterprise experience helping developers build apps and workflows where there's little to no room for error.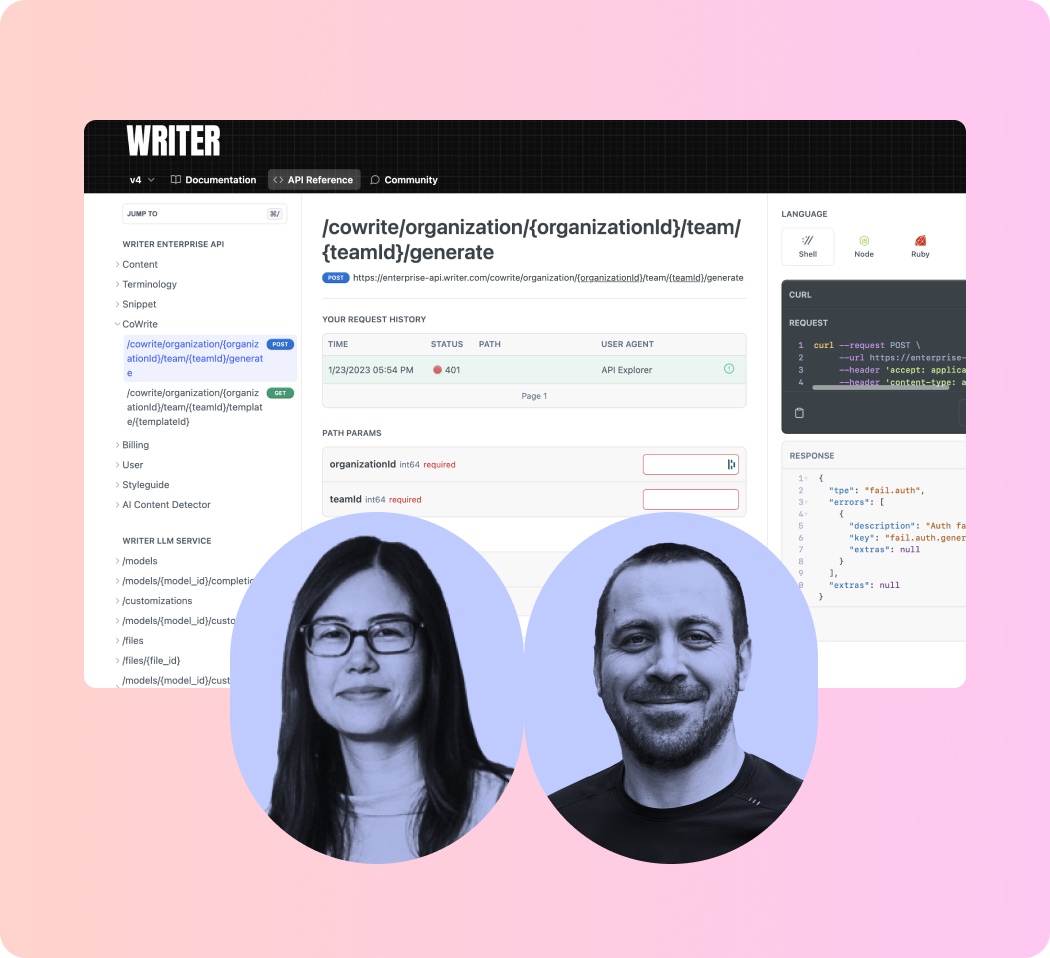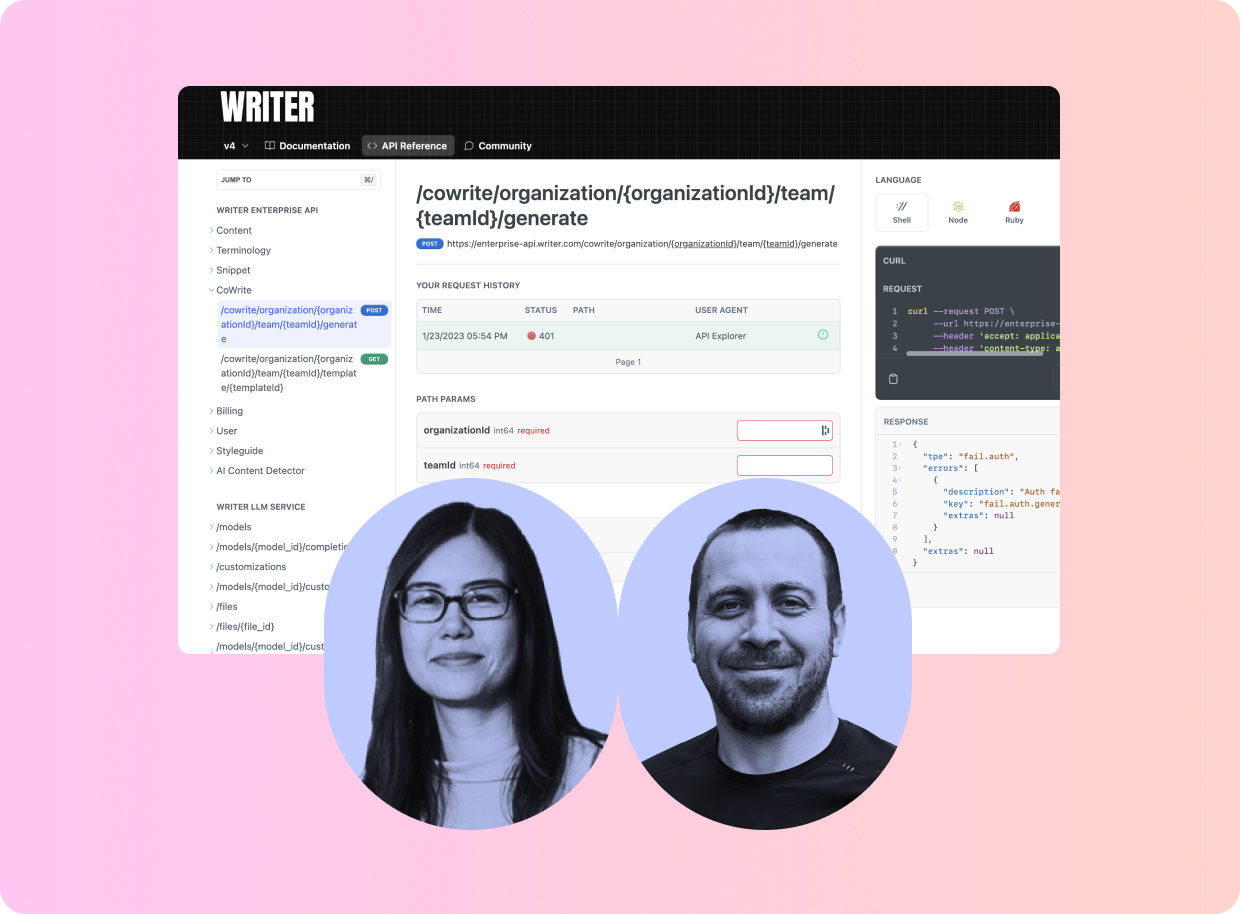 Explore out-of-the-box end points, then make them your own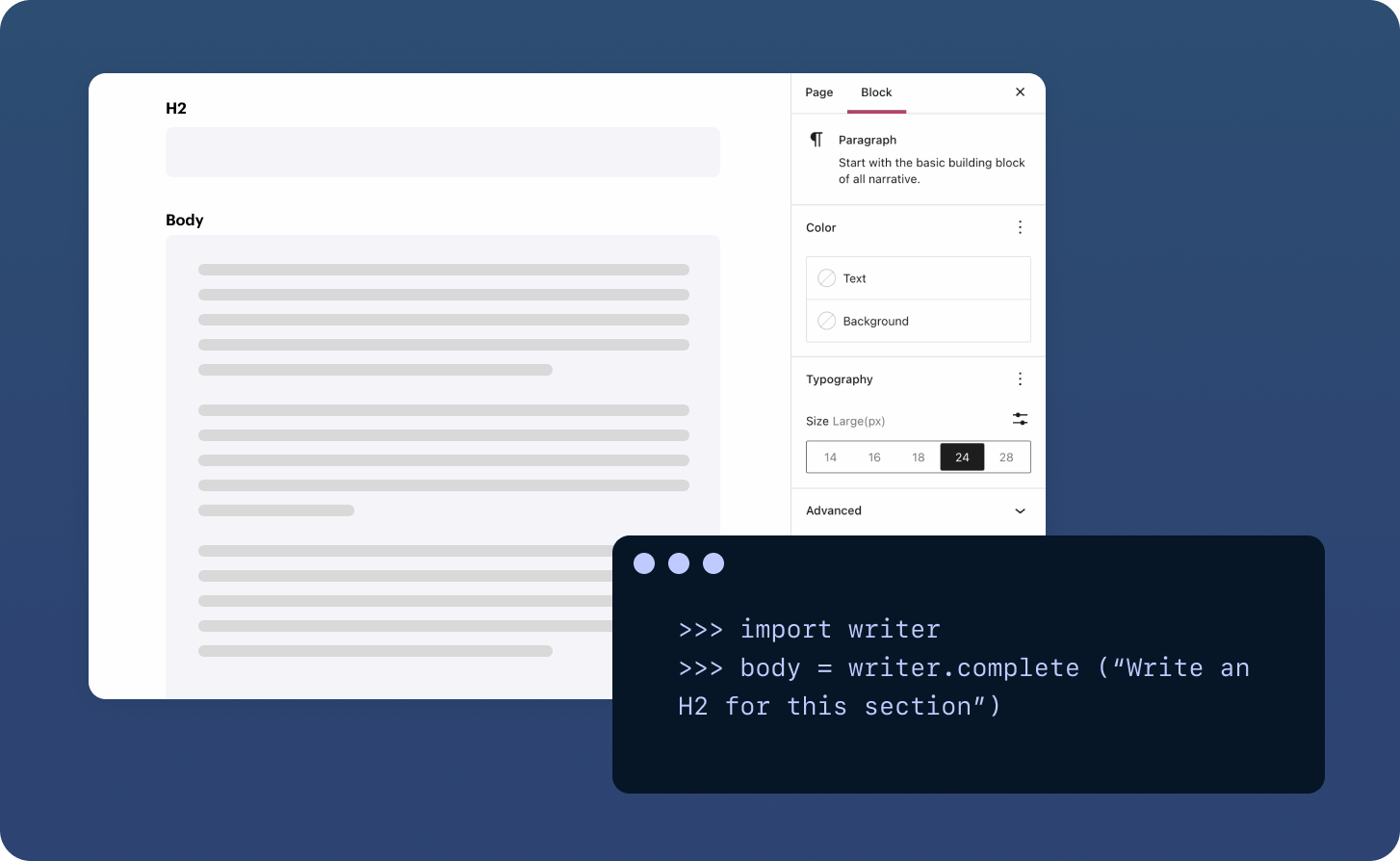 Website content
From headlines to author bios to subheads and first drafts, help your users start with an AI-authored first draft that delights, rather than disappoints.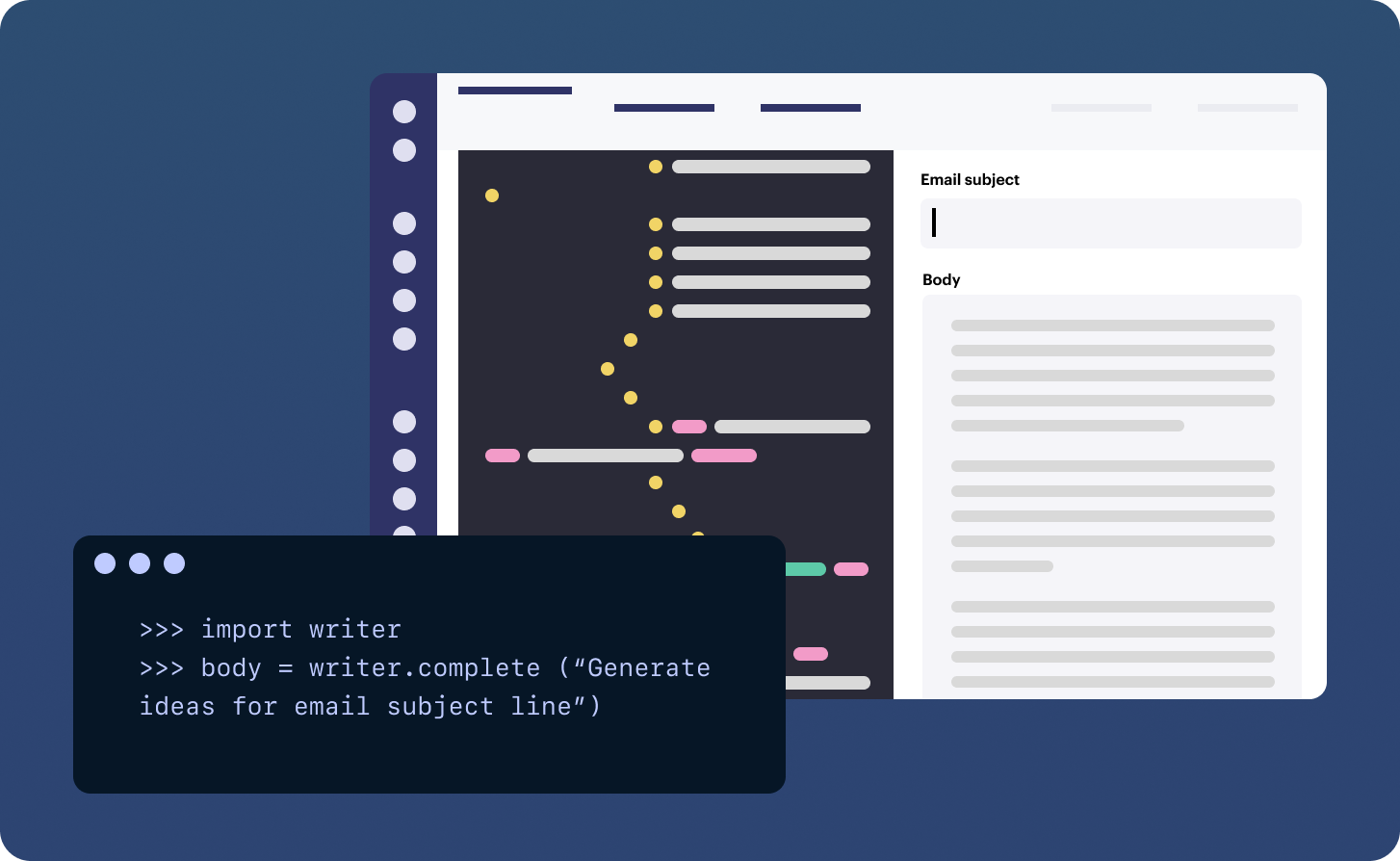 Email content
Pre-headers, subject lines, summaries, and email copy — there's a lot that can slow down campaigns. Help your users ship campaigns faster with instant copy recommendations.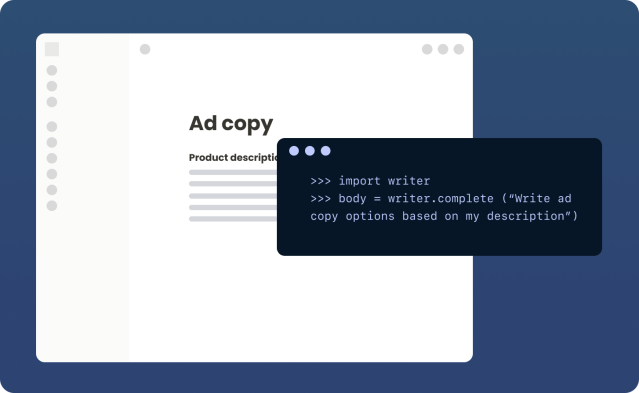 Ad
copy
Improve ad variation and performance with AI — using your users' best performing content to inform the AI drafts.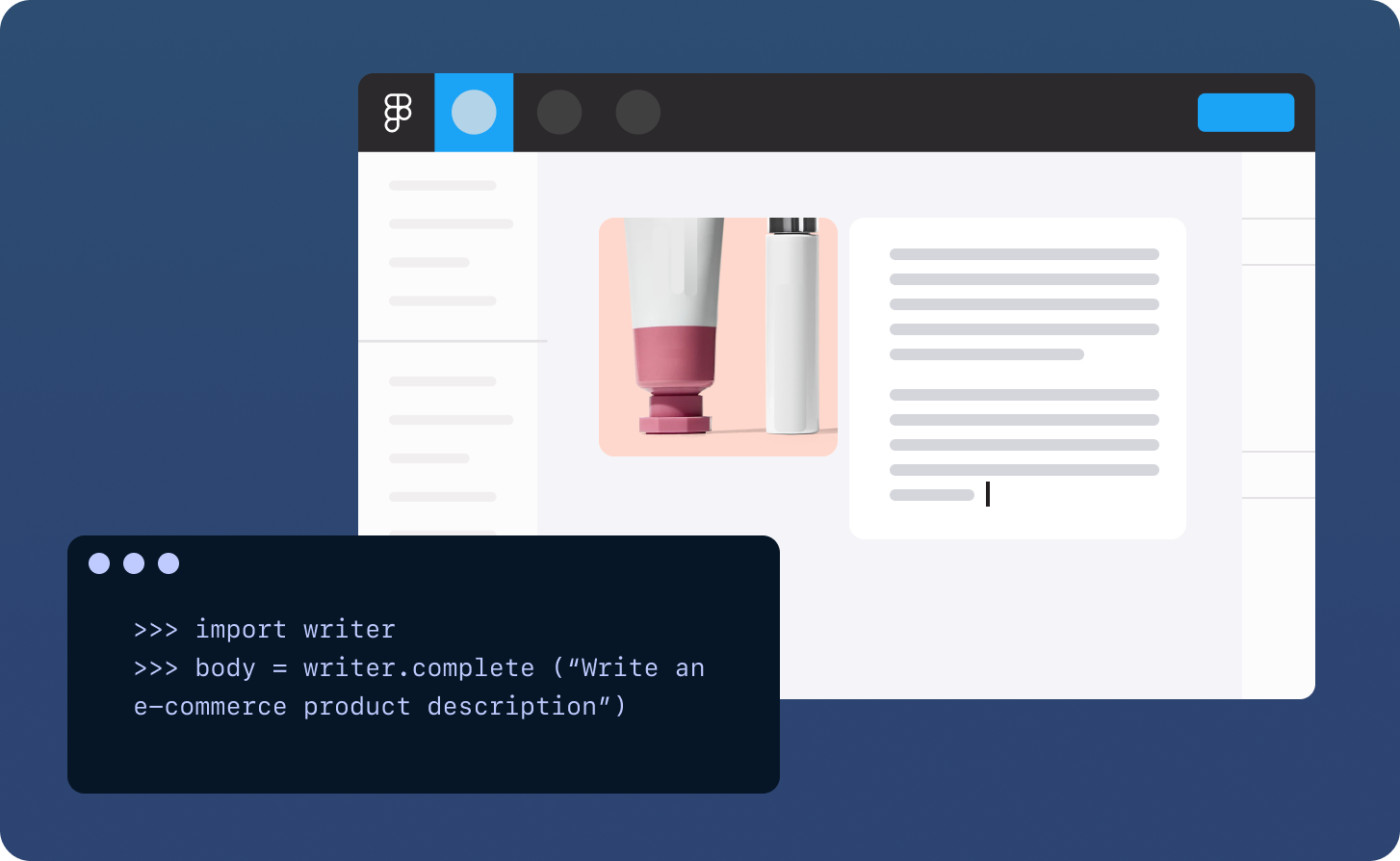 Product
descriptions
Use Writer to automatically write both short and long-form product descriptions based on SKU or manufacturer metadata.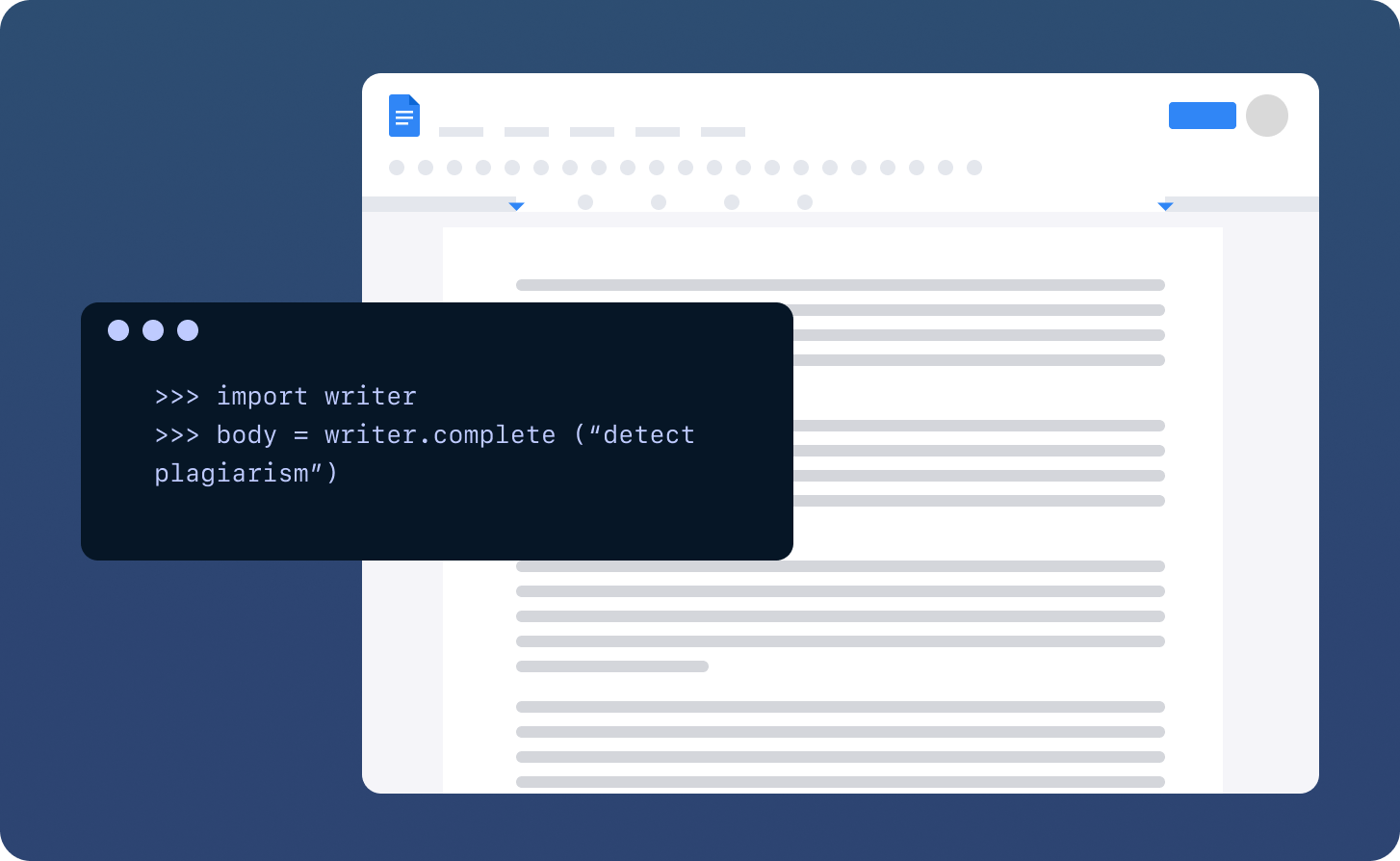 AI content
detection
Prevent spam on your web properties and in your online communities by building AI content detection capabilities into your application or workflows.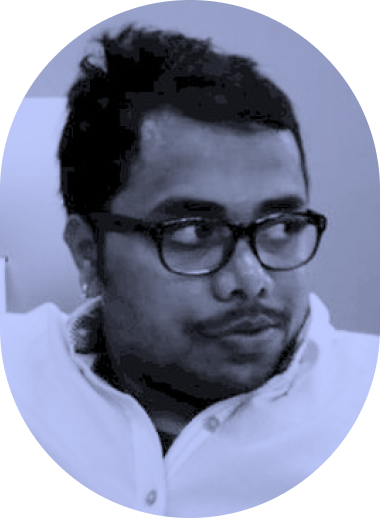 "Writer's models are excellent and allowed us to build an application that was super well-received by our users. The service is fast, the engineering support above and beyond, and the documentation clear."

Ashish Padmantintiwar
Software Engineer
Powering faster
time-to-market across industries
SECURITY
Enterprise-grade privacy and security standards


Your data isn't the product
We want you to read our terms of service. What you write or train your own model on will never make it into our foundational LLM.
Privacy is more than just a policy
Privacy at Writer is more than just something we do for legal compliance. It's why we built a secure generative AI platform as an alternative to consumer tools.
Read our privacy policy.
Writer is generative AI built for the enterprise
| | | OpenAI | AI21 Studio | Cohere |
| --- | --- | --- | --- | --- |
| Rate limits | Flexible | 3K requests/minute | 5K requests/minute | 10K requests/minute |
| Output customization | High | Medium | Limited | Limited |
| Data privacy | Does not store or use fine-tuning data or your generations | Has right to access, retain, and use your data and generations | Has right to access, retain, and use your data and generations | Has right to access, retain, and use your data and generations |
| Data ownership | You own your training/tuning data and generations | Company owns the data | Company owns the data | Company owns the data |
| Foundational training set | B2B focus | B2C focus | B2C focus | B2C focus |
| Zero-shot | Yes | Yes | No | No |
| SOC2 Type II, PCI, HIPAA compliance | Yes | No | No | No |
| Real-time feedback API | Yes | No | No | No |
| Web browsing | Yes | No | No | No |
CUsTOMER LOVE