How to paraphrase (including examples)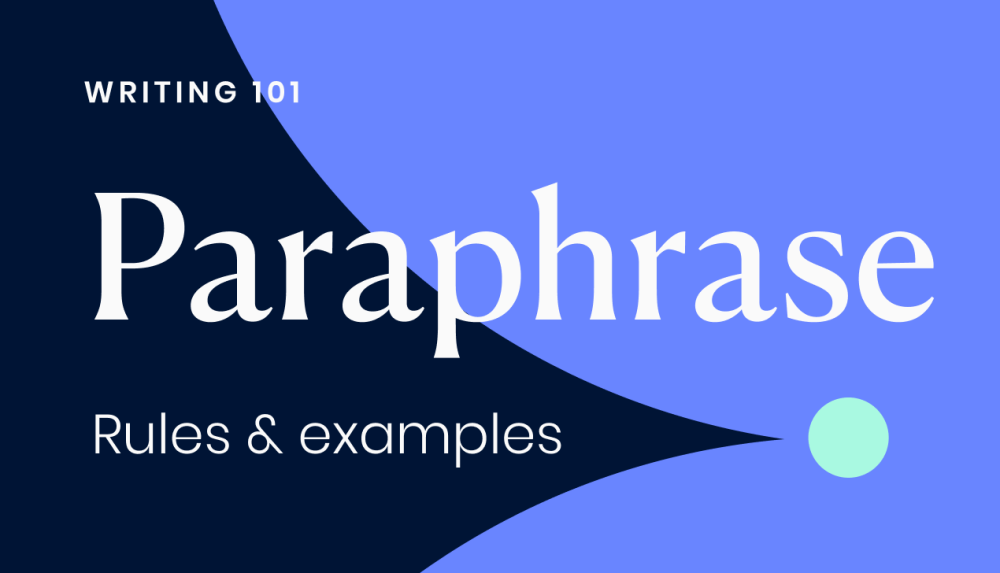 Paraphrasing has gotten a bad reputation due to its association with plagiarism. However, when used correctly, paraphrasing has the potential to elevate your writing and give you a better understanding of the research.
In this post, we'll discuss what paraphrasing is, why we do it, and 6 steps to walk you through the process. We'll also share what not to do with paraphrasing, along with some examples.
Paraphrasing definition and rules
Paraphrasing is simply a way of summarizing someone else's content in your own words. When you paraphrase, you keep the meaning or intent of the original work without copying it word for word. However, paraphrasing can quickly become a form of plagiarism if done incorrectly. This is why it's crucial to follow the rules of paraphrasing.
When borrowing the ideas from someone else's content, there's one important rule to follow: you must correctly cite your source. This can be done in a number of ways depending on the style guide you use. 
Source citing is different for MLA and APA formatting and style guides. You'll need to familiarize yourself with the citation formats for whichever one you follow. However, in some cases, simply hyperlinking the source will be sufficient.
Why do we paraphrase?
There are a number of reasons that professional writers and students alike choose to paraphrase content. Here are just a few of the common reasons that a writer would choose to paraphrase instead of including a quote or summarization.
Process information better 
One benefit of paraphrasing is that it helps you process the author's ideas. When you have to rewrite the material in your own words, it makes you really think about the context and how it fits into your piece. If you want to really understand the material you're citing, try rewriting it. If you were to quote the same information, you would miss out on the benefit of analyzing the source material.
For example, if you are writing a research paper all about Shakespeare's influence on modern-day literature, you don't want to just use a ton of direct quotes, instead by paraphrasing original passages, it can help you comprehend and analyze the material better.  
Improve your credibility with readers
You can also improve your credibility by association with the sources you decide to paraphrase. 
When you rewrite the material, you create a connection between your content and the knowledge from the source. 
Your audience will have a better understanding of the direction of your piece if you're paraphrasing a reputable source with established authority on the subject.
Present data in an interesting way
If you're referencing a data-heavy webpage or study, then paraphrasing is an engaging way to present the information in your own writing style. 
This allows you to tell a story with the source material instead of simply citing numbers or graphs.
Show that you understand the source
Another reason for paraphrasing that's particularly important in academic writing is to demonstrate that you've read and comprehended the source material. 
For example, if all of you are doing is copying and pasting the original words of a textbook, you aren't really learning anything new. When you summarize the material in your own words, it helps you to understand the material faster.  
How to paraphrase in 6 steps
Paraphrasing is simple when you break it down into a series of steps. 
Here are the 6 steps you can use to paraphrase your sources:
1. Choose a reputable source
First, you need to pick a credible source to paraphrase. A credible source will likely have ideas and concepts that are worth repeating. Be sure to research the author's name and publisher's credentials and endorsements (if applicable).
You'll also want to check the date of the publication as well to make sure it's current enough to include in your writing.
2. Read and re-read the source material
You want to be sure that you understand the context and information in the original source before you can begin to rework it into your own words. Read through it as many times as you need so you're sure that you grasp the meaning.
3. Take some notes 
Once you have an understanding of the passage, you'll want to jot down your initial thoughts. 
What are the key concepts in the source material? 
What are the most interesting parts? 
For this part, it helps to break up the content into different sections. This step will give you a sort of mini-outline before you proceed with rephrasing the material.
4. Write a rough draft
Write your version of the content without looking at the original source material. This part is important. 
With the source hidden, you'll be less likely to pull phrasing and structure from the original. You are welcome to reference your notes, though. This will help you write the content in your own words without leaning on the source but still hit the key points you want to cover.
5. Compare and revise
Once you have your initial draft written, you should look at it side by side with the original source. Adjust as needed to ensure your version is written in a way that's unique to your voice. 
This is a good time to break out a thesaurus if you notice you have used too many of the same words as the original source.
6. Cite your source
Whether you use MLA, APA, Chicago, or another style guide, now is the time to give proper credit to the original author or source. When posting content online, you may only need to hyperlink to the original source.
Keep in mind that the paraphrased text will not change depending on the citation style that you follow. It will just change how it's cited.
What you shouldn't do when paraphrasing
Now that you understand the process of paraphrasing and can follow the steps, it's important that you know what to avoid. When paraphrasing, here are a few things to keep in mind:
1. Do NOT write while you're still researching
You might be tempted to start writing during the research phase. However, this sets you up to miss information or restate the copy too closely to the source material. Be sure to do your research first, take notes, and then start writing the piece.
2. Do NOT skip the citations
When you pull a small amount of information from a paraphrased source, you may think you don't need to cite it. However, any idea or copy that's taken from another source is considered plagiarism if you don't give it credit, even if it is only a little bit of information.
Paraphrasing examples
Here are some examples to help you understand what paraphrasing looks like when done correctly and incorrectly
Excerpt from LinkedIn's Official Blog:
Original:
"When reaching out to connect with someone, share a personalized message telling the person why you would like to connect. If it's someone you haven't been in touch with in a while, mention a detail to jog that person's memory for how you met, reinforce a mutual interest and kickstart a conversation."
Here's another example. This one is from the U.S. Department of Education:
Original:
"The U.S. Department of Education does not accredit educational institutions and/or programs. However, the Department provides oversight over the postsecondary accreditation system through its review of all federally-recognized accrediting agencies. The Department holds accrediting agencies accountable by ensuring that they enforce their accreditation standards effectively."
Here's one more example to show you how to paraphrase using a quote from Mark Twain as the source material:
Original:
"Twenty years from now you will be more disappointed by the things that you didn't do than by the ones you did do. So, throw off the bowlines, sail away from safe harbor, catch the trade winds in your sails. Explore, Dream, Discover."
***
Paraphrasing can be a beneficial tool for any writer. It can give you credibility and a deeper understanding of the topic. However, to successfully use paraphrasing, you must be careful to properly cite your sources and effectively put the material into your own words each time.
More resources